Ed eccoci qui, alla classica puntata di metà parte di stagione che dividerà il pubblico in "vincitori" e "vinti", o meglio in "adoratori" e "odiatori". Sì perché l'episodio The Walking Dead 10×13 non è assolutamente per tutti.
Dopo la guerra per Hilltop, la caverna piena di zombie e l'uscita di scena di Alpha avevamo bisogno di mettere un punto fermo per la fine di un capitolo. The Walking Dead 10×13 è esattamente quel punto fermo: chiudiamo una porta e ne apriamo un'altra, una ancora più bella e inaspettata.
In questo episodio cambia tutto. Cambia l'ambientazione (non avevamo ancora visto un'isola in The Walking Dead, tralasciando lo spin-off), cambia il focus dei personaggi (Michonne ci mancava da un po') e cambiano le prospettive in modo micidiale e magistrale. Micidiale perché ci costringe a riflettere su tutto ciò che è passato, su tutto ciò che poteva essere e sarà in base ad esso. Magistrale perché serviva una buona costruzione per essere pronti a dire "arrivederci" a Michonne e accettare che lasciasse figli e famiglia allargata dopo tutto ciò che avevano costruito insieme.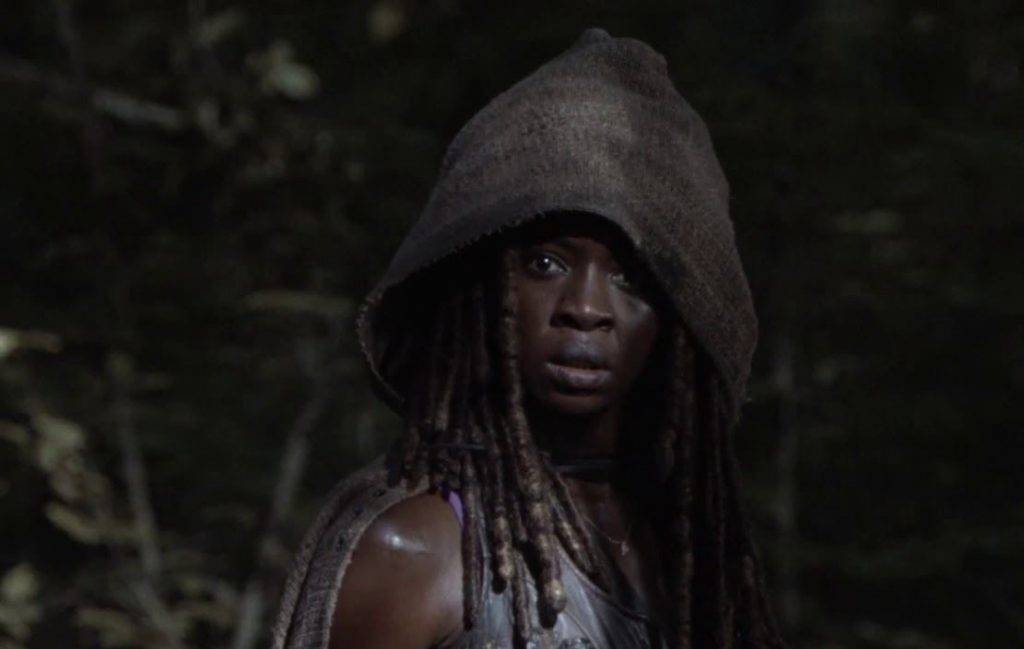 Questa è, prima di tutto, la puntata del "e se fosse successo così?".
Se Michonne avesse lasciato morire Andrea nel bosco, se Rick non le avesse teso la mano per entrare alla prigione nonostante l'aspetto poco rassicurante e le condizioni all'interno già precarie, se…
Allora Michonne sarebbe potuta essere la persona ignorata a lato della strada nella puntata 3×12 Ripulire, avrebbe potuto incontrare prima Negan (ricordiamo le parole di Judith della puntata 10×10 "avete incontrato la persona sbagliata. Se aveste incontrato i miei genitori non saresti lì"). Avrebbe potuto essere al comando della base dei Salvatori attaccata nell'episodio 6×12 Non è ancora domani. Proprio in quella serata avrebbe potuto uccidere Glenn e Heath per aver vacillato davanti ad un omicidio.
Avrebbe potuto guardare la sua attuale famiglia con disprezzo masticando ogni senso di colpa nel suo addestramento tra le schiere di Negan. Avrebbe potuto dir loro "non sapevate chi erano o da dove fossero venuti. Non sapevate un cazzo sul loro conto. Ma siete venuti nel cuore della notte e li avete uccisi comunque mentre stavano dormendo. Come dei codardi. E ricordate: ve la siete cercata voi. Ciò che succederà dopo è colpa vostra. Benvenuti nel nuovo mondo" senza conoscere la loro storia.
E infine sarebbe stata uccisa da Daryl e Rick, dallo zio Daryl che ora veglia sui suoi figlio e dall'Uomo Coraggioso che ha scoperto essere vivo.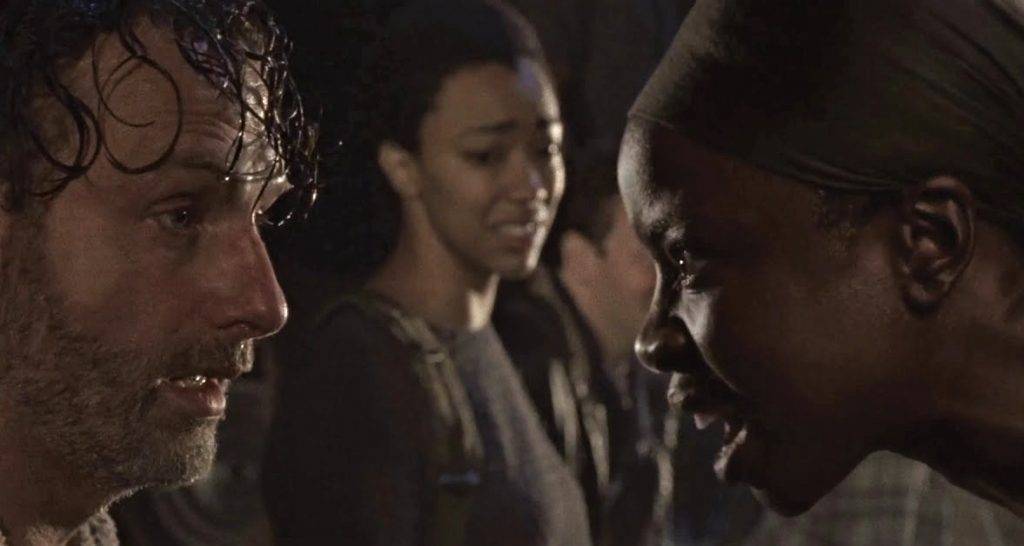 Ma noi sappiamo bene che la storia è cominciata in modo diverso e ha quindi, in questo episodio The Walking Dead 10×13, un altro epilogo.
E' passato tanto tempo da quegli avvenimenti ma ciascuno di loro ha condotto Michonne proprio lì, su quell'isola con Virgil. La sua esperienza di inganni, tradimenti, storie non a lieto fine fa sì che la nostra protagonista senta presto odore di menzogna.
Muove i suoi primi passi con lo sconosciuto tenendo quasi sempre la mano ferma sull'elsa della spada. E' una sicurezza a cui sarebbe troppo stupido rinunciare. Quando arrivano nell'entroterra, in un luogo che sembra tanto King County, la cittadina di Rick e Carl dove Morgan aveva costruito le trappole nella 3×12, capisce il giochetto e pretende la verità.
La verità, lo sappiamo, non è sempre positiva in The Walking Dead. E' spesso mascherata da buone intenzioni.
Virgil è un po' come Morgan ai tempi prima di incontrare Eastman, prima di incontrare una persona che gli offrisse la possibilità di trovare la sua pace. E' incapace di distinguere la realtà in cui vive da quella in cui crede di essere intrappolato. Si provoca allucinazioni, come aveva Morgan, per estirparsi il senso di colpa. Porta i fiori (Morgan invece uccideva zombie) per mantenere una promessa già infranta.
Michonne lo capisce e lo aiuta a ritrovare la sua famiglia, fa piazza pulita per lui, scopre i suoi segreti, lo salva da morte certa, ma soprattutto gli permette di prestare fede alle sue promesse e di appoggiare un fiore su quelle tombe ora piene. In poche parole lo recupera e gli lascia un po' di fiducia. Non troppa però.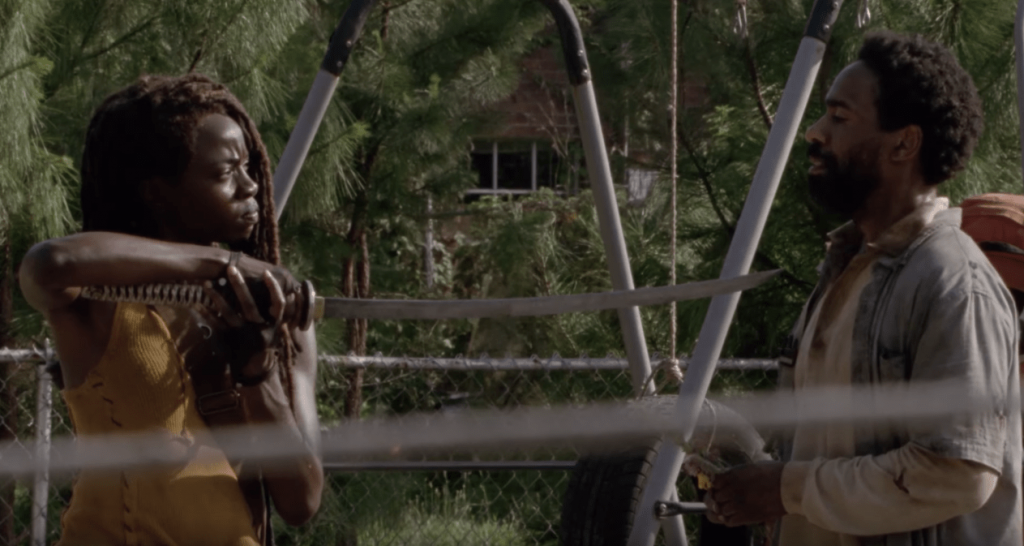 Volersi addentrare nella verità di Virgil costa caro a Michonne che deve scontare una "personale pena" per aver disobbedito. Deve fare pace con i suoi sensi di colpa che si materializzano sotto forma di Siddiq ("dovevi proteggerci", "è così che ci si sente ad essere la tua famiglia"). Deve fare pace con il suo passato sanguinoso, compresa la strage alla base dei Salvatori, deve fare pace con l'entrata e l'uscita di scena di Dante, con tutto ciò che ha dovuto decidere da sola dopo la scomparsa di Rick.
E' come se fosse costretta ad una serie di prove per testare la sua capacità di reazione, di forza. Prove che non può fallire dopo tutto quello che ha passato. Michonne non solo riesce ad evadere, ma riesce anche a rimanere fedele a se stessa, a essere misericordiosa e a convincere le altre persone a dimostrare la sua stessa pietà.
Questo succede perché la vita nel mondo di The Walking Dead le ha insegnato che la misericordia non è una vittoria altrui (Negan è in vita, Virgil è in vita) ma una vittoria personale (trovare la pace) che non ha eguali.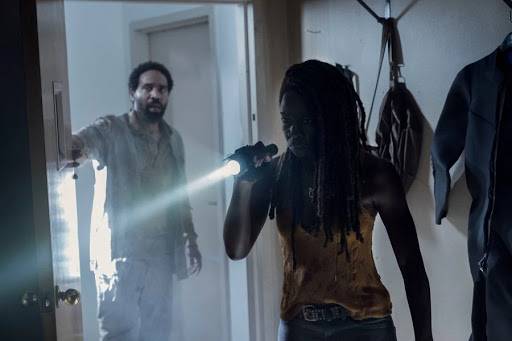 Virgil sarà per sempre in debito con lei.
L'estinzione di quel debito comincia proprio nel momento in cui riesce a farsi condurre alle armi. Comincia nel momento in cui l'uomo capisce che è solo toccando il fondo che si può risalire, che una persona scomparsa non può essere la giustificazione per fare del male ("mi ha sempre detto quale fosse la cosa giusta da fare, e poi è morta e non sapevo più cosa fare") perché ognuno può decidere ogni giorno, in ogni luogo ciò che è giusto davvero.
La Misericordia dona pace, ma può anche illuminare un angolo di cuore ormai dominato solo dal buio dei ricordi. Quando Michonne trova gli stivali di Rick non abbiamo più dubbi su ciò che già speravamo: Rick Grimes è vivo ed è passato di lì. Aver seguito il proprio cuore sull'isola e aver attraversato il proprio inferno sono serviti a trovare due segni inequivocabili.
Una volta ricevuta la benedizione di Judith ("devi andare", "E se stesse cercando di tornare a casa anche lui e nessuno lo stesso aiutando?") e assicuratasi che la minaccia dei Sussurratori sia stata eliminata ("Alpha non potrà più farci del male") la nostra protagonista è libera di seguire quelle tracce e di imbarcarsi in una ricerca che non vediamo l'ora di approfondire.
Arrivederci Michonne, arrivederci Rick.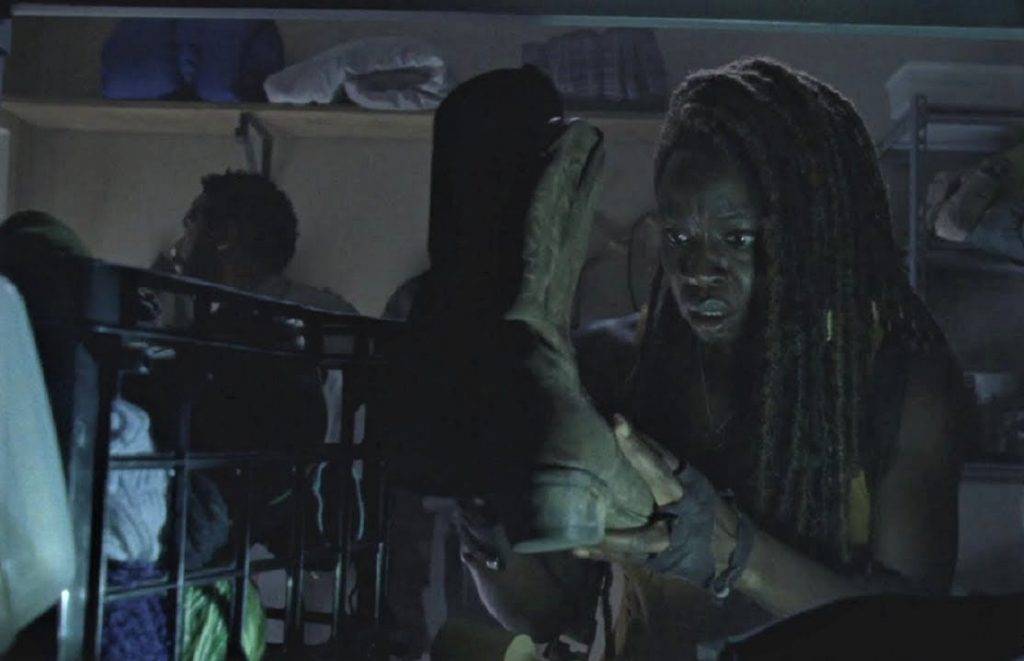 Vi invitiamo a passare dalla nostra gemellata The Walking Dead ITA Family sulla loro pagina Facebook.
Non dimenticatevi di passare anche dai nostri amici di: Caryl Italia e Dwighty Boy – Austin Amelio Italia, The Walking Dead Italia, FIGHT the Dead. FEAR the living – The Walking Dead gdr