Nella scorsa puntata avevamo lasciato caos e fiamme a Hilltop, in questo episodio di The Walking Dead 10×12 ripartiamo direttamente da lì. Fuoco, urla, paura e vaganti. Tantissimi vaganti.
Lo scopo di Alpha era proprio quello: ciò che lei sperava di vedere e assaporare nella puntata The Walking Dead 10×12 era la distruzione. La distruzione di tutto, di ogni difesa, di ogni regola, di ogni piano di fuga, di ogni certezza.
L'obiettivo finale doveva essere radere al suolo Hilltop e far sì che tutti i suoi abitanti o simpatizzanti camminassero nell'orda dei Sussurratori. I nostri protagonisti, però, avevano ben altri piani che partivano tutti da un unico concetto pronunciato e presentato da Lydia nei primi minuti dell'episodio "non camminerò mai con lei".
E' importante che sia Lydia a dircelo, soprattutto in una puntata in cui fatichiamo a capire quali siano i reali schieramenti dei personaggi. La ragazza ha già deciso e combatterà per quella decisione. Nessuna regola in più, bisogna basarsi sull'istinto, su ciò che dice il cuore, su ciò in cui si crede.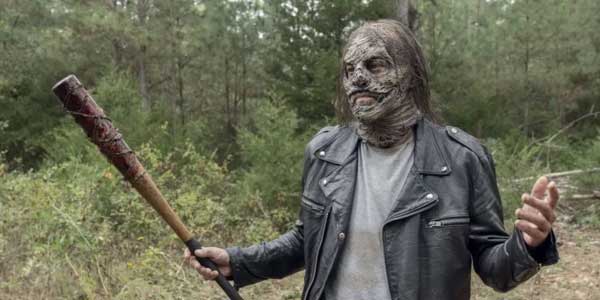 Questi istinti spingono ogni personaggio a combattere nonostante le bombe, il fumo, il continuo assalto degli zombie. E mentre noi spettatori fatichiamo a dipanare tutti gli avvenimenti (lo sguardo perso di Carol in cima alla palizzata, Ezekiel che perde di vista Judith, Yumiko che vede Magna in mezzo all'orda) il nostro gruppo ha ben chiaro l'obiettivo finale: arrivare al punto di ritrovo per salvare i bambini, quindi salvare la speranza.
Negan invece ci trae in inganno. Per tutto l'episodio ci ritroviamo a mettere in discussione la sua fedeltà. Ci fa sorridere quando tenta invano di radunare i vaganti, ci fa commuovere quando ricorda sua moglie Lucille. Ci fa capire di non condividere i valori di Alpha, di essere stanco della finzione e del doppio gioco, ma al tempo stesso sembra ormai legato a lei, complice quel lavaggio del cervello di cui parlava anche Gamma nella scorsa puntata.
L'incontro con Aaron nel bosco è fuorviante. All'apparenza sembrava studiato per darci finalmente delle spiegazioni, ma ad Aaron non interessa più ascoltare Negan. Nella sua scala delle priorità l'ex leader dei Salvatori è sceso pericolosamente. E' più importante soccorrere i feriti. E' più importante raggiungere il punto di ritrovo. E' più importante sopravvivere. Non serve ricevere spiegazioni quando tu indossi il volto di un mostro che ha appena raso al suolo la tua comunità.
Noi stessi spettatori rischiamo di essere trascinati in quel vortice di negatività. Negan aveva salvato Aaron in passato, ma è disposto a lasciarlo nel bosco davanti ai suoi dubbi. Aveva salvato Lydia, ma poi lo ritroviamo a rapirla e a "consegnarla" ad Alpha (o quasi).
L'intera puntata è costruita sul dubbio e sul successivo bisogno di coraggio per affidarsi agli altri. Negan ci mette in discussione, ma poi, in una sequenza mozzafiato con rivelazioni contrastanti, chiude il cerchio della sua redenzione. Come avviene in un giocoso scherzo del destino Negan uccide Alpha, e con lei la sua debolezza, il suo risentimento. La uccide come Rick Grimes avrebbe ucciso lui se non fosse stato mosso dalle riflessioni di Carl.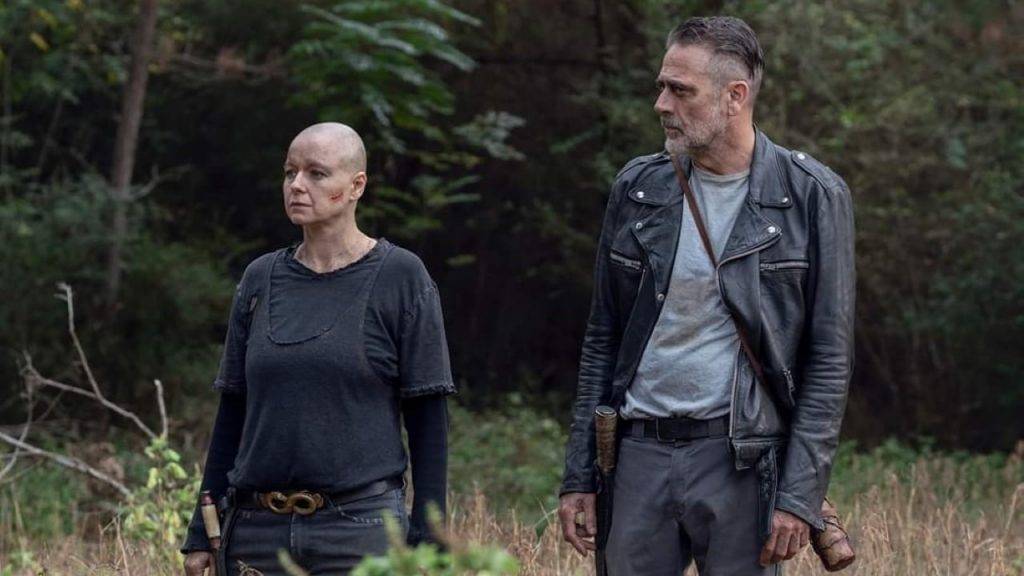 Se da una parte non ci si riesce più a fidare, dall'altra bisogna imparare di nuovo a farlo. Alden deve arrendersi all'aiuto di Mary, un po' come Maggie si arrese al suo quando i nemici erano i Salvatori.
Gamma diventa ufficialmente Mary con la benedizione di Alden. Riesce a pronunciare il nome della sorella ad alta voce, tiene in braccio e calma il suo nipotino Adam. Si sacrifica per lui e noi lo sappiamo già. Mary è condannata. La redenzione prima della morte, o della nuova vita, fa parte del cerchio dei personaggi di The Walking Dead.
Nei suoi ultimi istanti di vita, Mary ruba un pezzo dell'identità di Beta. Lo spinge a perdere il controllo, ma rende anche vano il suo desiderio di consegnarla ad Alpha grazie alla fiducia stimolata in Alden che la uccide e le permette di riposare in pace.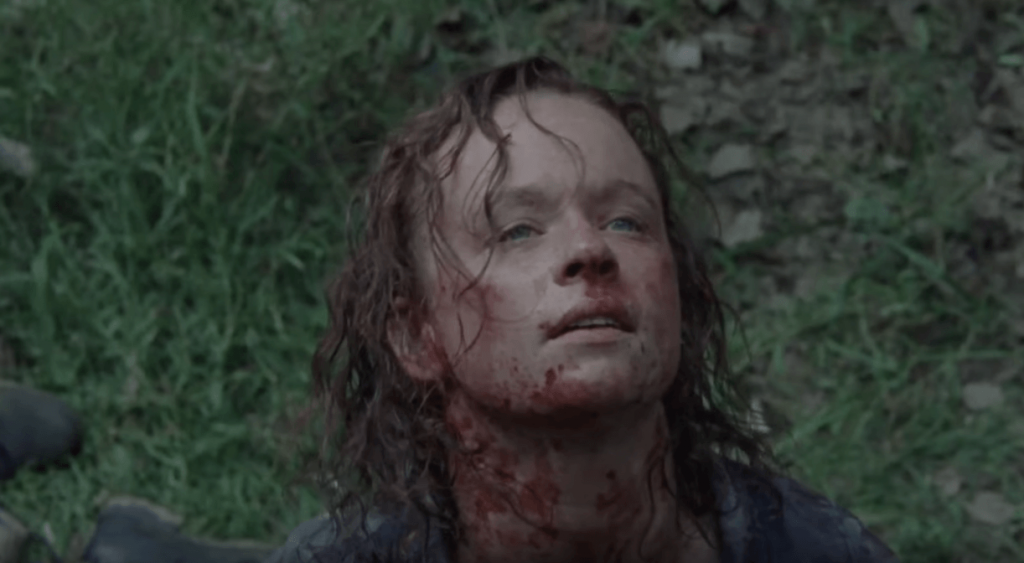 Riuscire a fidarsi gli uni degli altri non è l'unico atto di coraggio di questa puntata di The Walking Dead 10×12.
E' necessario anche fare una sosta, prendersi un momento per dirsi ciò che è davvero importante. Stringere la mano di qualcuno che si ama (Magna e Yumiko), o lasciar andare tutti per verificare una nuova possibilità (come Eugene, ma anche come Michonne prima di lui). Pensare davvero (come Carol) se davanti a uno zombie che minaccia di morderti si vuole vivere o morire.
"Sai come ci si sente a volere qualcosa di così tanto terribile da inseguirla con tutto quello che hai a disposizione? E far incazzare tutti, letteralmente tutti quanti, forse finisci per far ammazzare qualcuno e alla fine non hai nulla da dimostrare?"
Le parole di Carol sembrano la descrizione di Eugene dei primi tempi, quando ogni parola spesa con e per lui aveva perso significato.
Eugene da codardo è diventato coraggioso. Essere coraggiosa non è mai stato un problema per Carol. Lo ha imparato presto, a sue spese. Lo ha imparato più volte e più volte dimostrando di essere in gamba. La sua sete di vendetta per Henry l'ha accecata ma ora, probabilmente, seduta su quel tronco con Eugene, è la prima a rendersi conto che una vendetta non vale nulla se poi tutto ciò a cui tieni ancora è distrutto o solo.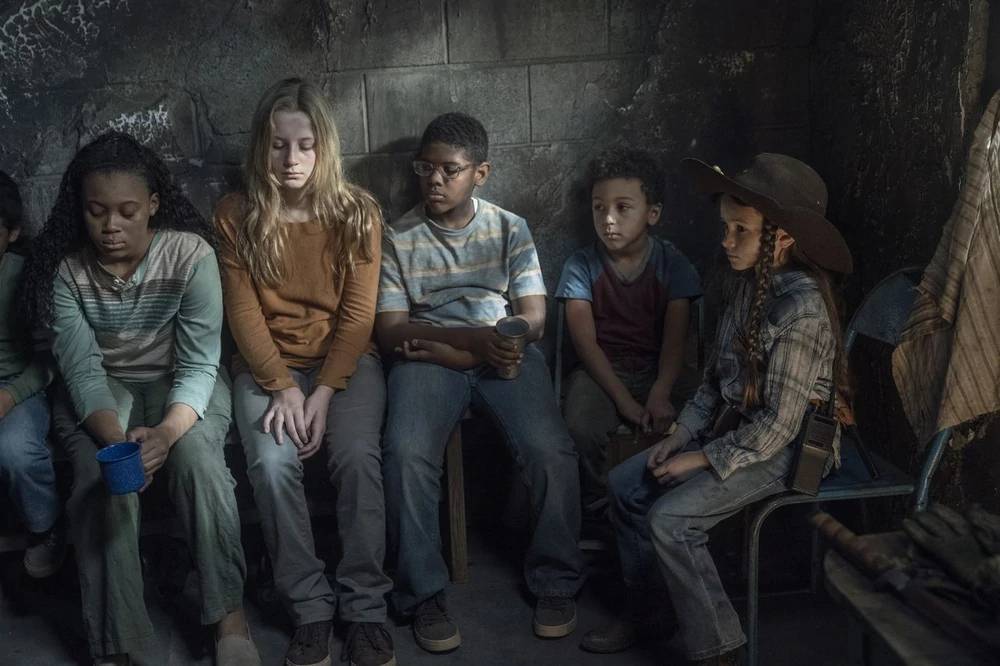 L'ultima dimostrazione di coraggio dell'episodio è di Earl. L'uomo protegge il bene più prezioso fino all'ultimo tacito respiro.
Salvare la vita a Judith, e quindi a tutti gli altri bambini è stato il modo di Earl per tenere vivo il discorso di Aaron della scorsa puntata perchè "vale la pena combattere e morire per un posto, ma solo se i bambini potranno viverci e vederlo crescere ancora".
Earl sa che Judith è il bene più prezioso perché racchiude in sé un'eredità importante, quasi fondamentale. Sa che è coraggiosa, ma sa anche che è ancora una bambina. La vede esitare davanti a un uomo che implora pietà, la vede esitare perché davanti alla morte non ci sono più Sussurratori o abitanti di Hilltop ma solo vivi e morti.
Ma più di tutto Earl sa che Judith è forte e che quei bambini che ha salvato impareranno a proteggersi a vicenda perché sono cresciuti osservando l'arte del coraggio dai loro genitori (o tutori).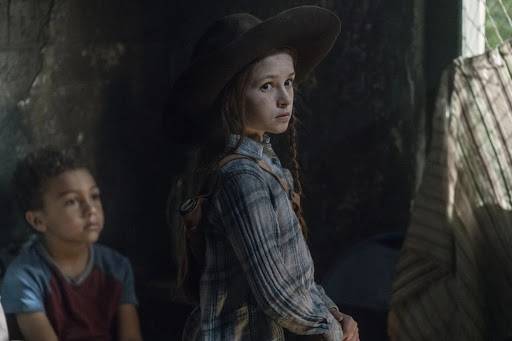 Vi invitiamo a passare dalla nostra gemellata The Walking Dead ITA Family sulla loro pagina Facebook.
Non dimenticatevi di passare anche dai nostri amici di: Caryl Italia e Dwighty Boy – Austin Amelio Italia, The Walking Dead Italia, FIGHT the Dead. FEAR the living – The Walking Dead gdr