Prima di iniziare questo pezzo mi sono interrogato molto sulle aspettative da assegnare a questa serie: orfano da qualche mese della serie "madre" prodotta da AMC ormai 6 anni orsono, alla notizia dello spinoff realizzato sotto la guida del vate e padre degli "Erranti", Robert Kirkman, ho subito emesso un grido di giubilo.
 Ero sicuro che i capoccioni della AMC avessero in mente qualcosa per risollevare il grado di tensione che era andato disperdendosi nelle ultime due stagioni di "The Walking Dead". La realtà è andata in una ben diversa direzione.
Ma prima, che ne dite di iniziare dalla trama di "Fear The Walking Dead"? – La serie, creata dal già citato Kirkman e da Dave Erickson, si propone come prequel e spin-off di "The Walking Dead", spostando il quadro narrativo più ad Ovest, nell'incantevole baia di Los Angeles. Il tranquillo sobborgo californiano viene sconvolto da una lenta e serpeggiante pestilenza che si avventa sulla popolazione e sulle loro coscienze. Una "disfunzionale famiglia della TV" viene sradicata dalla necessità della propria quotidianità e sospinta verso una ben più importante: la necessità di sopravvivere. Saranno Madison (Kim Dickens) e Travis (Cliff Curtis) a guidare i loro cari verso la salvezza. La prima, vedova del marito, si troverà a dover convivere con il fallimento di un figlio eroinomane, fuggito da casa, ed una figlia ostile che mette in in dubbio la figura autoritaria. Lui, Travis, è il compagno di Madison ed anch'egli ha già un figlio, Christopher (Lorenzo James Henrie), che non confida più nel padre sempre più lontano e vede nella madre Liza (Elisabeht Rodriguez) il solo punto fermo delle propria vita.
Le contorte vicende familiari si susseguono fin quando non si manifesta la terribile pestilenza zombie. Essa arriva, insbiegabile ma inesorabile, contagiando non solo i vivi ma anche le loro anime; l'uomo e con esso i propri valori, sono brutalmente scossi e messi alla prova. Come abbiamo già imparato con TWD: la coscienza dei vivi vacilla dinnanzi alla morte che cammina e, per proteggere i loro cari, i nostri protagonisti condurranno azioni criminose se non terribili perché, lo sappiamo, : "L'unico modo per sopravvivere ad un mondo impazzito è accettarne la pazzia".
Tuttavia, pur arrivando alla finale abnegazione dei valori civili, il passaggio non è così diretto. In pieno stile americano, l'esercito piomba sulla città ristabilendo una apparente pace ed illudendo i cittadini che tutto sarebbe stato presto riportato alla normalità. La fiducia nell'autorità crollerà non appena sarà chiara la totale impreparazione nel gestire la crisi, l'incapacità di vedere chiaramente la realtà dei fatti e la brutalità nel gestirli.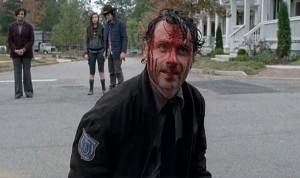 Mi fu chiaro fin dall'episodio pilota: quello che ci saremmo apprestati a vedere sarebbe stato diverso da The Walking Dead. La lentezza generale della serie non offre uno spettacolo coinvolgente allo spettatore, che è spinto a distrarsi spesso durante lo scorrere delle scene. In questo in realtà trovo molta somiglianza, spiacevole, con il recente The Walking Dead. La serie è riuscita ad ampliare di qualche metro il quadro generale, fornendoci una descrizione delle dinamiche che hanno preceduto la caduta del mondo, dipinta abilmente nel suo orrore in "the walking dead". Il punto è: ne avevamo bisogno? Era necessario produrre qualcosa che si distoglie di pochissimo dalla serie da cui ha tratto ispirazione? La mia impressione, al termine delle sesta puntata, è stata di una pallida copia della precedente, copia che, proprio per questo, potva esserci risparmiata. Ho l'impressione che AMC sia ormai convinta di poter dare in pasto al proprio pubblico qualunque cosa, convinta che esso "la divori come gli erranti smembrano tutto ciò che gli viene incontro".  
In conclusione, la serie merita di essere guardata, ma solo per curiosità dato che non arricchisce in modo tangibile la storia principale ma si limita a ricalcarne grossolanamente i tratti principali. Se ciò che cercate è una nuova storia, nuovi personaggi ed una ripetitiva lotta per la sopravvivenza, eccovi serviti. Io, dal mio canto, rimango con Rick.
Alberto Scorsone
Un saluto agli amici di – Fear The Walking Dead – Italia