Dai forza, possiamo dircelo: la morte di Marissa in The O.C. è stata una degli eventi televisivi più indigesti della nostra adolescenza.
Gli ultimi istanti della scatenata rampolla di Newport Beach ci hanno commossi profondamente. Quegli ultimi sospiri accompagnati dalle note struggenti di Hallelujah e racchiusi tra le braccia Ryan Atwood, per cui abbiamo sempre tifato, intento a chiedere aiuto al suo angelo custode Sandy Cohen, ci hanno colpito profondamente.
Non importa se Marissa ci stesse simpatica o meno, la sua morte ci ha turbati, cosi come le conseguenze che essa ha creato.
Tanto che la quarta stagione di The O.C. ha subito un duro colpo dopo la sua uscita di scena.
Già, perché inevitabilmente anche gli ascolti dell'ultima stagione dello show senza la sua tormentata protagonista femminile hanno subito delle conseguenze notevoli.
Questo poiché, al di là della mancanza di Marissa, i personaggi che sono rimasti non potevano non cambiare dopo un simile evento.
A partire da un Ryan sempre più tormentato e cupo, fino ad arrivare a Summer e Julie (generalmente due personaggi frizzanti a cui veniva lasciata volentieri la quota comica della serie) soppresse emotivamente dalla morte della ragazza californiana.
La quarta stagione si è rivelata decisamente più matura e introspettiva rispetto alle tre precedenti, perdendo quella sana leggerezza adolescenziale che ci faceva tanto bene guardando The O.C..
Cosa sarebbe accaduto però se Marissa non fosse mai morta?
Come si sarebbe evoluto il destino dei tre protagonisti rimasti se il biondo amore di Ryan non se ne fosse mai andato?
Josh Schwartz, creatore della serie cult, ha sempre difeso la scelta fatta con il personaggio di Marissa ritenendola necessaria, anche se purtroppo la sua intuizione – in termini di ascolti – non è stata capita.
Ad alcuni fan che lo hanno interrogato circa l'ipotetico destino dei personaggi rimasti ha sempre risposto parlando di interpretazioni personali, senza dunque esporsi più di tanto al riguardo.
Per cui ci toccherà provare a immaginare da soli una plausibile conclusione in un mondo parallelo in cui Marissa è sopravvissuta.
Sarebbe cambiato qualcosa nell'epilogo tra Seth e Summer se la ragazza non avesse mai perso la sua migliore amica? Molto probabilmente il risvolto ambientalista anti fashion della brunetta non si sarebbe sviluppato, o magari non in modo così estremo. Crediamo però che i due fidanzatini sarebbero comunque convolati a giuste nozze con Ryan e Marissa (al posto di Taylor) come testimoni del loro amore.
E della tenera e nevrotica Taylor, invece, che ne sarebbe stato?
Dal momento che il personaggio era presente anche durante la vita di Marissa, ci sarebbe stato quasi sicuramente un risvolto amichevole con Coop così come c'è stato con Summer.
Forse avrebbe fatto l'antagonista dispettosa per qualche episodio ma alla fine il personaggio di Taylor, vessata dalla madre e ignorata a scuola, avrebbe suscitato la compassione del gruppo che l'avrebbe accolta e fatta diventare una di loro.
Taylor e Marissa sarebbero state per certi versi ottime amiche.
Una avrebbe addolcito i tratti più cupi dell'altra che in cambio le avrebbe dato una bella svegliata generale. Veniamo però alla domanda che ci interessa di più: ma Ryan e Marissa?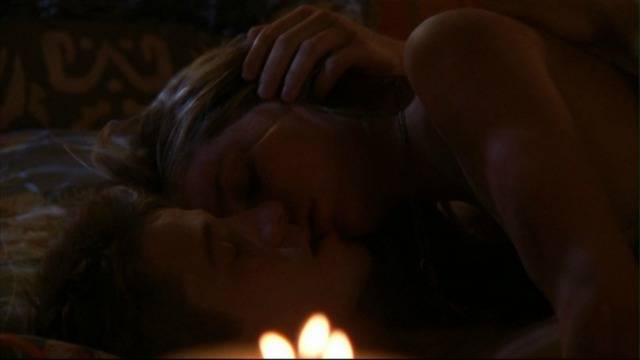 Sarebbero ancora insieme se Volchok non avesse mai incrociato la loro strada? Sicuramente ci sarebbero stati ancora parecchi batticuori nel rapporto tra questi due, ma non siamo così sicuri che alla fine sarebbero finiti insieme come Summer e Seth.
Sarebbe infatti una fine poco calzante per i due che hanno sempre avuto un rapporto altalenante e spesso conflittuale. Quello che in fondo Marissa ha sempre cercato è stata dell'autenticità in un mondo dove non ne viveva molta. L'ha trovata in Ryan e nel suo costringerla a misurarsi con realtà diverse dalla sua. Poi ok, Marissa è pur sempre Marissa e se non si ribella a qualcosa al mondo non ci sta bene. Comunque, grazie a Ryan ha saputo trovare una sua dimensione.
Per questo la decisione di ucciderla è stata così contestata dai fan. Sul finire della terza stagione, Marissa sembra davvero aver raggiunto una sorta di maturità personale, capendo che la strada classica del college non faceva per lei al contrario di quella lavorativa in Giappone accanto al padre.
Per cui vogliamo pensare che il destino alternativo di Marissa Cooper in The O.C. continui proprio da lì.
Da quel viaggio in Giappone dove ci piace crogiolarci nel pensiero che possa aver trovato fortuna, che con la sua grinta si sia imposta come una sorta di it girl alla Alexa Chung o che abbia seguito gli affari del padre usando la sua testa dura per impuntarsi su accordi e trattative economiche.
Del resto una mano a Jimmy Cooper negli affari è sempre servita!
Magari sarebbe tornata appunto per il matrimonio di Seth e Summer nella sua adorata Newport, e avrebbe deciso di fermarsi per vedere se con il suo eterno amore Ryan qualcosa poteva ripartire. O forse si sarebbe fermata solo di tanto in tanto per assaporare la bellissima stranezza di quel nuovo nucleo familiare improbabile dove lei e Ryan si ritrovano addirittura come fratellastri accanto a una Julie Cooper finalmente più materna e anche meno arrivista.
La stessa che dopo tanti sforzi per allontanare Ryan dalla vita di sua figlia ha finito addirittura per ritrovarselo come figliastro.
Sarebbe stato un bel finale, e sarebbe stato bello concedere a questo personaggio problematico e contraddittorio (ma che comunque, come la storia ha poi dimostrato, influiva su tutti gli altri personaggi in scena in modo considerevole) il giusto epilogo così come è stato dato a Ryan o ai Cohen a Berkeley.
Questa, però, è davvero un'altra storia.