Dedicato a tutti i fan di The Leftovers
I'm not fucking Jesus. — Kevin Garvey
I'm not saying you are, but the beard looks good on you. — Matt Jamison
Mesi fa scrissi un articolo intitolato 10 pilot delle Serie Tv che ci avevano completamente illuso. 
Tra questi titoli annoverai The Leftovers. Scelta dolorosa, ma avvalorata da elementi inconfutabili. Penne di gran lunga più autorevoli (The New Yorker, tanto per indicarne una) e i numeri confermavano che l'adattamento televisivo del romanzo firmato Tom Perrotta non aveva soddisfatto a pieno le alte aspettative.
Così descrissi The Leftovers:
Tutto troppo bello per essere vero? Sfortunatamente sì e sappiate che a scrivere è un fan di The Leftovers, uno che considera il Kevin Garvey, interpretato da Justin Theroux, essere umano oscuro e tormentato, come "il" personaggio, unico e inimitabile tra tutti.

The Leftovers è in conclusione un prodotto di nicchia, riuscito in molti aspetti, ma che presenta anche enormi limiti. Sicuramente lontano dall'essere l'opera perfetta e apprezzabile incondizionatamente che si pensava.
Come un pendolo che fluttua tra obiettività e passione, cercai di rifugiarmi nel compromesso. D'altronde la mia è (e rimane) soltanto un'opinione dispersa nel mare magnum della chiacchiera. Per quanto potessi amare questa Serie Tv i difetti sottolineati dalla critica erano talmente lampanti.
Ricordo di aver ricevuto una dose massiccia di critiche da parte dei fan. Persone sinceramente convinte e coinvolte dalla bontà dello show prodotto da HBO. Ciò che mi colpì non fu scoprire che molti non condividevano il contenuto di quanto avevo scritto nonostante mi fossi limitato a fare miei pareri autorevoli e dati d'ascolto, bensì rendermi conto che io ero uno di loro.
Così promisi a me stesso e a quegli addicted indignati che alla prima occasione avrei detto la mia verità su The Leftovers. Ed eccoci qua, finalmente.
SEASON 3
Lo ammetto, sono ancora al secondo episodio ("Don't Be Ridiculous"), ma la curiosità mi ha spinto a informarmi e troppa era la voglia e la volontà di scrivere questo pensiero.
Perché The Leftovers piace e mi piace
Un conturbante sviluppo, fumoso e violento, tra sacro e profano. La scelta di una costruzione frammentata in grado di tenere alta la soglia dell'attenzione di chi osserva. Una soundtrack magistrale, a detta di molti tra le migliori in circolazione, che percuote nel profondo nota dopo nota. Battute imbevute di cinico sarcasmo e consapevolezza che, accompagnate da citazioni bibliche, svelano lo spiraglio verso una visione innovativa, viva, unica, in un clima che sa di grottesco.
Anche la critica ha accolto positivamente questa stagione conclusiva. Quelli che venivano indicati come punti deboli, oggi sono diventati sane e accessibili virtù. La potenza emotiva e un'incertezza spiazzante hanno finito con il conquistare anche i detrattori più incalliti.
Non sapere cosa stia per accadere, né come andrà a finire
Un mondo sdoganato da qualsivoglia demagogia, dove non si deve credere più in niente o forse, al contrario, si può credere in tutto. Un piano dove l'uomo ritorna alla sua forma originaria, quale essere primordiale naturalisticamente inteso. Questa è la bellezza di The Leftovers.
VITA
Io amo (televisivamente parlando) The Leftovers. La amo, perché è un'anomalia nell'universo seriale. A tratti indubbiamente difficile da digerire, ma pur sempre qualcosa di più che una mera Serie Tv.
Una metafora della vita stessa
Riflettiamo. L'Improvvisa Dipartita, l'attimo in cui il 2% della popolazione mondiale è svanito nel nulla, non simboleggia forse la "somma" perdita? Chiunque ha smarrito qualcosa o qualcuno nella vita. Ognuno di noi ha affrontato quel preciso istante in cui è divenuto un "leftovers". Ci si sente annichiliti, privi di significato. La felicità, le certezze, la vita si dimostra cosa effimera e corrotta. Tutto sembra mutare in un collasso doloroso, dove l'unica soluzione prende il nome di adattamento. Ma a quale prezzo?
Ogni esistenza è un dramma e ciò che si è lasciato indietro ne è il nucleo pulsante
L'elaborazione della scomparsa, il lutto, plasma crescita e formazione di un uomo che tende fisiologicamente e inevitabilmente alla morte, altro tema centrale di questa Serie Tv. Una morte che può essere vista come salvezza, pace o passaggio accanito in un percorso segnato sin dal principio.
The Leftovers parla di me, di noi. È un prodotto umano,  un richiamo a noi stessi e a ciò che siamo. Un viaggio che ci consuma, oltre l'empatia, invitandoci a indagare sull'essere. Lungo ciò che definiamo esistenza, inseguendo o scappando da qualcosa che chiamano destino o libero arbitrio, siamo così indirizzati a riscoprirci individualmente.
Ecco allora palesarsi nitide all'orizzonte le differenti storie dei nostri protagonisti, filtrate attraverso altrettanti differenti punti di vista. C'è chi fugge dal passato, chi interpreta l'Improvvisa Dipartita quale un miracolo, chi la identifica al pari di un nuovo inizio, o invece come l'inizio della fine.
KEVIN GARVEY
Kevin Garvey è la carne e le ossa in cui sublima il mio pensiero. Un manifesto d'umanità.
Il mio personaggio preferito. Lo sento vicino, mi immedesimo in lui
Nelle sue visioni, nella paura della follia, nel suo agitarsi sul filo dell'ignoto. Persino in quelle tendenze autolesionistiche e nell'espressività cosciente, ma fuori di testa allo stesso tempo. La ricercata quotidianità spezzata dal dolore, dal subbuglio e talvolta anche da un rosso, un vivissimo sangue rosso sulle mani. Un destino che pare aggredirlo, chiedendogli l'impossibile, costringendolo a testare senza sosta la propria schizofrenica identità.
Cosa è reale e cosa non lo è? Ma soprattutto, perché questo accade a lui? Interrogativi che sembrano perseguitarlo. Un'impasse che a volte degenera nella passività. Una congiura divina che non lascia scampo.
Kevin Garvey è morto e tornato in vita. Lo sappiamo
Kevin non è pazzo, ma se dovessimo scoprire che lo è, allora significherebbe che l'uomo per elevarsi deve necessariamente varcare quella soglia da cui tutti facciamo un passo indietro.
HEY, ARE YOU HAPPY? — YES
Domande e risposte confuse. Forse questo è uno dei nodi critici di The Leftovers. Il veicolare a una spasmodica riflessione oltre la "semplice" sceneggiatura. Ma è proprio tale speculazione a legare lo spettatore ai volti di questo show.
In un flusso ininterrotto di non detto, emblematica di quanto scritto finora è la scena sul finale di 3X02, in ciò che pare un omaggio cinematografico a Lucky Number Slevin. Nora, di ritorno a casa, trova Kevin ansimante con la testa avvolta in una busta di plastica stretta al collo con del nastro adesivo.
I tear it off every time. I just do it to feel, um. I don't want to die.
La necessità di ricordarsi che non si vuole morire e quel "sì" alla domanda se fosse o meno felice nascondono il cuore di The Leftovers. Un cuore che alberga in molti di noi.
No, Kevin non mente. La sua è una risposta che non profuma di menzogna, bensì di rassegnazione. Una rassegnazione che entra a far parte di noi esseri umani, nel momento in cui qualcosa ci ha abbandonato, mutandoci per sempre. In questo scambio di battute ci viene rivelata una realtà omertosa. Il velo sottile che separa il "non voler morire" dal "voler vivere". Due facce della stessa medaglia, ma ben diverse l'una dall'altra. Nel momento della crisi, della rottura, sboccia il limite massimo a cui ci si spinge per trovare la risposta che si sta cercando.
Questo è quello che succede quando ci sentiamo morti dentro e Kevin, signori miei, morto lo è stato per davvero
WE LOVE THE LEFTOVERS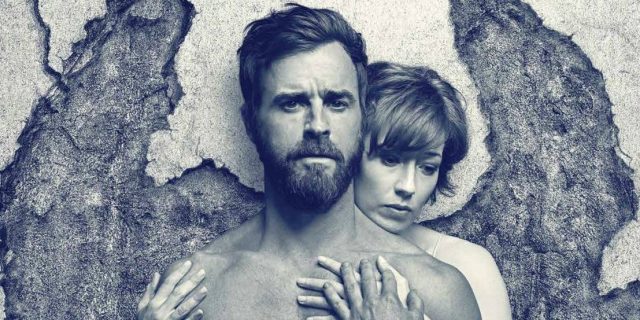 If we can't have a sense of humor about you being the messiah, we're going to have a problem. — Nora Durst
Se la prima stagione non aveva convinto la critica, la seconda ha finito con il ribaltare l'intero scenario, consegnandoci nuove trame nel segno dell'imprevedibilità e protagonisti inaspettati, oltre che porre Kevin Garvey al centro della vicenda.
Siano lodati i Murphy e Miracle insomma
La terza stagione è stata esaltata sin dalle prime battute. Una nuova pagina nella vita di questi uomini con un piede nel passato e lo sguardo proteso su un futuro ignoto su cui sembra affacciarsi una seconda Dipartita, a distanza di sette anni dalla prima.
Nei primi due episodi ci viene presentata una realtà apparentemente stabile, ma intimamente tormentata. Tra cani che assumono sembianze umane per controllare il mondo, macchinari in grado di condurre dove si trovano i dipartiti e flashforward di un vago futuro australiano, c'è chi ha abbracciato nuove convinzioni e chi non smette di credere. Su tutti Nora, che sembra non voler rinunciare a ciò che gli è stato portato via, mentre Kevin, tornato a indossare la divisa, viene additato a nuovo messia da Matt e gli altri, tanto da scrivere un Vangelo su di lui.
Ora lasciatemi scoprire come finirà questo trip evocativo e fuori di testa
The Leftovers può essere vissuto in molteplici modi. Lo si può apprezzare dal punto di vista estetico, oppure rimanere ingabbiati nella trama complessa e lapidaria. Senza ombra di dubbio però, questa Serie Tv spinge sui nostri cuori, graffiando e sconquassandoci in un travaglio emotivo come poche altre produzioni.
Fino a dove può arrivare la deriva umana e a quale dimensione anelano i protagonisti? Un futuro che scoprirò nei prossimi episodi e di cui condividerò la mia idea con voi, che magari avete già terminato la visione. Episodi che, oltre a consegnarmi una verità sconosciuta, scaveranno ulteriormente con violenza dentro di me, ricordandomi ancora una volta che i protagonisti di The Leftovers non sono poi così speciali e che in fondo siamo tutti "avanzi", inutili "resti" di qualcosa che se n'è andato via.