Ci sono serie tv che aspettiamo con grande ansia, carichi di aspettative e speranze. A volte si rivelano all'altezza, altre purtroppo si rivelano ben al di sotto dello standard previsto. E poi c'è quella categoria di prodotti, a cui appartiene anche The I-Land, che fin dal primo momento odorano di terribile flop. Nulla di personale, ma purtroppo le premesse bastano per farci tentennare: a volte la trama, a volte gli attori scelti, a volte l'adattamento completamente fuori luogo. Anche se decidiamo di guardarle per dar loro una possibilità, le nostre previsioni si rivelano tragicamente corrette.
Ecco The I-Land e altre serie tv che fin dall'inizio sapevamo sarebbero state un disastro!
1) Pretty Little Liars – The Perfectionists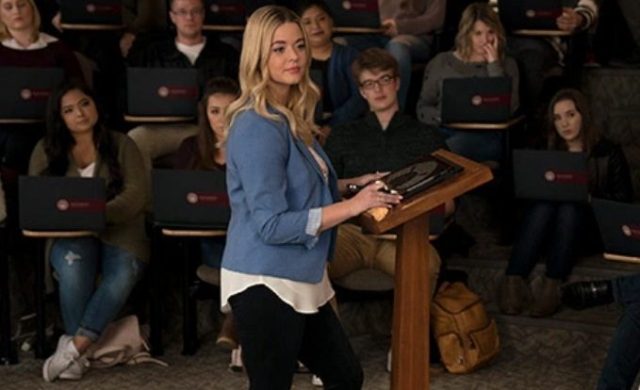 La nuova serie basata sui libri di Sarah Shepard e che vedeva Marlene King come produttrice ha avuto vita breve. E non ci meravigliamo. Già nel 2014 avevano tentato uno spin-off di Pretty Little Liars, ovvero Ravenswood, che trasportava in un contesto nuovo gli storici personaggi già apprezzati dal pubblico. Ma anche in questo caso il duo Alison-Mona non ha convito gli spettatori e molti erano scettici ancor prima che venisse rilasciato il primo episodio. Pretty Little Liars ci ha trasportato in un universo fatto di vendette e amicizia, omicidi e sacrifici e durante il percorso, talvolta, ha dimenticato la credibilità. Ma se avevamo accettato la vena trash che la caratterizzava, non eravamo pronti a una copia più macabra e altrettanto inverosimile.
Pretty Little Liars – The Perfectionists era già finita ancor prima di iniziare.
2) The I-Land
Abbiamo da subito catalogato The I-Land come la copia mal riuscita di Lost. Fin dal trailer era chiaro che non avrebbe mai raggiunto gli standard della serie cult e, a dirla tutta, non avrebbe neanche potuto competere. Diciamo che queste nostre prime impressioni non sono state smentite (qui trovate la nostra recensione). Il prodotto targato Netflix sembra davvero una brutta copia di Lost, dove dei malcapitati sono intrappolati su un'isola deserta che cerca in tutti i modi di far uscire la parte peggiore e più malvagia del loro essere. Ma i protagonisti risultano piatti, senza un vero spessore psicologico. La trama è sfilacciata, piena di incongruenze e assurda.
Noi saremo anche partiti prevenuti ritenendola un maldestro e malriuscito tentativo di ispirarsi a un vecchio capolavoro, ma è stata la serie stessa a confermare le nostre basse aspettative.
3) Joey
Tanto abbiamo amato Joey Tribbiani in Friends, tanto abbiamo odiato lo spin-off Joey, purtroppo.
Ma lo sapevamo, sarebbe stato impossibile mantenere gli alti standard di Friends. Soprattutto perché la trama in sé lascia un po' a desiderare. Joey decide di lasciare New York dopo che i suoi amici si sono sposati e hanno preso altre strade. Tasto dolente per tutti i fan. Il protagonista si trasferisce a Los Angeles per cercare di farsi largo nel mondo del cinema e ad accompagnarlo in questa avventura saranno sua sorella Gina e suo nipote Michael, opposto dello zio in tutto e per tutto. Lo spin-off non ha la stessa spontaneità di Friends e finisce per svilire il carismatico personaggio italo-americano (che ha ispirato questi altri), facendolo diventare una caricatura di se stesso.
4) Troy – La caduta di Troia
Una tragedia epica che di epico non ha nulla, ma ha molto di tragico.
La serie segue gli eventi che hanno portato alla caduta di Troia vissuti dal punto di vista dei troiani. Il protagonista è Paride, un eroe romantico che cerca a tutti i costi di preservare la sua storia d'amore con la bella – quanto inespressiva – Elena. Le vicende politiche, gli scontri e le divinità fanno da sfondo ai tormenti amorosi del protagonista. Gli attori scelti stonano con l'immagine che Omero fornisce dei personaggi nel poema. Sono figure bidimensionali e capricciose. Achille dalla bionda chioma che risplende al sole è interpretato da David Gyasi, attore afroamericano, e risulta amorfo e poco conserva dell'orgoglioso eroe greco. Già il trailer anticipa molte delle pecche di Troy – La caduta di Troia e il disastro era prevedibile.