The Handmaid's Tale è una delle serie tv più belle che siano mai state create. Affronta temi duri, profondi e disturbanti in maniera veritiera, chiara e senza fronzoli.
In un futuro non troppo lontano radiazioni atomiche, inquinamento, guerre, malattie e catastrofi hanno distrutto la Terra. Dove un tempo sorgevano gli Stati Uniti c'è la Repubblica di Gilead, un regime teocratico, militarizzato, totalitario, misogino e patriarcale. Le donne, divise in categorie, non hanno diritti: non possono più leggere, scrivere, lavorare o guadagnare/possedere del denaro.
Le poche donne fertili rimaste sono le Ancelle, di cui fa parte anche la protagonista di The Handmaid's Tale, Offred, un tempo June.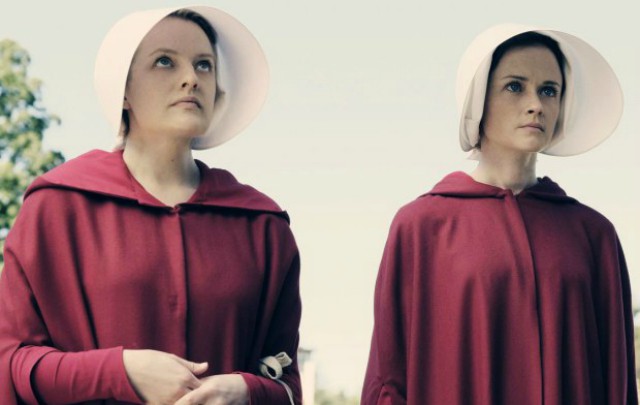 You're broken down and tired

Of living life on a merry go round

And you can't find the fighter
Andra Day ci regala questa canzone che descrive perfettamente la vita nella Gilead di The Handmaid's Tale. In poche parole, non è vita. È come se l'esistenza di tutti, eccetto i Comandanti, fosse chiusa in un loop, monotona, ripetitiva, faticosa, dal quale è impossibile scappare. Una giostra che gira su sé stessa e non cambia mai percorso.
Tutti sono penalizzati, persino le Mogli. Serena prova più volte ad aiutare il marito ma Fred, invece di ascoltare le sue brillanti idee, la ignora. Una donna a Gilead deve solo compiere il suo "destino biologico". June invece ci mostra le sue giornate, spesso riempite solo dai suoi pensieri. Sono dolorosi perché richiamano il passato, quando era libera e insieme alla sua famiglia. Però le danno la forza di andare avanti e superare la Cerimonia, distraendosi dalla violenza che sta subendo, anche solo per un istante.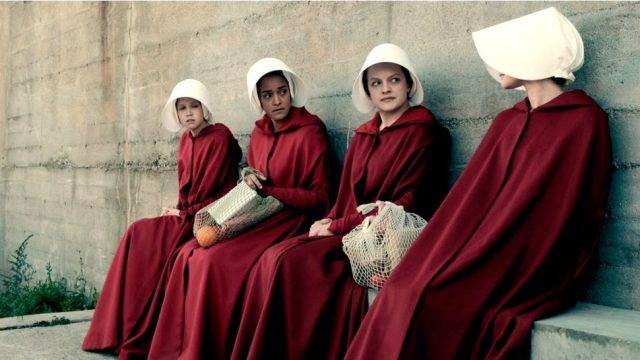 But I see it in you so we gonna walk it out

And move mountains

We gonna walk it out

And move mountains
Alle volte è difficile combattere in un mondo in cui tutto rema contro queste donne. Eppure, è possibile vedere la guerriera che è in loro.
Emily, oltre allo stupro e alla separazione dalla sua famiglia, ha subito la mutilazione degli organi sessuali per aver intrattenuto una relazione con una Marta (ovvero una serva). Ha guidato un'auto, non per scappare ma per sentirsi libera, e le è costato il confino nelle Colonie. Tutto questo l'ha devastata ma non spezzata. L'urlo che lancia dopo la mutilazione esprime la sua disperazione ma anche la sua voglia di non arrendersi. Riuscirà ad arrivare dal Comandante Roy, la sua salvezza.
Anche June è una combattente, un'eroina moderna che sfida il mondo intorno a sé con le uniche armi che ha: l'astuzia e l'intelligenza.
Zia Lydia ha provato a piegarla, per un periodo c'è riuscita pure, ma il fuoco che arde dentro di lei è troppo forte per spegnersi. Lotta, sempre, nonostante le violenze fisiche e verbali, dando forza anche ad altre donne, come Moira. Scappa per proteggere la figlia che porta in grembo da un mondo terribile. Una volta nata, riesce a metterla in salvo ma la protagonista di The Handmaid's Tale non la segue. C'è ancora Hannah da salvare.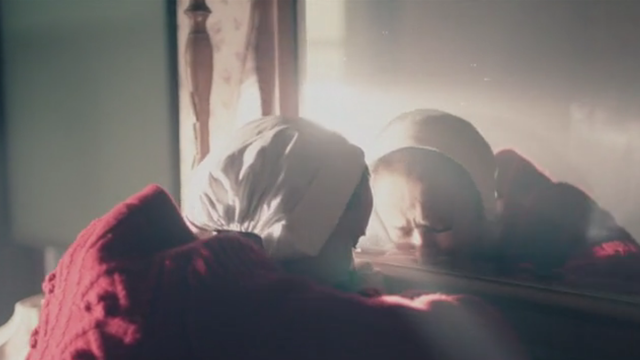 And I'll rise up

I'll rise like the day, I'll rise up

I'll rise unafraid, I'll rise up

And I'll do it a thousand times again

And I'll rise up

High like the waves

I'll rise up

In spite of the ache

I'll rise up

And I'll do it a thousands times again

For you
Prima o poi tutte le donne di The Handmaid's Tale risorgeranno. Si ergeranno sopra un sistema che le opprime e vinceranno. Anche chi ci crede fermamente ha iniziato a dubitarne. Eden era stata cresciuta come una perfetta futura moglie di Gilead. Il suo indottrinamento era così forte che pensava che, se fosse stata sottomessa con il proprio marito e l'avesse aiutato a formare una famiglia, allora l'avrebbe amata. Ma la realtà è ben diversa. Trova l'amore con Isaac, scappano, vengono catturati e muoiono. Si poteva salvare ma Eden non avrebbe mai mentito. L'amore non è un peccato ed è stata Gilead a insegnarglielo.
Una morte che scuote Serena. Convinta anche dalle parole di June, prova a cambiare le cose. Il suo gesto di leggere la Bibbia viene preso come un affronto. Fred non fa niente per proteggerla, creando una frattura insanabile tra i due coniugi. Il velo si è squarciato e ora Serena è consapevole di ciò che ha contribuito a creare.
June è rinata più volte nel corso di The Handmaid's Tale.
È diventata Offred finché non è riuscita a scappare grazie a Nick. Nel suo rifugio June si libera di tutto ciò che appartiene all'Ancella: brucia i vestiti, si taglia i capelli e rimuove il tag dal proprio orecchio. È la rinascita che passa dal dolore di Offred per permettere a June di tornare. Il sangue che le macchia il volto è la metafora di una libertà conquistata con sacrificio. Quando viene catturata di nuovo, strappata dal ventre dell'aereo che doveva proteggerla, torna Offred. Ma June è sempre lì, pronta a riemergere quando servirà.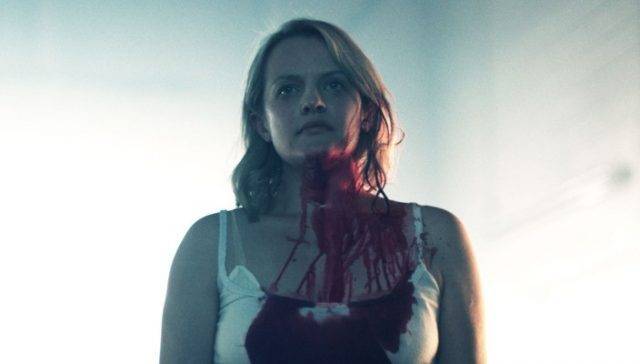 When the silence isn't quiet

And it feels like it's getting hard to breathe

And I know you feel like dying

But I promise we'll take the world to its feet

And move mountains

We'll take it to its feet

And move mountains
June ha provato spesso questa sensazione, come se qualcuno opprimesse il suo petto e non la facesse respirare. Perché le Ancelle sono essenzialmente delle schiave. Rompere l'asfissiante routine quotidiana è una boccata d'ossigeno. June riesce a respirare quando fa la spesa con le sue compagne, nella sua relazione con Nick, in una semplice rivista, nelle serate con Fred passate a giocare a scarabeo. Arriva persino a collaborare con Serena per mantenere l'ordine a Gilead, solo per assaporare nuovamente la sua vita precedente.
Respira anche quando partorisce Holly, sola, in una casa sperduta, davanti al fuoco, in una delle scene più forti e realistiche di The Handmaid's Tale.
Si riappropria di quel momento che Gilead, con i suoi rituali insulsi e vuoti, le avrebbe portato via.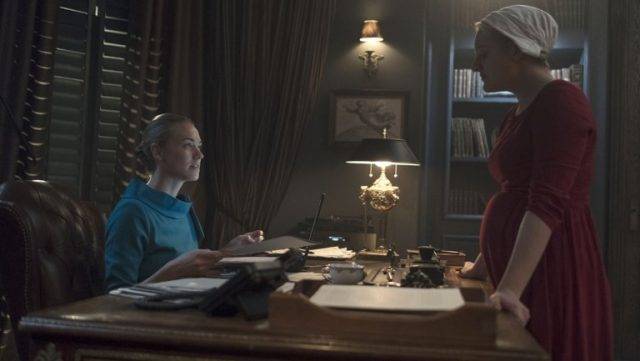 All we need, all we need is hope

And for that we have each other

And for that we have each other

We will rise
La speranza risiede nella solidarietà femminile e nella consapevolezza che June non è la sola a lottare. Non sarà un uomo che porterà in salvo Nicole ma le Marte e Serena. La speranza viene anche dalle lettere di donne che cercano la propria famiglia e denunciano le atrocità di Gilead. Come in tutte le guerre, l'arma più forte di tutte è la memoria, la testimonianza di chi resiste e di chi è disposto a morire perché le cose cambino. Quando la bambina di Janine è malata, Serena e persino Zia Lydia sono disposte a rompere le regole in cui credono tanto pur di salvarla.
Quando dovevano lapidare Janine, le Ancelle diventano per la prima volta una sola donna, un'armata unita e compatta contro cui nemmeno Zia Lydia potrà fare qualcosa. È il primo vero atto rivoluzionario che le Ancelle compiono.
Perché "non dovevano darci un'uniforme, se non volevano che diventassimo un esercito". E ora non ci resta che aspettare il 5 giugno per scoprire se e come questo esercito attaccherà!