Può l'amore sopravvivere in un universo distopico e soffocante come quello di The Handmaid's Tale? E a cosa si deve piegare per non essere schiacciato dalle regole ferree, implacabili, di Gilead?
Se riconosciamo i nostri peccati, Egli che è fedele e giusto ci perdonerà e ci purificherà da ogni colpa. Rinunciate ai vostri peccati e implorate la Sua misericordia.
Pesano come macigni le parole del boia, ancora di più dei pesi ai piedi di Eden e del suo amante Isaac. Sono quelle parole a far sprofondare l'amore ancor prima che i due amanti vengano spinti giù, nell'acqua, a incontrare la morte.
L'amore è paziente, l'amore è benevolo. L'amore non invidia, l'amore non si vanta. L'amore non è sconveniente. L'amore non cerca il proprio interesse…
Le ultime parole di Eden sono farfalle che volano nell'aria, libere e bellissime per pochi istanti. È la parola dell'amore, opposta nella sua leggerezza a quella parola di Dio che ci vuole pesanti, ad affogare in un mare di ipocrisie. Eden è l'agnello sacrificale che può insegnare alle donne di Gilead a osare per amore.
È la bambina fragile e insicura che sfodera un coraggio da leone, faccia a faccia con la morte.
Quelle parole, troncate dal calare del destino, risuonano per tutta questa dodicesima puntata di The Handmaid's Tale. Quando vediamo June umiliata, ridotta a una vacca da latte, con il seno che implora un contatto con la sua bambina.
Quando Serena tenta disperatamente, goffamente, teneramente, di essere una madre per davvero, e di dare il suo seno spento alla piccola Holly. Un seno che sa di plastica, un seno che non dà la vita. La ricerca di un contatto umano con la piccola produce frustrazione in Serena e il pianto nella bimba, che non si fa ingannare da questo amore di plastica, da questo seno vuoto, dalla sua pallida imitazione nel biberon.
L'amore per sopravvivere in The Handmaid's Tale deve piegarsi, strisciare, trovare la sua strada tra le pieghe di un mondo rigido, inflessibile. Un mondo che non ci vuole umani, ma macchine, che disumanizza e umilia una madre, che eleva l'ottusità, che schiaccia la virtù e il coraggio.
La smorfia di dolore, il grido bestiale e ancestrale di June in travaglio che avevamo visto nella superba, sontuosa decima puntata, qui diventano un sorriso amaro, una smorfia di dolore e desiderio. June, prima sola contro gli elementi, donna primordiale che partorisce in solitudine, furiosa, fiera, selvaggia come una bestia sola contro le forze della natura, ora è di nuovo sola contro i suoi soliti nemici.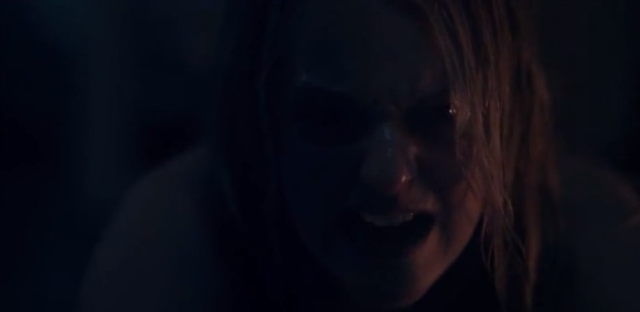 Non è riuscita a mantenere la promessa, a far nascere Holly in un mondo diverso da Gilead.
E così il suo amore per lei deve strisciare, adattarsi, ridursi ad accarezzare un freddo parquet quando vorrebbe stringere la sua bambina tra le braccia. Ridursi a elemosinare un contatto, una poppata, per non spezzare quel filo fragile che la lega alla sua creatura.
Ed è proprio il sacrificio di Eden a segnare il punto più vicino tra June e Serena, per la prima volta più vicine che mai in questa seconda stagione di The Handmaid's Tale. La morte dell'agnello sacrificale, che si immola per un amore vero, non di plastica soffocante, ma di carne, di contatto, di saliva e latte, smuove qualcosa in Serena. L'alleanza cercata da June dopo la punizione subita dalla sua padrona, e spezzata sul nascere, trova ancora terreno per germogliare.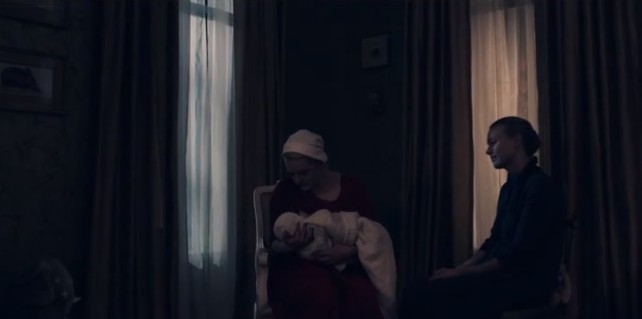 Le due donne sono unite dal dolore, sì, ma anche dalla maternità congiunta per una creatura che sentono di amare entrambe. June, di quell'amore viscerale e ancestrale che ti nasce dentro appena senti la vita muoversi dentro di te. Serena, di quell'amore voluto e desiderato contro tutto e tutti, un amore che è fatto di montagne di vestitini, di finte poppate, di gelosia e di ossessione per una creatura che per lei rappresenta l'unica libertà possibile.
L'amore per sopravvivere a Gilead deve sacrificare qualcosa.
La vicinanza, nel caso di June e della piccola Holly, per sopravvivere in pochi sprazzi di normalità recisi ogni volta dalle regole. La libertà, nel caso di Serena, che tutto ha immolato del suo essere donna per poter essere una madre di Gilead. La vita, nel caso della piccola Eden che, sul piatto della bilancia, vede pesare molto di più l'amore della sua stessa vita.
In questa sinfonia di voci femminili che è The Handmaid's Tale, la voce bianca di Eden risuona a tal punto da assordare tutti. In questo coro di voci a volte dissonanti, Eden riesce a trovare l'accordo che le unisce tutte, in una comunione del dolore da cui può germogliare un seme di alleanza e comprensione. E anche se non è destinato a durare, le parole di questa bambina coraggiosa sopravviveranno agli inverni della coscienza, per sbocciare, prima o poi, in bellissimi fiori.