Ciao, sono Alessandro Borghese. Benvenuti a questa puntata speciale di 4 Ristoranti: il mio viaggio nelle location regali. Un solo concorrente in sfida e quattro categorie da votare: lochescion, menù, serrvizio e conto. Ma non basta. Con il mio voto posso confermare o ribbaltare il risultato. Il primo e unico concorrente di oggi è Buckingham Palace di The Crown.
Pensavate di esservi liberati di me e del mio insindacabile voto, mi spiace dirvi che non è così. Ho deciso di tornare con il botto e quale miglior location se non un palazzo reale? Per questa nuova puntata sono stato invitato a Buckingham Palace, casa della regina d'Inghilterra. Di certo un'esperienza del genere non mi era mai capitata e proprio per questo ho come la sensazione che nessun brutto voto sarà assegnato oggi.
Quindi, senza alcuna esitazione, ho accettato l'invito e mi sono ritrovato su un aereo diretto a Londra, capitale del Regno Unito. E ora eccomi qui, di fronte al maestoso Buckingham Palace di The Crown. Sia messo agli atti che qualsiasi mia decisione non verrà influenzata dal fatto di essere in presenza di sovrani.
Ad accogliermi c'è il marito della mia ospite in persona, il principe Filippo. Cominciamo bene.
Che inizi la sfida!
1) Location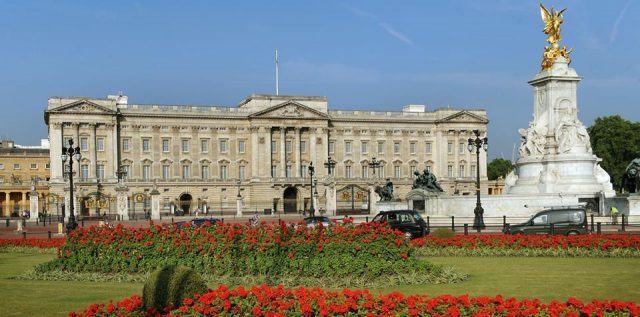 La grigia Londra fa da sfondo perfetto a questa meravigliosa struttura, esaltandone il colore (grigio). La sua posizione centrale rende Buckingham Palace facilmente accessibile ai fan adoranti e ai clienti del ristorante. Il patio dal quale gli ospiti hanno accesso al palazzo è molto semplice ma allo stesso tempo trasuda regalità. Mi piasce. L'unico problema? Non c'è nessuna insegna che mi indichi che questo palazzo sia un ristorante. Un semplice passante potrebbe confonderlo con qualcos'altro, tipo una casa.
Voto: 9