Siamo già arrivati al terzo episodio della nuova stagione di The Big Bang Theory! Dopo aver visto un'incasinatissima premiere e dopo un episodio più old style, cosa ci hanno riservato gli autori questa settimana? "The Dependence Transcendence" si è rivelato un episodio ricco di situazioni nuove ed originali ed abbiamo visto anche uno speciale personaggio venuto in aiuto di Sheldon!
Ricapitoliamo però cosa è successo in questo episodio di The Big Bang Theory ed ai suoi amici prima di dare un parere sull'episodio.
Naturalmente sarebbe meglio che non continuaste a leggere se non volete spoiler!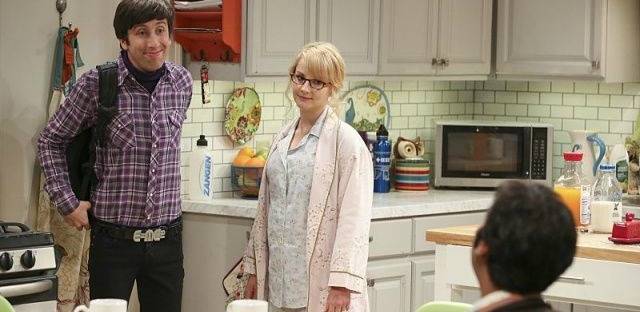 Voglio cominciare a parlare di Bernadette e dalla sua gravidanza: credevo che analizzare nel dettaglio questo periodo sarebbe stato molto noioso ed invece mi sbagliavo. Devo dire che vedere le sue paure ed ansie rende la situazione più realistica. Certo avere un bambino è una cosa meravigliosa, ma è anche un grandissimo cambiamento che comporta tante responsabilità. Bernadette poi era sempre stata convinta a non averli ed aveva deciso di ripensarci solo perché spinta da Howard. Insomma è normale che abbia dei dubbi e non sprizzi felicità da tutti i pori.
Ad aiutarla stavolta è stato Raj con cui si è confidata mentre preparavano insieme la stanza per il bambino (questo a dimostrazione del fatto che Raj fa proprio parte della famiglia Wolowitz!). Lui l'ha fatta parlare con suo padre che, essendo un ginecologo, sa cosa dire in queste situazioni. Abbiamo potuto rivedere dunque il simpatico padre di Raj, che non ha perso occasione di ricordare a suo figlio per l'ennesima volta che deve trovarsi una sposa indiana. Non è stato solo fastidioso, ma anche molto dolce: ha infatti consigliato a Bernadette di non preoccuparsi troppo delle sue ansie poiché sono normali e le ha detto che, anche se adesso non lo crede, sarà una buona madre.
Ma nel frattempo cosa stanno facendo i tre scienziati protagonisti di The Big Bang Theory? Stanno chiusi nel loro nuovo laboratorio per realizzare il sistema di navigazione per il Colonnello. La missione che già nello scorso episodio sembrava irrealizzabile, si rivela persino peggiore del previsto. Trascorrere tutto il loro tempo a lavorare duro sembra non essere abbastanza ed i tre scienziati sono davvero sfiduciati. Per poterci riuscire sarebbe necessario l'aiuto di Flash!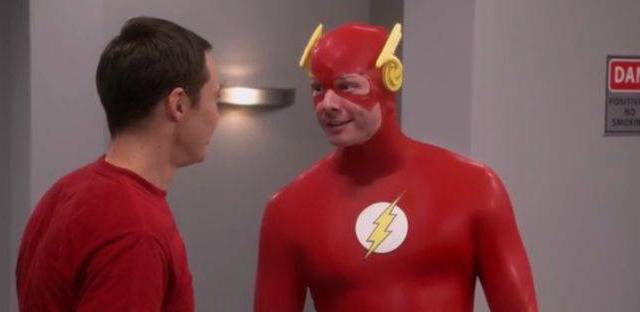 Ed è proprio il mitico supereroe dotato della super velocità che Sheldon immagina accanto al distributore delle bibite! ll dottor Cooper è distrutto dalla mancanza di sonno ed ha dunque un'allucinazione in cui Flash lo sprona a prendere una lattina della bevanda energizzante.
Flash oltre a cercare di convincerlo, gli svela anche il suo segreto più scottante: ha fatto affari con la rivale Marvel! Sheldon all'inizio cerca di opporsi e resistere, ma non vi riesce e cede alla tentazione e ne diventa dipendente.
Nulla però sembra funzionare e Leonard ed Howard decidono di chiedere al Colonnello più tempo, perché per loro sembra davvero impossibile completare l'opera prima di due anni. Nonostante le riserve di Sheldon ed il timore della reazione del Colonnello si fanno coraggio e vanno a parlargli. Stranamente il Colonnello glieli concede volentieri dicendo di essere abituato alle lunghe scadenze e che sta ancora aspettando dei commissionati da Reagan.
Questa reazione mi ha lasciato esterrefatta: come è possibile che in un solo episodio possa cambiare totalmente il carattere di un personaggio? La settimana scorsa era un severo e rigido ufficiale ed adesso diventa generoso? E' stato un bene comunque per i tre ragazzi che ora avranno tempo a sufficienza per realizzare quello che potrebbe diventare il progetto più importante della loro vita.
Questa settimana è stato dato rilievo ad un personaggio che era stato un po' trascurato in questi primi episodi, Amy Farrah Fowler.
Insieme a Penny la ragazza viene invitata ad un party tra scienziati organizzato dal geologo Bert. Non vedevamo Bert dall'ottava stagione, quando ci aveva provato con Amy ed aveva obbligato Howard e Raj a seguirlo ad una convention sulla geologia. Le due amiche vanno al party, ma scoprono di essere le uniche invitate, non che la cosa ci stupisca molto: Bert non sembra affatto un tipo popolare. Questa festa che comincia con grande imbarazzo diventa invece davvero divertente, ma soprattutto ci rivela una cosa importante: Amy è la scienziata più popolare del campus della CalTech.
Se a conquistare tutti siano stati il suo look decisamente vintage o le sue battute sulla neurobiologia non lo sappiamo. Quello che è certo è che Amy ci ha messo tanti anni, ma è riuscita a raggiungere la popolarità! Ed ha anche reso  Sheldon più cool agli occhi di tutti in quanto è il suo ragazzo. Che dire? Questa sì che è la vera rivincita delle nerd.
E Penny? Già da diverso tempo grazie all'influenza delle sue due amiche e del suo lavoro, è diventata più seria, più intelligente e meno svampita e continua a realizzarsi la sua metamorfosi. Se altre volte ci aveva stupito con le sue citazioni del mondo nerd, stavolta ha sfoderato una battuta sul mondo scientifico, che ha conquistato il geologo e tutti noi. Penny non è più una stupida ochetta bionda e questo è sempre più chiaro!
Insomma che dire dell'episodio? E' stato divertente ed abbastanza originale, sicuramente superiore a quello della settimana scorsa. Ha dedicato il giusto spazio a tutti i personaggi ed a tutte le situazioni, evitando la noia. Il cameo di Flash è stato molto divertente e geniale, anche se il personaggio non era interpretato dal nostro Grant Gustin ed indossava un costume davvero penoso.
Nel complesso comunque un episodio ben fatto che ci ha fatto ridere di gusto!  Come abbiamo potuto osservare da questi primi tre episodi sembra che The Big Bang Theory abbia iniziato questa decima stagione col piede giusto, ma non illudiamoci: siamo solo all'inizio.