Li abbiamo visti crescere e maturare, superando passo per passo ogni loro paura, imparando ad aprirsi al mondo e alle relazioni: i nostri 4 amatissimi nerd ne hanno fatta di strada dalla prima all'ultima stagione di The Big Bang Theory, arrivando a livelli di maturazione che mai ci saremmo aspettati di vedere.
E in questo percorso, man mano che il lavoro su loro stessi procedeva, vedevamo arrivare per gli scienziati anche quelle soddisfazioni che la vita fino a quel momento gli aveva negato. Hanno trovato l'amore, hanno costruito le loro famiglie, hanno coronato di successi la loro carriera.
Ma, nonostante il finale di The Big Bang Theory ci mostri un qualche lieto fine per ognuno dei suoi protagonisti, c'è comunque un personaggio al quale non viene donato il perfetto happy-ending che desiderava. Ci riferiamo, ovviamente, a Rajesh Koothrappali, il tenero sognatore che più di tutti ha sperato di trovare l'amore, ma che è infine rimasto l'unico single del gruppo.
La conclusione che The Big Bang Theory dona al nostro Rajesh è perfetta sotto tanti punti di vista, ma anche agrodolce per molti altri aspetti, perchè il dolce indiano era quello che forse più di ogni altro meritava di coronare il suo sogno di trovare l'anima gemella.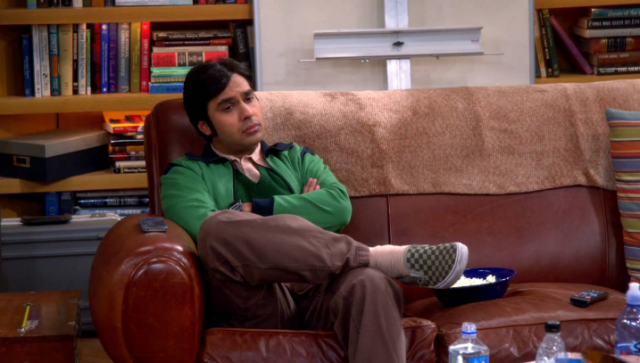 E ci sono stati dei momenti in cui il ragazzo sembrava quasi esserci riuscito. Ma in nessuna di quelle occasioni, in effetti, Raj era veramente pronto a trovare il vero amore. Il suo percorso di crescita, infatti, non si era concluso del tutto e l'uomo aveva ancora fin troppo da imparare su se stesso per poter veramente comprendere il senso più pieno e puro dell'amore.
Il percorso che Rajesh deve compiere, infatti, è un cammino estremamente solitario, che ha proprio lo scopo di far comprendere al giovane il proprio valore, fargli trovare la sua indipendenza e portarlo a non vedere più l'idea dell'amore come una sfida per sentirsi al pari degli altri.
Obiettivi che solo a poco a poco Raj inizia a raggiungere, arrivando innanzitutto a superare il suo problema di mutismo selettivo e affrontando in seguito la durissima sfida con se stesso per convincersi a rinunciare al sostentamento familiare, costruendo un futuro tutto suo.
Ma il passo finale del suo percorso Rajesh lo compie solo nell'ultima stagione di The Big Bang Theory, proprio in quegli ultimi istanti che lo vedono rinunciare alla possibilità di sposare Anu.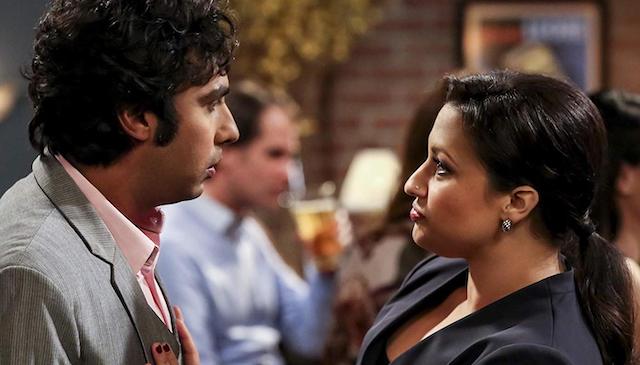 È proprio in quella scelta, infatti, che Raj dimostra la sua acquisita maturità, dimostrando di non essere disposto ad accettare un matrimonio combinato o un amore a metà solo per la sua paura di rimanere solo, o per la voglia di sentirsi al pari degli amici.
In quel momento il suo romanticismo acquista un senso diverso: non più il sogno disperato di un ragazzo che vuole una donna accanto a sé a tutti i costi, ma il desiderio legittimo di un uomo che accetta sé stesso e la sua completezza, pur rimanendo aperto alla possibilità di incontrare una donna da amare sul serio, che possa arricchire la sua vita pur senza essere una necessità.
Ed è in quello stesso istante che Raj diventa pronto a instaurare una vera relazione. Una relazione che, però, non ci viene mostrata durante la serie.
Perché è esattamente in quel punto che la sitcom si conclude, mostrandoci un Rajesh ora maturo, ma ancora solo, lasciandoci immaginare un futuro pieno di possibilità e di amore che però noi spettatori non avremo mai modo di vedere sullo schermo.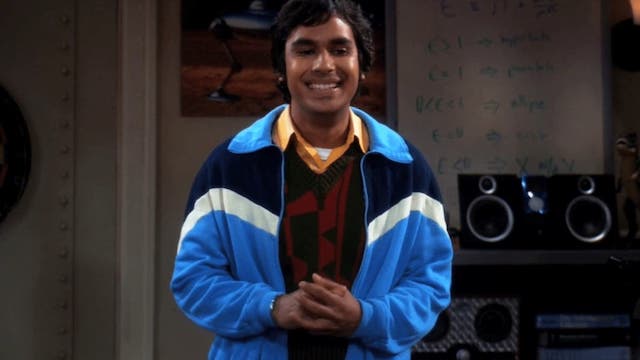 Una scelta narrativa che ha un suo perchè, ma che forse non ci soddisfa veramente. Perché Raj meritava davvero di avere il suo lieto fine.
Se lo è guadagnato, proprio compiendo quel duro percorso solitario che lo ha portato a rinunciare ad Anu, ha lavorato per costruirlo, forse molto più di tutti i suoi amici, a cui è stata regalata la possibilità di un amore sincero e profondo anche ben prima che il loro percorso personale fosse concluso.
Perché, allora, non donare lo stesso epilogo felice anche a Rajesh? Si tratta, in effetti, di una scelta che The Big Bang Theory ricava da altre serie sue predecessori, che già avevano giocato sulla possibilità di creare un finale che fosse felice, ma anche realistico, utilizzando la tattica dell'happy ending solo per alcuni dei personaggi e lasciandone uno di loro in qualche modo incompleto.
È successo in Friends, con il finale dedicato a Joey, anche lui unico single rimasto nel gruppo di amici, ed è avvenuto anche in How I Met Your Mother, questa volta con Barney. Ma nessuno di questi personaggi era come Raj.
Perché se Joey e Barney hanno dimostrato nel loro percorso di essere fondamentalmente delle anime solitarie, che ben si potevano adattare a un finale che li vedesse coerentemente single e felici, Rajesh è, al contrario, pur sempre un romantico, che pur avendo avuto la sua evoluzione non ha perso la sua cieca fiducia nel destino e nei sentimenti.
Raj meritava di trovare la sua anima gemella, o meglio di rincontrarla. Perché la donna perfetta il giovane l'aveva già conosciuta e gli autori non avrebbero dovuto far altro che rimetterla sul suo cammino.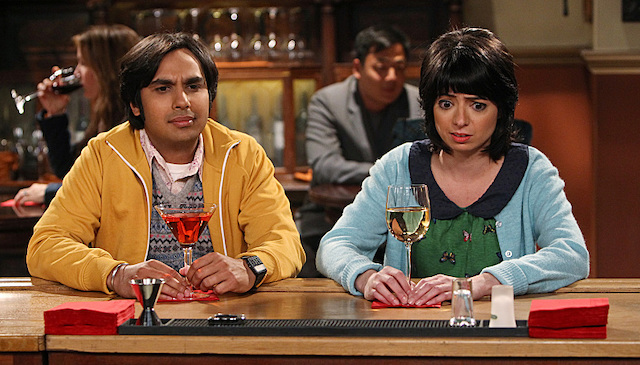 Ci riferiamo, ovviamente, a Lucy, l'ansiosa e goffa ragazza con cui Raj si frequenta nel corso della sesta stagione di The Big Bang Theory.
Una donna che aveva tutte le carte in regola per diventare la compagna di vita del dolce indiano, con cui condivide una forte sensibilità e il disagio dato da una emotività che spesso travalica i confini dell'ansia. La loro breve relazione è stata caratterizzata dal fatto di essere totalmente fuori dalle righe in ogni suo passaggio, esattamente in quello che è lo stile della sitcom, riuscendo però comunque ad essere tenera ed estremamente dolce da guardare.
Se la conclusione della storia tra i due personaggi era inevitabile all'epoca del loro primo incontro, per via del grosso lavoro su loro stessi che i due giovani dovevano ancora compiere, l'idea di poterli rivedere insieme nel progredire delle stagioni non è mai stata cancellata del tutto dalla mente dei fan.
Perché Lucy, nella sua versione cresciuta e maturata, sarebbe potuta davvero essere l'anima gemella di Raj, una donna perfettamente in grado di comprendere il cammino dell'uomo e di apprezzare i progressi da lui compiuti, una ragazza capace di sostenerlo nelle sue debolezze e di appoggiarlo nelle sue peculiarità, con cui l'uomo avrebbe potuto esprimere il vero se stesso senza timori e remore.
E sarebbe stato bello poter avere il privilegio di vedere queste due anime simili e complesse trovarsi di nuovo, ormai pronte a godersi quella felicità a lungo cercata, ora definitivamente maturi per unire le loro vite e costruire insieme un futuro che entrambi avrebbero meritato.
E anche se The Big Bang Theory non ci ha voluto mostrare questo incontro, è proprio lì, stretto tra le braccia di Lucy che noi vogliamo immaginare Raj nel suo futuro, un futuro che non lo vede più triste e solo, ma maturo, innamorato e finalmente felice accanto a una donna che può veramente amare.