In The Big Bang Theory i costumi dei personaggi erano curati nei minimi particolari e adatti ai personaggi, mentre solitamente nelle comedy questo aspetto viene spesso e volentieri trascurato. Nella serie di Chuck Lorre ogni protagonista aveva un look riconoscibile che contribuiva a indicarne il carattere e Sheldon indossava addirittura una maglietta diversa a seconda del suo umore.
Ma in alcuni casi certi outfit sono cambiati progressivamente col passare delle stagioni parallelamente alla loro evoluzione. L'abbigliamento di Penny è diventato ad esempio più sofisticato man mano che lei è diventata una donna in carriera. Ma anche i look della divertente neurobiologa Amy si sono evoluti: se all'inizio vestiva in maniera un po' sciatta, man mano che acquisiva maggiore autostima e sicurezza ha perfezionato il suo modo di presentarsi.
Ecco quindi i cinque migliori outfit di Amy Farrah Fowler in The Big Bang Theory che ci mostrano quanto sia cambiata negli anni!
5) Il look del primo appuntamento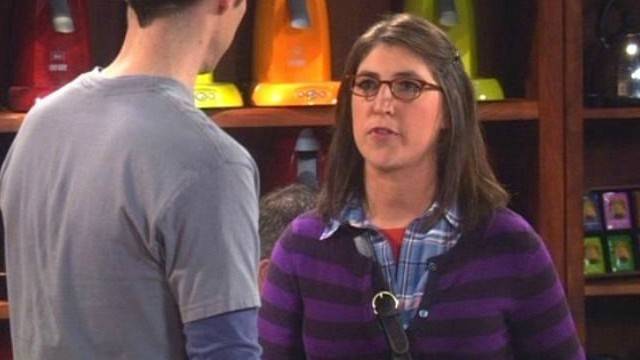 Partiamo dal look che la neurobiologa Amy Farrah Fowler ha esibito nell'episodio nel quale l'abbiamo conosciuta. Allora la ragazza si era presentata come la versione femminile di Sheldon Cooper: distaccata, non avvezza alle convenzioni sociali ed estremamente intelligente. Per questo, per conoscere il ragazzo che aveva conosciuto online, ha optato per un look molto trasandato e per nulla curato. Un cardigan a fasce, abbinato a una camicetta a quadri e a una lunga gonna di un colore orribile.
Probabilmente non è l'outfit più cool che abbia indossato, ma l'ho scelto perché è quello con cui l'abbiamo conosciuta e, in fin dei conti, ci ha mostrato fin da subito quanto fosse originale.
Tutto di lei, dall'abbigliamento al taglio di capelli, indicavano che Amy era assolutamente fuorimoda e nerd come gli altri protagonisti di The Big Bang Theory.
Quando la ragazza poi ha cominciato a uscire con Sheldon ed è diventata amica di Penny e Bernadette, però, ha cominciato a crescere e a diventare più "femminile". Fino a quel momento era stata ostaggio di una madre bigotta che le aveva impedito di frequentare le sue coetanee e di perdere tempo in frivolezze, ma la compagnia delle sue amiche le ha fatto bene e anche il suo look ne ha beneficiato. Come vedremo ha cominciato a indossare maglioncini più colorati e ha messo da parte le orribili gonne di velluto a coste, conservando però i suoi gusti assolutamente originali (e l'amore per le tiare).