E' finalmente tornata The Big Bang Theory, che proprio qualche giorno fa   ha vinto ben 2 premi ai PCA (Miglior serie comedy e miglior attore comedy per Jim Parsons). Questa pausa è stata indispensabile per riprenderci dal magistrale episodio della puntata scorsa (in cui abbiamo assistito alla scena che desideravamo vedere da quando Sheldon ed Amy si erano incontrati). In queste settimane non siamo comunque rimasti sprovvisti di notizie, anzi!
E' stato confermato che la prossima stagione di The Big Bang Theory sarà l'ultima. Una comunicazione che ci provoca un po' di dispiacere, ma che comprendiamo.
Ormai è stato detto quasi tutto ed è meglio dare un finale soddisfacente e degno del livello della serie, che prolungare stancamente all'infinito il telefilm.
Dopo l'episodio precedente, qualunque sarebbe sembrato inferiore e e infatti così è stato. Tuttavia non sempre si possono avere episodi esplosivi come il 9×11. Ma vi dirò dopo il mio giudizio.
Oh bello Stuart Ciao! La coppia Howard-Bernadette è riuscita finalmente a liberarsi dalla più ingombrante eredità lasciata dalla Signora Wollowitz : Stuart. Il  ragazzo, infatti, dopo aver rivestito il ruolo della sanguisuga per due stagioni si è infatti trovato un'altra sistemazione. Finalmente un elemento innovativo per quanto riguarda Stuart, un personaggio che cominciava a diventare davvero troppo ripetitivo. Mille curiosità invece scaturiscono da questa novità : dove sarà andato a vivere Stuart? Sotto un ponte o avrà trovato una nuova vedova da sfruttare? I coniugi Wollowitz comunque scoprono di sentire la sua mancanza più di quanto si sarebbero aspettati e con nostalgia ricordano ai momenti divertenti passati con lui. Se la casa è troppo vuota, cara Bernadette, potresti anche riempirla con qualche bimbo così da far felice Howard! Solo una proposta, eh…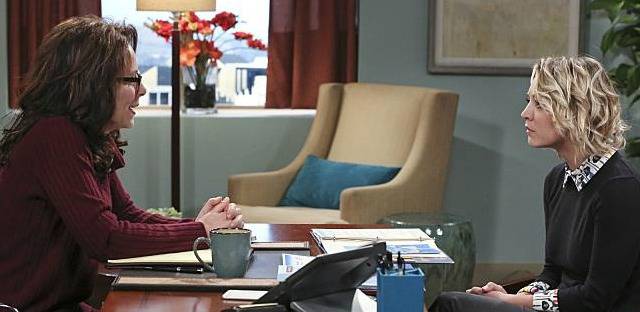 Penny, Leonard e Freud Ah ma quindi Penny ha ancora il lavoro di rappresentante di farmaci? Dato che non ne avevano parlato più pensavo che lo avesse lasciato, per fare la mantenuta di Leonard. Ironia a parte, Penny vuole convincere una famosa consulente matrimoniale a comprare un suo farmaco, ma la dottoressa è inavvicinabile (tra l'altro interpretata dall'attrice Jane Kaczmarek famosa per il ruolo di Lois in Malcom). Supplica allora Leonard di andare con lei e fingere di essere una coppia che vuole aiuto per la vita matrimoniale. Leonard, mostrando quanto la ami, accetta di farsi psicanalizzare, sebbene abbia subito tante psicanalisi dalla madre da star bene per 10 vite! Qui però avviene il colpo di scena : Leonard entra stufato ed esce raggiante! La dottoressa Gallo infatti ha criticato con lui il lavoro della dottoressa Beverly Hofstadter e lo ha liberato dall'oppressione psicnologica che per anni ha subito. Penny invece diviene la vittima della dottoressa, che riesce in un attimo a capire l'intento della ragazza. Quasi per punirla la sottopone alle sue domande e Penny alla fine confessa di non sopportare che Leonard conviva ancora con Sheldon.
In effetti questa è una questione che stiamo rimandando da troppo tempo : è arrivato il momento che Leonard conviva con Penny e che Sheldon si separi dal suo coinquilino. Già nelle prime puntate il tema era stato trattato, ma Sheldon si era dichiarato impreparato (dato che doveva riprendersi da una rottura). Adesso però Sheldon deve completare la crescita iniziata da diversi episodi e staccarsi da Leonard.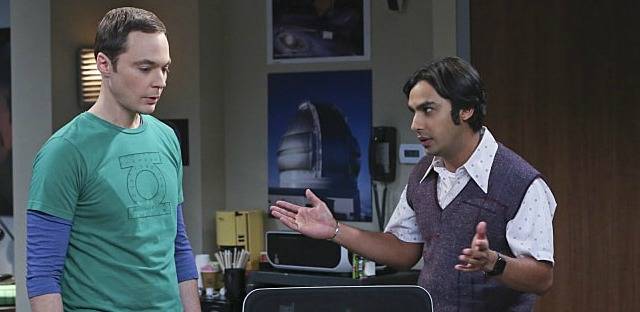 Raj, Sheldon e l'asteroide L'amicizia tra Sheldon e Raj non ha quasi mai rilevanza nella trama ed è davvero un peccato : i due insieme sono davvero esilaranti!  Non assistevamo ad uno scontro così tra i due scienziati dai tempi in cui combattevano a suon di scrivanie brobdingnagiane. Raj infatti ha portato a lavoro con sè Sheldon, che si annoiava da solo (Amy infatti era ad una conferenza). Insieme i due scienziati hanno scoperto un nuovo asteroide e si pongono dunque un importante problema : come chiamarlo? Dovrebbero unire i loro due nomi, ma sappiamo che Sheldon non è molto bravo a condividere le cose. Così propone COOPER ! E quando Leonard li invita ad unire i nomi delle loro ragazze, Sheldon vuole chiamare l'asteroide AMY (la Y è di Emily però). Raj decide allora di cedere, a patto che tutti i figli di Sheldon si chiamino Rajesh. (No, ma vi immaginate dei bimbi con la faccia di Sheldon ed il nome di Raj?)
In definitiva dunque "The Sales Call Sublimation" è stato un episodio divertente e frizzante, anche se non può essere annoverato tra i migliori. Ma contiene diversi spunti e cambiamenti per realizzare altri episodi interessanti. Dimostra però anche che ormai è impossibile che tutto il gruppo si riunisca in un episodio. (Quasi quanto è impossibile vedere la ragazza di Raj).
Un buon inizio, ma noi ci aspettiamo di più.