Siete in astinenza da The Big Bang Theory? Per rivedere i più simpatici nerd del mondo in The Big Bang Theory dovremo aspettare il 19 Settembre con la decima stagione, che potrebbe essere l'ultima. Stiamo dunque per dire addio allo strambo Sheldon, Leonard, al timido Raj, ad Howard, a Penny ed alle dolci ed intelligenti Amy e Bernadette. Questa sitcom di Chuck Lorre ha cambiato il modo di guardare il mondo nerd ed ha creato dei personaggi così particolari che faticheremo a dimenticarli. The Big Bang Theory è una di quelle serie tv che ti conquista in pochi secondi: ti soffermi a guardarlo, catturata da quei ragazzi imbranati e strani ed è finita: non puoi smettere di ridere e di guardare anche l'episodio successivo.
Come possiamo gestire l'astinenza? Riguardando i vecchi episodi della serie tv?
Non è necessario! Oggi vi voglio consigliare 5 serie tv molto divertenti che sicuramente piaceranno ai fan di The Big Bang Theory!
1 Community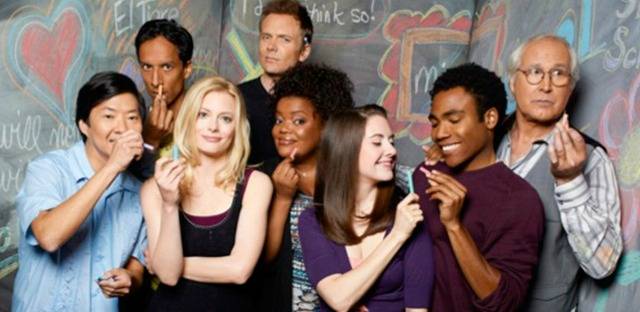 Jeff, un avvocato con la licenza sospesa, per sedurre una ragazza la invita in un finto gruppo di studio di spagnolo da lui inventato. Lei però invita altri suoi amici e così si costituisce un team che con lo studio c'entra davvero poco! Conosce quindi un gruppo di simpatici e folli disadattati: Abed, un esperto di filmografia che cita continuamente le serie tv e che ha problemi ad interagire con le persone; Shirley, una madre divorziata che frequenta il college per la prima volta; la secchiona Annie ed il bel Troy ex quaterback e ballerino di breakdance e poi c'è Ben, lo squilibrato professore di spagnolo.
Un folle e strambo gruppo d'amici e tante divertenti gag: una serie tv così vi piacerà di sicuro! Le continue citazioni tratte da film e serie tv e le risate intelligenti  vi ricorderanno le prime stagioni di The Big Bang Theory e sapranno saziare la vostra astinenza!