Suburra è stata rilasciata su Netlix, con la sua seconda stagione, il 22 febbraio. La data dello show era già nota al pubblico da tempo, per cui la notizia, non è stata certamente un fulmine a ciel sereno. Quel che invece stupisce è il rilascio, più o meno nello stesso periodo, del gioco ispirato alla serie tv, ovvero Suburra: The Game. Il gioco firmato da Cattleya è ancora ai suoi esordi ed è stato prodotto per i dispositivi mobile.
Parliamo nello specifico di un'avventura grafica scritta appositamente per l'occasione, raccontando una storia a cavallo tra il settimo e l'ottavo episodio della prima stagione. La pagina da cui si può effettuare il download ci fornisce una lunga descrizione dettagliata sul gioco e le sue potenzialità. Sicuramente uno degli aspetti accattivanti è l'iniziale scelta del personaggio. Sarà infatti possibile giocare con uno dei tre protagonisti del nostro amato trio: Aureliano, Spadino o Gabriele.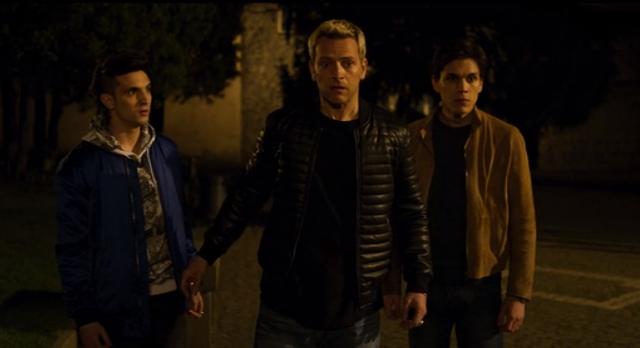 Il gioco di Suburra seguirà il classico schema del punto e clicca ma in aggiunta ad esso la possibilità di risposta multipla nei dialoghi, per plasmare la storia e il relativo finale in base alle nostre scelte. In questo caso specifico, i dialoghi, rispecchiano abbastanza coerentemente l'originalità della serie tv.
Il gioco è reso ancora più coinvolgente dalla modalità AR, disponibile con la terza release, in cui il giocatore potrà visualizzare, raccogliere e scambiare alcuni degli indizi e item del gioco
Suburra: The Game rileva un'altra importante caratteristica. La possibilità di interagire con realtà aumentata tramite GPS, un elemento di recente introduzione in svariati prodotti.
Il gioco ha un costo di 1,99 euro ed è diviso in 7 capitoli distribuiti in diverse release, di cui l'ultima prevista per fine marzo. Al momento si è fermi al capitolo 4. La grafica del gioco è curata da Nerdo Studio il quale con un disegno ricercato vuole regalare suggestive location al videogiocatore. Suburra: The Game è al momento presente per sistemi operativi IOS e Android.
Per i fan di Suburra è un prodotto fortemente accattivante, tuttavia di difficile valutazione prima del suo completo e definitivo rilascio.