Il mistero che cela la vita di Jim Hopper prima degli avvenimenti di Stranger Things verrà svelato in un romanzo. Il prequel racconterà il passato oscuro dello sceriffo, che nella serie era stato solo accennato. Sappiamo infatti che, prima di arrivare nella cupa e apparentemente monotona Hawkins, Hopper era sposato e aveva una figlia. Diversi indizi farebbero supporre che la famiglia sia stata stroncata da un lutto segnante, di cui il poliziotto ancora porta ferite aperte: la morte della bambina. Altro non ci era dato sapere. Fino ad ora.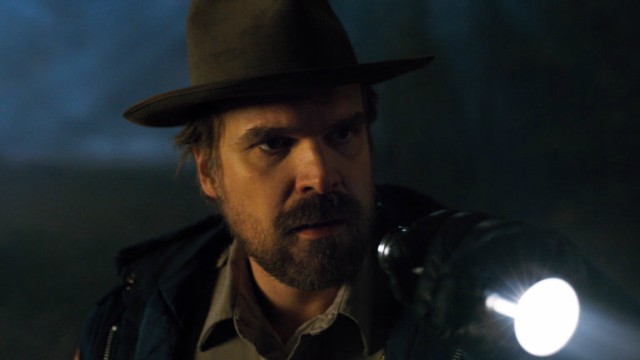 Il libro s'intitolerà Stranger Things: Darkness on the Edge of Town e sarà disponibile dal 4 giugno.
Quindi, un mese esatto prima del rilascio su Netflix della terza stagione di Stringer Things (di cui abbiamo già un paio di teaser), potremo scoprire qualcosa in più su uno dei personaggi secondari, eppure più amati, della serie. Attenzione, però: non sappiamo ancora se il prequel verrà distribuito, oltre che negli Stati Uniti, in altri paesi. Ma Amazon fa miracoli, e se masticate un po' di inglese nulla vi impedirà di mettere le mani sul romanzo.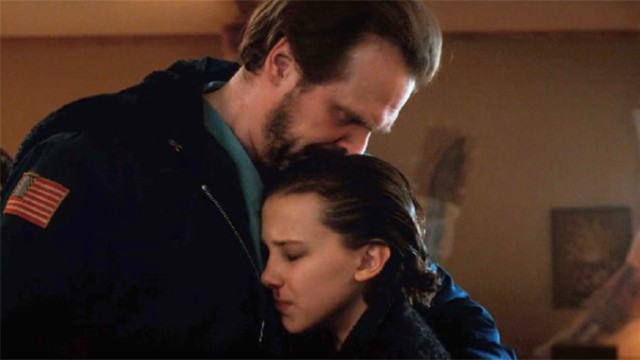 Ciò che sappiamo con certezza è che l'ambientazione sarà New York, anno 1977, periodo in cui Hopper era un investigatore di polizia della sezione omicidi. Come è stato rivelato tramite l'account Twitter della serie, sarà proprio Undici a spingere l'agente a liberarsi di alcuni fardelli del proprio passato. Infatti, i due hanno instaurato un legame atipico ma profondo nel corso della seconda stagione, in una sorta di rapporto padre-figlia. Vittime della sorte, la ragazzina e Hopper sono due facce della stessa medaglia che mitigano la solitudine e il lutto rifugiandosi nella comprensione l'uno dell'altro.
A proposito di Undici: anche alla sua storia d'origine è stato dedicato un approfondimento letterario.
Stranger Things: Suspicious Minds, pubblicato lo scorso 5 Febbraio, è infatti incentrato sulla vita di Terry Ives, madre della ragazza, e di come ella si sia avvicinata al progetto MKUltra. Molto di più sarà svelato dunque sugli esperimenti effettuati presso il laboratorio e il loro fine. Inoltre, potremo addentrarci nella figura ambigua e cinica del Dr. Brenner, di cui sappiamo poco e nulla se non ciò che ci è stato concesso vedere nel corso della serie.
Pare dunque che avremo diverse risposte alle domande che da un paio di stagioni a questa parte ci trasciniamo sui retroscena di Stringer Things. Buona lettura!