Stranger Things 3×02 recensione e commento con spoiler.
"Boys may come and boys may go
And thats all right you see
Experience has made me rich
And now they're after me"
Raramente si trova un testo più adatto nella colonna sonora di un episodio come "Material Girl" di Madonna in Stranger Things 3×02. "I ragazzi vanno e vengono, e tutto questo mi va bene. L'esperienza mi ha reso ricca, e ora loro dipendono da me". Certo il riferimento alla scena di Max e Undici nel centro commerciale è quasi didascalico, ma se scendiamo un po' più in profondità – letteralmente – vediamo che si può abbinare anche a ben altro.
Teniamo a mente l'ultima strofa "e ora loro dipendono da me" e ci torneremo fra poco.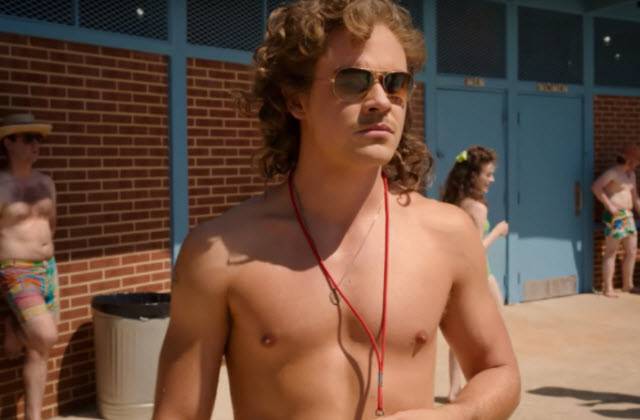 La puntata si apre con Billy. E non è un caso. Non solo perché di fatto è l'elemento centrale gli eventi più sovrannaturali dello scorso episodio, ma anche e soprattutto perché lo sviluppo del personaggio interpretato Dacre Montgomery è particolarmente intrigante. Lo vediamo liberarsi ferito dal magazzino nei pressi del luogo dell'incidente. Salito in macchina corre a gran velocità fino a una cabina telefonica dove tenta di contattare il 911.
Alla risposta dell'operatrice parte un flash back in cui vediamo cosa gli è successo. Solo pochi secondi. Il mostro con un tentacolo sul suo volto e topi. La scena torna al presente. Nella cabina si spegne la luce e l'atmosfera concitata scivola in un istante nell'oscuro paesaggio immoto del Sottosopra. Ciò a cui stiamo per assistere, nella sua semplicità, è un ulteriore rimando nostalgico ai film anni '80. Specificatamente al maestro dell'horror Romero.
Ricordate il film che vedevano i ragazzi al cinema nello scorso episodio? Niente è lasciato al caso.
Billy esce dalla cabina. Solo i fari della macchina a illuminare la scena avvolta nel fumo vaporoso e nelle particelle in sospensione. Muove qualche passo nella semi oscurità e scorge un gruppo di figure avvicinarsi dinoccolate. "Che cosa volete?". Tralasciando la vacuità della domanda è interessante vedere cosa accade dopo. Una delle figure si stacca dalle altre e si avvicina lentamente. Sul reiterarsi delle domande di Billy vediamo fulmini rossi attraversare il cielo. La figura nell'oscurità s'avvicina abbastanza da divenire riconoscibile. Il volto di Billy perlato di sudore diviene sgomento riconoscendo se stesso nell'altra figura. Buio. Sigla iniziale.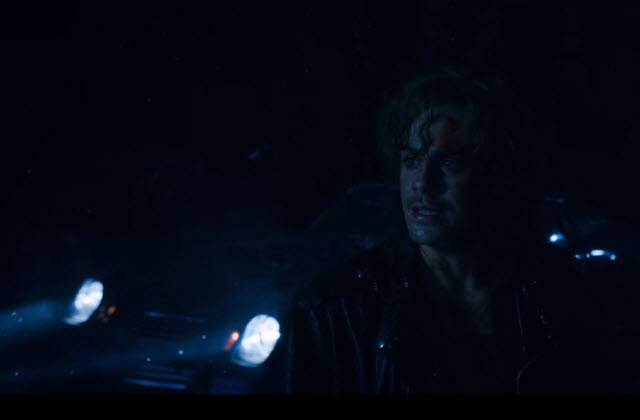 I fratelli Duffer non potevano trovare modo più intrigante per aprire questa Stranger Things 3×02: Incubi. Si passa quindi a Mike e Undi. Quest'ultima perplessa della telefonata ricevuta dall'amato che le nega l'opportunità di vedersi quel giorno adducendo delle inverosimili scuse. La soddisfazione di Hopper nel sentire la telefonata è massima. Al punto che decide di passare da Joyce a informarla di aver risolto la questione e, con l'occasione, di invitarla a cena la sera. Joyce, inizialmente reticente, accetta.
Dustin, deluso dal comportamento degli amici, si rivolge a Steve (delle sue sorti nella terza stagione vi abbiamo accennato qui) per condividere, almeno con lui, il messaggio russo che ha inavvertitamente e involontariamente intercettato.
Billy, nel frattempo, visibilmente scosso torna alla piscina. Qui Karen in forte imbarazzo per aver rinunciato all'appuntamento cercare di andargli a parlare. Mentre Billy dà le spalle alla madre di Nancy e Mike, che gli spiega cosa le ha fatto cambiare idea, continua ad avere delle visioni. Di colpo si gira e le sbatte la testa su uno scaffale. L'immagine si rivela essere l'ennesimo flash. Interessante rendersi conto di come Billy sia in qualche modo consapevole di questa distonia tra realtà e fantasia: si gira quindi verso la donna e la allontana bruscamente.
Arrivato sul trespolo del bagnino, e preso a fatica il suo posto, lo vediamo soffrire fortemente l'esposizione al sole.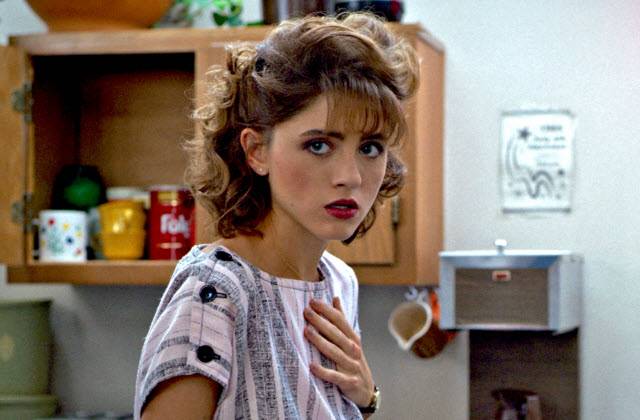 Nancy e Jonathan nel frattempo continuano la loro storyline in solitaria. Di grande attualità il personaggio di Nancy, soprattutto, che rispecchia le frustrazioni lavorative dei giovani d'oggi come d'allora. Nel suo caso, poi, anche quelle di un certo sessismo esasperato. E come ogni giovane che voglia emergere cerca da sé le opportunità che le sono precluse.
Decide quindi di seguire la pista della telefonata ricevuta nello scorso episodio che segnalava al giornale gli strani comportamenti dei topi in città negli ultimi giorni. Lei e Jonathan quindi vanno a incontrare un'arzilla signora che mostra loro i danni fatti dai topi nella sua cantina. Concentrandosi soprattutto sul fatto che abbiamo mangiato fertilizzane. Abbiamo a questo punto una delle scene più divertenti dei primi due episodi della nuova stagione di Stranger Things. L'anziana signora infatti è riuscita, seppur fuori scena, a fare molta più azione dei protagonisti. Infatti è stata in grado di intrappolare un topo, che sospetta essere affetto da rabbia.
Dopo svariate le fotografie fatte da Jonathan prima che i due si allontanino dalla cantina. Ovviamente pochi istanti prima che il topo esplodesse e dal suo plasma "nascesse" un cucciolo della creatura del Sottosopra.
Dopo una scena di raccordo tra Hopper e il sindaco Larry Kline, ci troviamo nuovamente in compagnia di Joyce nel suo negozio. Coma già avevamo visto nel precedente episodio, a un certo punto, le calamite che ha in esposizione si smagnetizzano contemporaneamente. Con il consueto sospetto che la contraddistingue, decide di approfondire la cosa e consulta inefficacemente dei testi di elettromagnetismo.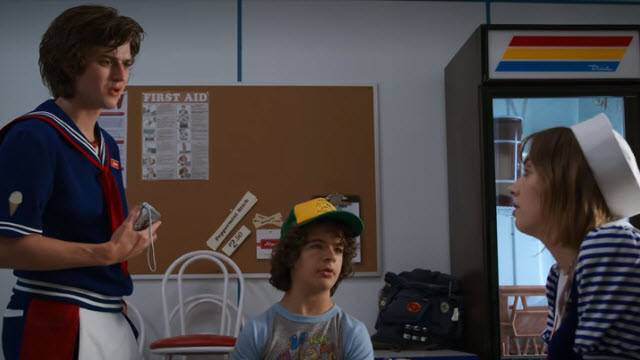 Nel frattempo vediamo il nuovo trio d'eroi Dustin, Steve e Robin cercare di tradurre il messaggio in Russo.
La chiave di volta è la giovane Robin che, vantandosi di conoscere ben quattro lingue e di aver un ottimo orecchio musicale avendo partecipato alla banda cittadina, riesce in qualche ora a svelare il contenuto. Credo sia doveroso fare un inciso su questa scena. Molti potrebbero storcere il naso per la semplicità narrativa di questo espediente. Non lo è. O meglio, lo è ma non all'interno di Stranger Things.
In un universo narrativo dove dei ragazzi di undici anni usano D&D per razionalizzare l'irreale e un professore di fisica li aiuta a costruire una vasca di sospensione in palestra, è assolutamente lineare e coerente quello che qui avviene. Si chiama sospensione dell'incredulità e in Stranger Things è sempre usata con la stessa cifra stilistica. Chiarito questo, proseguiamo.
Joyce decide di chiedere aiuto al professor Scott Clarke vero e unico deus ex machina di tutta la serie. L'occasione dell'incontro è ghiotta. Quando si ha nel cast un'attrice del calibro di Winona Ryder non ci si può far fuggire l'occasione di omaggiarne la carriera. Ecco allora che vediamo Joyce arrivare alla casa di Scott sulle note di My Sharona colonna portante del "suo" Giovani, belli e disoccupati.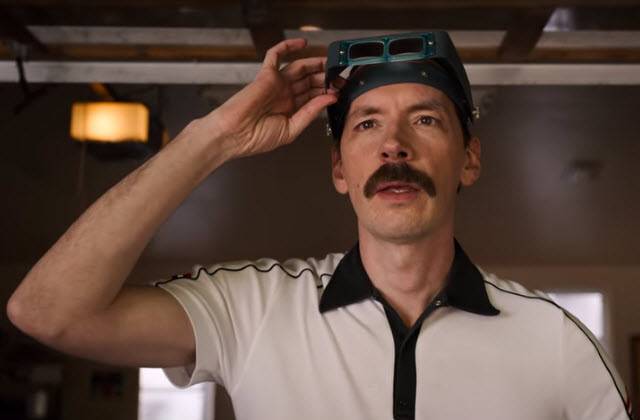 La spiegazione del professore è complessa e Joyce si chiede se sia davvero possibile che qualcuno o qualcosa stia facendo proprio lì tutto questo. La sua risposta è da scolpire nella pietra:
"Quando apri la porta della curiosità, qualsiasi cosa è possibile"
In tutto questo l'evento portante della puntata è la "ribellione" di Undici. Dopo essersi confidata con Max decide di provocare Mike. Abbandona la protezione forzata di Hop e va a fare shopping al Centro Commerciale. Vinto il primo momento di difficoltà per il numero di persone intorno e per aver infranto le regole di Hopper, la vediamo finalmente fare qualcosa per se stessa.
Non per necessità ma solo per puro e semplice piacere.
Tutta la scena, come detto all'inizio, si svolge sulle note di Material Girl di Madonna. Sfondo musicale ideale per sottolineare la nuova consapevolezza di sé che pervade Undici e chiarisce una volta in più i ruoli e le dinamiche nel gruppo d'amici. Nello stesso momento anche Mike, Will e Lucas si trovano lì per cercare un regalo per farsi perdonare. Alla fine, ovviamente, i due gruppi si incontrano e Undici, ascoltata la confessione di Mike, decide di lasciarlo. Sarà curioso vedere come proseguirà questa disputa adolescenziale che per entrambi ha il sapore di una prima volta.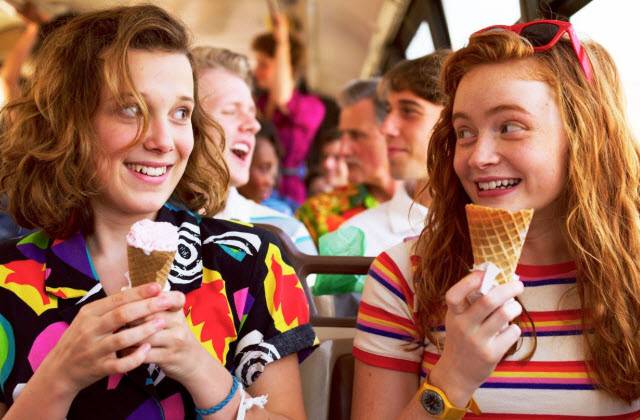 Ci avviciniamo alla conclusione. Billy, ancora sofferente per l'esposizione al sole che si manifesta con uno strano rigonfiamento nerastro sul braccio, lascia il suo posto di bagnino e cerca ristoro nelle docce. Qui viene raggiunto dalla collega che vuole sincerarsi delle sue condizioni.
Di nuovo le visioni. Di nuovo realtà e fantasia si mischiano nella mente di Billy. Questa volta però non ha la forza di fermarle. Billy aggredisce la bagnina e la porta dove è stato "toccato" dalla creatura. Possiamo immaginare che ciò che le accadrà sarà un ulteriore passo avanti nei piani dell'Essere.
Questo Stranger Things 3×02 dall'andamento leggero e quasi festoso ha il gusto agrodolce della quiete prima della tempesta. Mette tutte le pedine ai propri posti pronto a scatenare la sua furia. Come dicevamo all'inizio, tenete a mente le parole della canzone di Madonna "e ora loro dipendono da me". Nella visione di Billy, prima di rapire la collega, la sente pronunciare le parole "Portami da lui". Ecco, la creatura ha fatto la sua mossa e ora tutti dipendono da lui. E per contrastarlo tutti, ma non lo sanno ancora, dipendono da Dustin, Steve e Robin.
Ma alla fine, in qualche modo, si torna sempre a Undici: "And now they're after me".