Già nel momento in cui ho scelto di scrivere questo articolo sapevo che stavo accettando anche un grosso rischio.
Chi ha già letto un articolo simile, sa quali sono le regole del gioco. Tuttavia mi sembra d'obbligo mettere subito le mani avanti specificando che niente di quello che qui è scritto nasce con l'intenzione di offendere lo show, i suoi fan o qualsiasi cosa o persona possa erroneamente sentirsene offesa.
 Sons of Anarchy è una di quelle Serie Tv di cui, nonostante sia abbastanza famosa, conoscevo unicamente l'abbreviazione del titolo. Ovviamente ne ho sentito parlare moltissimo, ma a pelle non mi ha mai particolarmente ispirato, e ho continuato a ignorarla per anni senza neanche degnarmi di informarmi su trama, personaggi, attori e tutto il resto.
L'impressione, comunque, è stata confermata pochi istanti prima della visione della puntata, quando ho scoperto che i Sons of Anarchy altro non erano che motociclisti. Decisamente non il mio genere. Ma ho accettato la sfida, perché, si sa, quando ormai si è in ballo si può solo ballare, e chi rifiuterebbe l'opportunità di vedere un nuovo show e magari di appassionarcisi pure?
Così, carica di speranza e munita di senso critico ho scelto,
totalmente a caso, la 7×02 di
Sons of Anarchy
e ho premuto play.
Innanzitutto mi ha colpito il silenzio. Ovviamente l'utilizzo del sonoro è pensato, ma Sons of Anarchy non è di quegli show che hanno costantemente bisogno di un sottofondo uditivo, e questa scelta dà come un senso, decisamente voluto, di rallentamento all'intera Serie Tv.
Il che mi ha stupido, perché mi aspettavo che Sons of Anarchy fosse una serie su un branco di motociclisti super machi che si scazzottano a vicenda in un tripudio di testosterone, pollastre mezze nude e musica trionfale. Un po' come i film di Vin Diesel, per intenderci.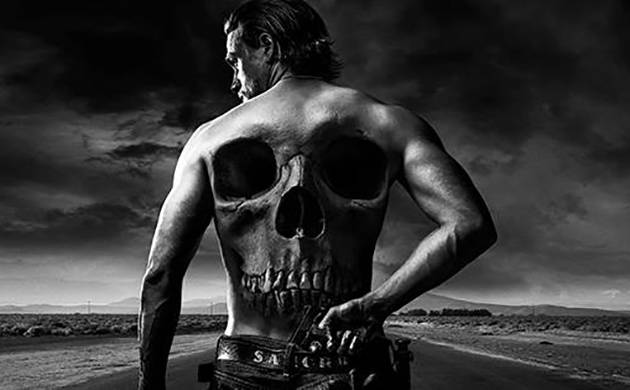 Il previously on inizia con dei motociclisti che si abbracciano come solo dei veri uomini farebbero; e dopo un minuto in cui una parola su due è Tara, il riassunto finisce con il biondone/belloccio di turno (purtroppo sono una frana con i nomi) che infilza un forchettone da grigliata nel cranio di quello che crede sia l'assassino della moglie (ma che sono già abbastanza sicura sia la persona sbagliata). Iniziamo bene, mi dico. E andiamo ancora meglio quando la prima scena dell'episodio si rivela essere una panoramica del biondone di cui sopra, rigorosamente senza maglietta.
Così, con il passaggio da una sigaretta all'altro, ci troviamo in un secondo appartamento, dove un altro bad boy tiene un tizio legato e imbavagliato in una vasca da bagno. Tutto normale, insomma. Al terzo passaggio di sigaretta inizio a pensare che il consumo del tabacco sia il vero punto di congiunzione delle diverse storyline dei personaggi.
Dopo i primi cinque minuti, ecco spuntare quelle che credevo fossero le vere protagoniste di Sons of Anarchy: delle grosse e rombanti moto da vero macho, con tanto di motociclisti rudi e rozzi al volante. Il livello di testosterone è così alto che una poliziotta che passa di lì per caso si ritrova con la mascella a terra.
E poi stacco: due tipi loschi in macchina fanno a gara verbale a chi ce l'ha più grosso o sparano gli insulti migliori (non riesco mai a capire la differenza), per poi congratularsi l'un l'altro. Questo è il Sons of Anarchy che mi aspettavo!
Torniamo poi al tizio nella vasca, che viene liberato all'improvviso e inizia a chiacchierare tranquillamente con il suo aguzzino, come se non avesse passato la notte legato come un salame. Colpo di scena (almeno per chi non segue la serie): i due sono padre e figlio.
Nella scena dopo il biondone parla con Nate di How To Get Away With Murder (a cui proprio non riesco a dare credibilità nei panni del super cattivo re delle armi) del rischio di scatenare una guerra tra bande se il biondone attuerà nell'immediato e apertamente la sua vendetta.
E mentre quest'ultimo sfodera la sua migliore faccia di bronzo, anche in Sons of Anarchy Nate si dimostra nuovamente incapace di capire quando qualcuno si sta palesemente prendendo gioco di lui. Il lupo perde il pelo…
Dopo averci mostrato una testa mozzata a caso, giusto per ricordare che Sons of Anarchy è uno show per veri uomini, ecco che finalmente al tredicesimo minuto parte la sigla (che attendevo con ansia), un misto di tette, muscoli, tatuaggi e orgoglio americano. E moto, ovviamente. Decisamente azzeccata!
Alla fine dell'opening ritroviamo il tizio della vasca che, toccato dall'originale richiesta d'aiuto da parte del figlio, dimostra che il sequestro di persona non è poi così grave, e che quando il sangue del tuo sangue chiama, tu rispondi. Così con il palese intento di aiutare il figlio, accetta di collaborare con la polizia locale nascondendosi dietro al cancro che lo sta lentamente uccidendo (perché ovviamente non poteva mancare il cancro!). E mentre per gli spettatori è chiaro che le sue intenzioni sono di fare l'infiltrato doppiogiochista a favore del pargolo, ovviamente questo suo gesto verrà frainteso da ogni altro personaggio, scatenando equivoci vari.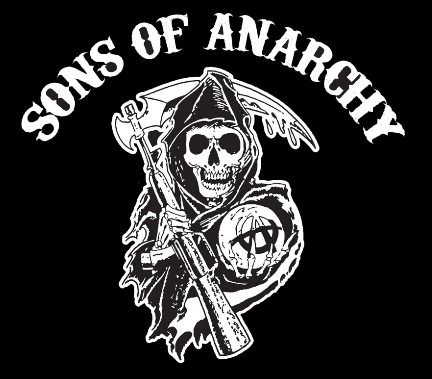 Dopo la prima ventina di minuti, in cui si è parlato ininterrottamente di vendetta, Tara, famiglia disastrate, la morte di Tara, riabilitazione dalla droga, e ancora Tara, arriviamo alla prima sparatoria (che aspettavo con ancora più ansia della sigla).
Nonostante il forte rischio di una guerra fra bande, il biondone è deciso nella sua vendetta contro il capo della così detta Banda dei Cinesi, che crede sia il responsabile della morte della moglie. Ovviamente, però, per non scatenare la temuta guerra e mettersi contro anche Nate-il re delle armi, non deve far scoprire che dietro al sabotaggio degli affari degli orientali ci siano lui e i suoi Sons of Anarchy. Quale modo migliore per farlo, perciò, se non scatenando in prima persona e a volto scoperto una mega sparatoria con inseguimento motorizzato per i campi?
Ah ma prima si erano tolti il giubbetto col nome?
Allora va bene.
Nel bene o nel male, comunque, alla fine muoiono tutti e il segreto, per ora, resta al sicuro.
Nella seconda metà della puntata, troviamo l'immancabile poliziotto corrotto che patteggia con un gangster per il suo silenzio, dilemmi familiari che quasi stimolano il pietismo e la santificazione di tossici e criminali, incomprensioni, doppiogiochisti in azione e via dicendo, fino a giungere alla mia scena preferita in assoluto: un duplice omicidio con manomissione della scena del crimine e una sparatoria in appartamento che si è certi da un momento all'altro spunterà Jules Winnfield recitando la Bibbia.
Come tocco finale, un paio di scene significative che aumentano le aspettative per gli episodi successivi e fanno capire che i problemi, soprattutto per il biondone, non sono ancora finiti.
Giunta alla fine della puntata, resto convinta delle mie sensazioni: Son of Anarchy non fa decisamente per me. Il che non lo considero affatto negativo, anzi. Sons of Anarchy si rivela un prodotto lavorato con attenzione e cura e perfettamente riuscito nel suo genere. D'altronde se gli show e le pellicole sui motociclisti non sono mai stati per me, non so quanto positivo si sarebbe potuto definire se questa Serie Tv, invece, mi fosse piaciuta.
Perciò, in definitiva, cari fan di
Sons of Anarchy, la questione è sempre la stessa: semplicemente abbiamo dei gusti differenti.
E si sa, de gustibus…