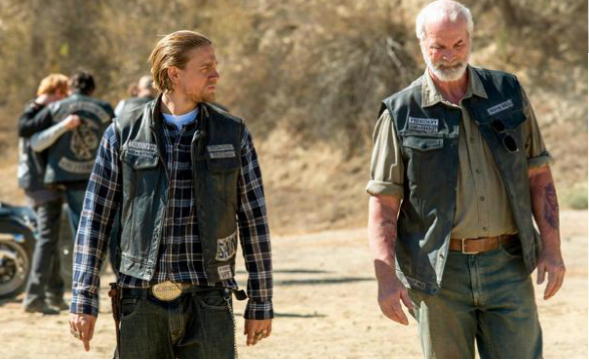 Perchè Sons of Anarchy è il morbo più subdolo e incurabile della storia? Perchè la passione e l'agitato sentimento legato alle vite dei bikers più famosi e anarchici della storia televisiva, non potrà mai spegnersi?
Chi ha visto SoA può capirne lo sconfinato valore e il morboso attaccamento che ne deriva, chi non l'ha ancora visto è un anima vagante nel nulla che ha ignorato il dramma migliore della storia televisiva. Caso chiuso e democrazia inesorabilmente sulla via del tramonto.
Un morso di un errante che ti trasforma in un morto su due piedi, un virus che si insinua dentro per sempre plasmando la tua essenza, una musica sublime che ti darà ogni volta le stesse pure emozioni, una dipendenza da quel qualcosa che ha risvegliato una sensazione primitiva, citazioni crude e poetiche, SoA è un vero e proprio morbo per gli amanti (e non) delle serie tv.
Sons of Anarchy è un virus senza cura !!!

L'eccellente piano terapeutico sviluppato qualche articolo fa, è una soluzione utopica e soltanto temporanea. Terminato Sons of Anarchy cercherete la maledetta 'soluzione sostitutiva' altrove, fallendo miseramente in ogni caso. Come accade spesso con un farmaco sostitutivo, che non sortisce mai l'effetto del precedente. Cosa rende SoA un capolavoro eterno ed inarrivabile ? Terminato il primo episodio, si riesce già a scorgere una paradossale luce, che riveste le azioni spietate e feroci di questi criminali trafficanti d'armi, amanti delle due ruote.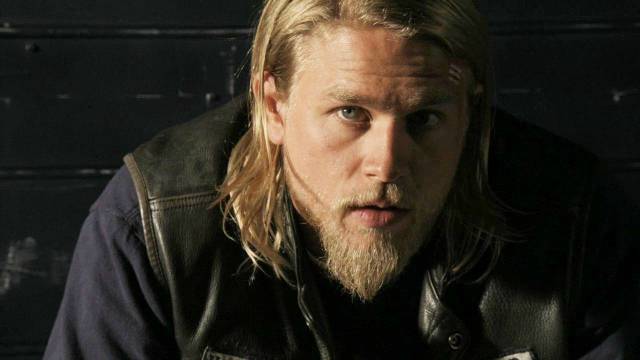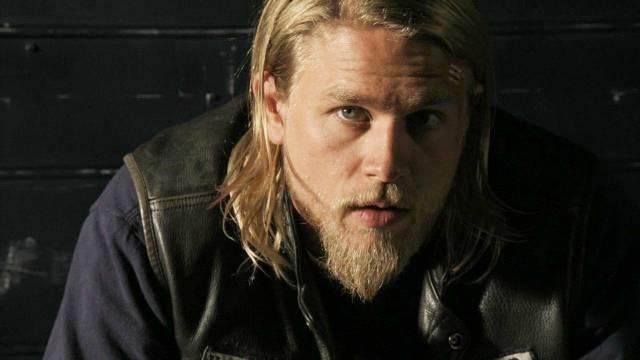 La luce è la coscienza del biondo e tormentato Jackson Teller, figlio del capostipite defunto dei Samcro, che nel finale del primo episodio riflette la sua anima, il suo disagio e i suoi stessi peccati, su di uno specchio. Gli evidenti lividi, impatto dei proiettili sul giubotto antiproiettile della precedente sparatoria, sono un simbolo di dolore per la sua anima confusa prima che per il suo corpo. Un epilogo accompagnato dal timbro della voce di Bobby 'Elvis' Munson, che con l'uso della violenza ha ottenuto quella desiderata esibizione in stile Elvis Presley, in un pub squinternato. Sentimento e decadenza, questa è la prima cosa che ci lega al dramma di SoA
Quando Sutter decise di creare questo letale virus, aveva bisogno di una tragedia oscura e romantica e la base dell'Amleto di Shakespeare era l'ideale per reggere l'impalcatura del suo dramma. Una tragedia a sfondo familiare che reclama la conoscenza di verità ottenebrate e desidera vendetta, legandosi ad un onore paterno, la scomoda successione di un regno criminale e l'esaltazione dei veri ideali.
Un figlio accetta il patrigno Clay, autore del regicidio che si è legato a sua madre Gemma, ma è continuamente agitato dallo spettro del suo defunto padre, Re-capostipite dei Samcro, che si palesa attraverso le pagine del diario : "Vita e morte dei Samcro. Come i Sons hanno smarrito la via", di John Th. Teller. Anche qui nelle pagine del manoscritto il sentimento e la decadenza la fanno da padrone, l'ideale di John soppresso dal suo destino nefasto, una condanna decisa da chi amava. Il virus SoA affonda le sue intricate radici proprio nella tragedia più struggente di sempre, l'Amleto.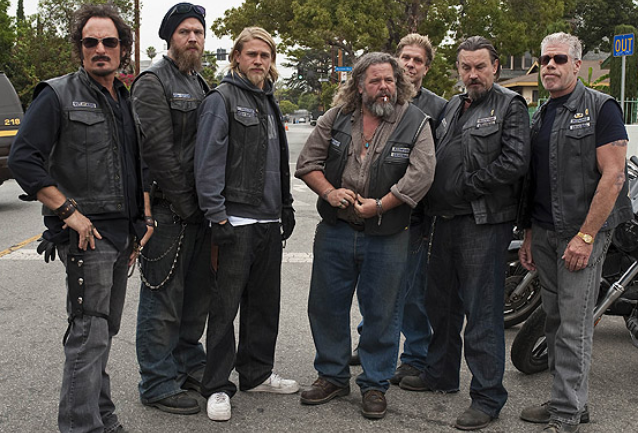 La costruzione del virus è ora in fase avanzata, ma la creazione del contesto di bikers anarchici dediti al traffico d'armi, è la vera intuizione dello scienziato del male Sutter. La particella maligna che rende il virus inarrestabile. Le moto che rombano per le strade di Charming non solo simboleggiano il grido ferino del 'motorcycle club' dei Sons of Anarchy, quelle moto divengono l'emblema di fratellanza, libertà e forza selvaggia, le qualità caratterizzanti, le vere forze motrici dei Samcro. Una sorta di 'libertè, egalitè e fraternitè' trapiantato dalla rivoluzione francese alla rivoluzione del panorama seriale. SoA è anche rivoluzione, e come in ogni rivoluzione la variante del tempo si accorcia, e quella dell'adrenalina aumenta a dismisura, puntata dopo puntata, stagione dopo stagione. Un climax inarrestabile di emozioni, timori e tensione.

Un clan malavitoso protetto dallo sceriffo Wayne Unser che tra fratellanza ariana, mafia cinese, gruppi afroamericani, clan ispanici e formazioni varie, preferisce di gran lunga tutelare i Sons of Anarchy nella sua turbolenta Charming. La stipulazione di un contratto tra crimine e giustizia messa in dubbio ed osteggiata dal carismatico e tenace vicesceriffo David Hale.
L'amicizia con Clay e l'amore soppresso per Gemma, legherà indissolubilmente la vita del buon Wayne al nome dei Samcro. La figura del caro sceriffo di Charming, contribuirà in modo decisivo a creare disordine e deteriorare quel labile nonchè vago confine, tra giusto e sbagliato, W.U. è la compiacenza della legge che banchetta con l'anarchia. Wayne Unser è un decisivo personaggio-chiave, un personaggio a cui lo spettatore si affezionerà sempre di più. Il volto di Wayne sarà sempre più scarnificato e consumato, non tanto dal tumore in corso, ma da questo tipo di vita sospesa tra animo onesto e tutela dei criminali Samcro.

Il virus SoA ha bisogno di caratteri validissimi, Opie il fratello generoso, Jackson il bello e dannato, Gemma la pianificatrice, Juice lo schiavo di sè, Bobby l'onesto, Tara l'innamorata, Tig lo stralunato, Clay il despota regicida, Wendy la debole, Happy il segugio fedele, Chibs il soldato valoroso, Nero il saggio. Questi divergenti personaggi, menti anarchiche e criminali, innocenti e deboli, pianificatori e pedine, faranno breccia nel cuore di ogni spettatore. Tutti !!!
Condanna ed ideale, crimine e romanticismo, vendetta e pentimento, adrenalina e struggimento interiore, famiglia e fratellanza, vento e catene, sentimento e decadenza. Sons of Anarchy è una guerra di sentimenti, SoA non è una serie-tv ma un vero e proprio dono per l'intero genere umano.
Breve fenomenologia del virus più incurabile della storia.
Leggi anche :
Un saluto agli amici della pagina To be a Samcro-Sons of Anarchy nell'anima e Sons of Anarchy Italia