Pagina 449.
Un rimando al passato è quasi sempre il promemoria di un errore da non commettere.
La prima stagione di Sons of Anarchy ha avuto un bivio importante nella matassa di scelte avveniristiche che Jax ha dovuto adottare a discapito dell'immediato: il momento in cui l'indecisione ha reso solo momentaneamente cenere le memorie di suo padre.
Il quaderno di suo padre, quel monito in grado di generare il dubbio che alimenta la natura conflittuale dell'uomo, è tuttavia tornato ad impattare con la realtà, dimostrando che le parole non muoiono nemmeno se arse vive.
Il "verba volant" di John Teller è uno spergiuro per chi ha insito nel suo nome la natura del narratore, il "teller" che racconta attraverso indelebile inchiostro l'eternità dell'anima, suggerendo musicalmente che il nome del Deus-ex della rivoluzione è "John The Revelator" (come Curtis Stingers & The Forest Rangers cantano contribuendo alla diegesi musicale di Sons of Anarchy).
Così John torna imperituro in un altro brutale incrocio di pensieri nella mente di Jax, quando decide di abbandonare la causa momentaneamente aggregandosi ai Nomad.
In quell'indecisione, la pagina 449 del quaderno parlerà a Jax col fil di voce dell'esperienza.
Se il protagonismo di John Teller nella prima stagione avrebbe reso questo intervento catartico ai fini delle scelte di Jax, in questa seconda stagione la guida spirituale è solo vagamente illustrativa, e prepara le scelte del novello Amleto solo dal punto di vista narrativo.
A questo secondo giro il fattore influenzante cambia, e viene alimentato da un trauma preparato dal primo episodio e trainato latentemente (e non) fino alla fine della stagione.
Questo fattore è rappresentato da Gemma.
È attorno al trauma del suo stupro che viene aperto un arco narrativo che ordinatamente si risolve e conclude alla fine della seconda manche di puntate, senza più il peso gravoso di magri episodi auto-conclusivi che avevano talvolta inaridito il terreno della prima stagione, e con le backstory dei comprimari che assumono una forma ben definita, non più sterile ai fini della trama.
La chiarezza espositiva nel ginepraio di intrighi dettato da un inossidabile e gelido stratega, quale Zobelle, è l'accompagnamento di un'esperienza in grado di raccontare la drammaticità in maniera energica con l'uso della ben assestata colonna sonora.
La serie matura in fretta, tanto da abbandonare al suo secondo giro le raccapriccianti coreografie di combattimento poco credibili, ed un sonoro non all'altezza, esperiti nella prima stagione.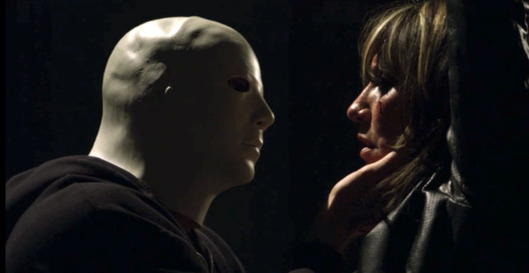 Gemma Teller è il motore della seconda stagione, e con l'intemerato affronto della fratellanza ariana manovrata da Zobelle viene applicato su di lei un dolore che funge da carburante.
Ciò che lega la sua centralità al principale arco narrativo della seconda stagione ha un valore quasi inespresso, che non romba all'unisono dei ruggiti di un novero di moto, ma più sottilmente si presenta e spiega come le mute parole di un diario: la Legge del Tre.
La centralità del "tre" nel corso della seconda stagione è insolente quando somatizza nel trio di ariani che violentano la matriarca Gemma, è profetico nell'indicare il numero di uscite di scena principali nella serie (il rapsodico sacrificio di Gavetta, la dignitosa e stoica accettazione della sconfitta di Weston ed il pedante contrappasso rappresentato dalla morte di Polly Zobelle), ed incastra i tasselli del mosaico di quella conosciuta appunto come la "Legge del Tre": ogni nostra azione torna indietro tre volte, che sia nel bene o nel male; se si fa del bene si riceverà tre volte il bene, se si fa del male si riceverà tre volte il male.
Le movenze diventano conseguenze, ed ogni tre metri percorsi a cavallo di una Harley possono essere ricordati per il fumo cenerino del tubo di scarico lasciato alle spalle, o per la distanza che avvicina all'obiettivo.
Così il silenzio ciceroniano di Sons of Anarchy spiega le tappe di questa fenomenologia fatta valente nella seconda stagione: il primo vero atto di benevolenza compiuto da Gemma ha luogo durante la prima stagione nell'aiuto porto a Tristen Oswald, figlia di Elliot Oswald, dopo lo stupro al parco.
È in questo secondo atto che in maniera cruciale si manifesterà l'onorario che Gemma ha meritato per l'atto di bontà, in tre momenti cardine della stagione.
Le buone azioni, i sacrifici, nello sbiadito grembo di una "cittadina che decide da sola i suoi abitanti" (come Unser, con saggia sofferenza tacita apostrofa allo stesso Zobelle, ospite indesiderato nell'equilibrio contorto di Charming), creano un retaggio.
Il primo riguarda la stessa famiglia Oswald ed il momento in cui Elliot si proclama benefattore, convinto dalla stessa figlia Tristen della decisione di pagare la cauzione per la fetta di Samcro finita in carcere, come da perfetto disegno dell'incastro di idee nel piano di Zobelle.
Il secondo tornaconto si manifesta con l'esplosione del trauma, il momento in cui Gemma lascia sgorgare dalle crepe il dolore, tenuto fino ad allora represso allo scopo di rendere vano l'affronto di Zobelle.
Quell'attimo è preparato dalla sublime scena che ritrae la reazione di Gemma all'ennesimo alterco tra Jax e Clay, prima dell'inizio della cena di famiglia; la sequenza esprime una gerarchia che vede nella matriarca la reliquia rappresentativa ed intoccabile della famiglia, il cui limite di sopportazione rappresenta la sola soglia da non profanare per mantenere una stabilità altrimenti assente.
In quel momento, l'impervia confessione è il momento che acquieta gli animi e rievoca coesione: il vulnerabile gesto, travestito da ingegnosa mossa nella partita a scacchi con Zobelle, che richiama un esito sperato e compiuto.
Il terzo ed ultimo dono di benevolenza è presentato a Gemma come una prova di perdono che non è in grado di superare.
Nel momento in cui incrocia casualmente Polly Zobelle, è ella stessa a definire l'accaduto un "segno divino"; un banco di prova che avrebbe potuto sancire col perdono, col confronto finale utile a lambire soltanto la vendetta e non divorarla come invece accade.
Così, dopo tale errore, Charming "sceglie".
Sceglie l'esilio di Gemma e Zobelle.
Con la selettività morale resa vivida da un luogo che non parla tramite le sue istituzioni, ma attraverso il progressivo svelamento di coesioni ed il racconto di legami di sangue.
Charming sceglie i suoi abitanti sulla base del legame, con la coscienza superiore di chi non fa dei rapporti il libro mastro dei profitti.
In Sons of Anarchy è Charming a scegliere, perché il desiderio dei figli dell'anarchia è fare a meno dei leader; perché visto che tutti gli uomini sono uguali, è irragionevole che debba comandare un uomo, anziché un altro.