Tutti i numerosi e sfegatati fans del capolavoro Sons of Anarchy sono stati letteralmente spiazzati. Non esistono altri modi per dirlo. Anche la convinzione degli "addicted" aveva portato a formulare ipotesi del tutto divergenti rispetto al progetto vero e proprio di questo spin-off, ovviamente sempre a firma del genio del male, Kurt Sutter.
Nella mente di ogni fan si faceva strada un'ipotesi, la più probabile e forse, la più stimolante : la storia dei famosi First Nine, i primi fuorilegge fondatori dei Sons of Anarchy, capeggiati dal padre di Jax, John Thomas Teller. Lo spin-off non sarà sui First Nine, niente focus sulle vite del caro Piney Winston o su Clay, sulla giovane matriarca Gemma e gli altri bikers capostipiti dei SoA (pag.10) , ma probabilmente molti e altri di questi personaggi principali, li ritroveremo.

L'arco narrativo dello spin-off sarà incentrato sulla storia criminale dei Mayans. Il clan di bikers di origini ispanico-messicane che nella serie madre ha avuto uno sviluppo assolutamente fondamentale. I Mayans con il club del Presidente Clay e di Jax il vice- presidente, hanno intrecciato rapporti di affari illeciti. A dir il vero i MAYANS per i Sons sono stati veramente di tutto : alleati, partner commerciali ed in certi contesti, anche avversari.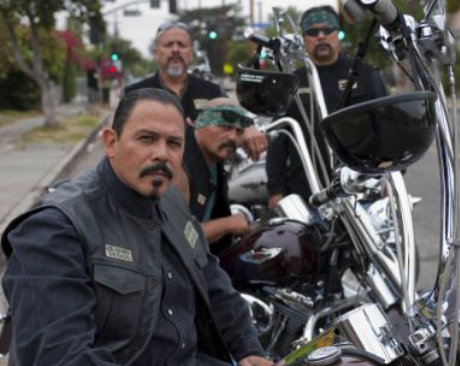 Kurt Sutter sarrà affiancato nel progetto da Elgin James, l'episodio pilota è stato ormai ordinato da FX, e con grande probabilità ci saranno nuove nozze tra Sutter e l'emittente, e da quello che si mormora il pilot sarà completato nei prossimi mesi. Il lavoro è in via di sviluppo e solo dopo ci sarà la conferma ufficiale di FX per la produzione dell'intero spin-off (le riprese di tutti gli episodi inizieranno nel 2017)
Il valore sconfinato di Serie-Tv come Sons of Anarchy e BReaking BAd , lasciavano aperti numerosi spiragli paralleli alla storia principale, e dopo un ottimo e accurato lavoro come Better Call Saul, non ci resta che attendere un altro spin-off che si prospetta assai intrigante. Dopo l'intreccio drammatico dell'Amleto, cosa avrà in mente ora il buon Sutter ?! Mayans Mc sarà uno spinoff indimenticabile, o uno dei tanti incoerenti e inutili di cui il panorama seriale è stracolmo ?
Ai posteri l'ardua sentenza… (ma confidiamo terribilmente in Kurt)
Un saluto agli amici di Sons of Anarchy Italia