[Leggere responsabilmente !!! L' articolo contiene Spoiler su Sons of Anarchy]
Il titolo di questo articolo rimarca quello del famoso romanzo epistolare di Johann W. Goethe "I dolori del giovane Werther", un caposaldo della primissima fase del Romanticismo, quella fase dello Sturm und Drang che ha dato origine a capolavori eccelsi ed unici. Anche Sons of Anarchy è Sturm und Drang, impeto come la gioventù e la forza di Jax, tempesta come la complicata situazione familiare ed il contesto criminale in cui vive. Sons of Anarchy, come abbiamo già scritto, è un inarrivabile capolavoro della serialità, intrecciato con gli eventi drammatici dell'Amleto di Shakespeare, ma l'epilogo degli eventi e gli sviluppi tragici forniscono indubbiamente altri riferimenti letterari. Tutto ciò va oltre le tematiche esistenziali della  sacra vendetta, della morte e dell'ardua convivenza tra legge ed anarchia.
La quintessenza dell'infinità di un'opera.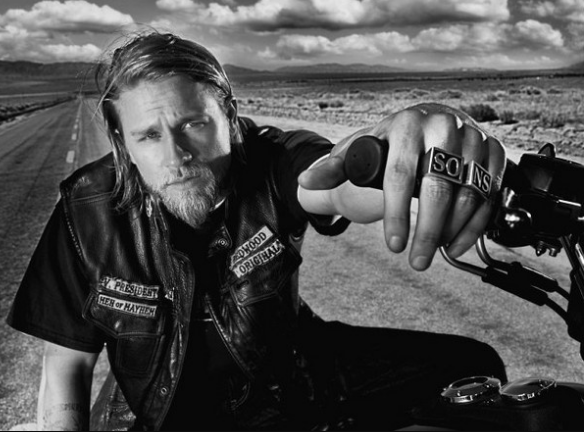 I giovani Teller e Werther sono due soggetti romantici, tragici e soprattutto titanici. La loro vita è contraddistinta da strazio interiore, incapacità ad accettare le regole convenzionali, entrambi manifestano un caparbio coraggio nell'assecondare la propria natura tormentata e nel solcare la dolorosa via del cambiamento. Un titano sa di accettare una sfida già persa, ma sa anche che la natura e gli ideali sono comandamenti più sacri della vita stessa, da qui il tema del sacrificio titanico.
In Sons of Anarchy abbiamo le vittime sacrificali, coloro che muoiono per immolarsi, quelli che cadono sotto i colpi delle gang rivali, gli innocenti che periscono, ed il soggetto-principe che muore per lo strazio interiore e per i suoi ideali : Jax Teller è un titano.
Scegliere di non esistere per il peso esistenziale del malessere, per la non accettazione delle azioni compiute e per l'ultima manifestazione di protezione (per il club) e d'amore (per Tara e mamma Gemma). Il suicidio è la più grande manifestazione partecipativa di altruismo ed egoismo; egoismo per lo strazio traumatico che si causa a chi si ama, altruismo per il dolore che l'esistenza continuerebbe a creare, sia per il soggetto stesso e sia per chi si ama. Il suicidio è la tematica esistenziale più ingombrante e difficile da affrontare nonchè la più dura da accettare, sospesa tra fragilità emotiva e volontà personale. Ma nel caso di Jax è infinitamente di più : atto di generosità per i Sons, sacrificio titanico per il valore sacro dei suoi stessi ideali, gesto salvifico per i suoi figli ed un incommensurabile peso interiore per il matricidio, da poco compiuto. Per Jax, l'atto finale, è decisamente molto di più.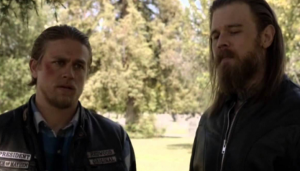 Un altro personaggio titanico è indubbiamente Opie Winston, corrispondente all'Orazio nell'Amleto. Quando l'abuso del sistema carcerario di San Joaquin mette alle strette Jax e i Sons, Opie è protagonista indiscusso nel risolvere la spiacevole questione. Opie colpisce con una forte testata la guardia carceraria e finisce nel "tritacarne" di un meschino abuso di potere; Opie sacrifica la sua esistenza : immola se stesso salvando i suoi fratelli, si sacrifica perchè stanco della violenza, una diversa forma di suicidio-sacrificio, un altro temerario atto titanico.
Altra menzione di merito va ad un altro degli amatissimi del mondo SoA, il caro sceriffo Wayne Unser. Wayne Unser vecchio amico di Clay, Wayne che cade per proteggere Gemma, Unser l'angelo-custode del club malavitoso. Altro esempio basilare di come il maledetto, ripudiato e straziante dolore, sia l'unico e vero meccanismo per creare rapporti solidi ed eterni. Dopo il pensionamento anticipato dal mestiere usurante di sceriffo, Wayne si trasferirà col suo piccolo camper nello spazio esterno della Teller-Morrow Repair. Troppo legato, troppo impegnato, troppo immischiato con i SAMCRO.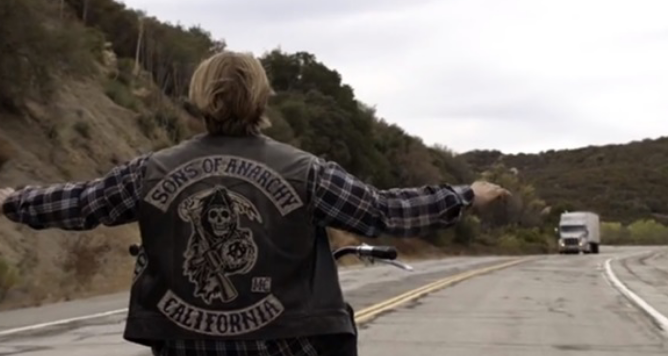 Il sacrificio titanico, la vita che segue un copione dagli imprevedibili esiti, la dolorosa tragedia, l'evoluzione ed involuzione di un'anima, le uccisioni, la fratellanza eterna, l'onnipresente signora oscura con la falce, la vera amicizia, la violenza, il suicidio e l'amore indissolubile. Cala il sipario con il volto di Jax, che dopo aver conosciuto la violenza, il forte tradimento e l'amore distrutto, può finalmente distendersi in un piccolo sorriso. Jax ora può finalmente spalancare le braccia nella più classica posa cristiana, in un poetico abbraccio con la "vera madre", quella morte amorevole che spesso dona un sapore dolce e triste ad una fine.

L'essenza più pura di un' inarrivabile opera destinata a riecheggiare nell'eternità.
Un grande saluto agli amici delle pagine Sons of Anarchy Italia e Sons of Anarchy Samcro Italia !!! Forever Samcro