# #
Infame, ma necessaria premessa: codesto insieme di sillabe contiene qualche spoiler, se ne raccomanda la lettura a un pubblico di adulti consenzienti e coscienti di aver appena letto questo mini-foglietto illustrativo d'apertura. Tenere lontano dalla portata degli analfabeti.
Harry "Opie" Winston è un grande : l'amico che tutti quanti vorremmo avere, il tipo di uomo che qualsiasi ragazza desidera, il compagno perfetto a cui mettere nelle mani la propria vita. Si perché Opie è in grado di darti tantissimo, parlando poco e facendo molto, cosa che lo rende un animale in via d'estinzione nel tremendo e infame Mondo che calpestiamo ogni giorno dove le parole la fanno da padrone e i fatti scarseggiano.
# #
L'espressione perennemente furiosa è il suo marchio di fabbrica, il silenzio la sua arma prediletta, l'animo buono il suo segreto di Pulcinella : il figlio del vecchio Piney è un uomo tormentato, irrequieto, costantemente in conflitto con i demoni del suo passato e tanti (troppi) ricordi che non lo lasciano mai in pace, ma fondamentalmente è una brava persona, leale e sincera quant'altri mai, una di quelle che crede davvero in quello che fa e in chi lo fa insieme a lui.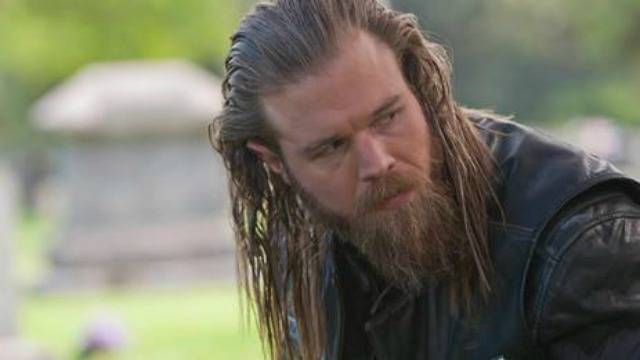 Lo so, l'aspetto non lascia esattamente intendere tutto ciò, ma l'abito (grazie a Dio) non fa il monaco! La barba lunga, i capelli affogati nel gel e i suoi celeberrimi e aggressivissimi cappellini amplificano quel messaggio di nervosismo che i suoi occhi inviano perpetuamente a chiunque li incroci. Perché questa tensione? Perché questa guardia sempre altissima? Come si diceva qualche riga più in su, c'è un'enorme incudine con la scritta "PASSATO" che grava sulle spalle di Opie.
# #
Piney ha fatto i suoi sbagli, lui è cresciuto tra mille difficoltà, è finito dentro, ha dovuto sopportare la morte della moglie e mille altri scossoni emotivi : è dura stare al Mondo quando ti mette così a dura prova, eppure Opie è riuscito a trovare il suo equilibrio riducendo al minimo le manifestazioni dei suoi sentimenti e legandosi ancora di più alla famiglia e ai Sons of Anarchy, gli unici due gruppi in cui Winston riesce ancora ad essere quello di sempre, a sentirsi utile, a muovere gli arrugginiti ingranaggi della sua vita, a svestire i panni del cattivo e mostrare la sua vera essenza, quella del buono.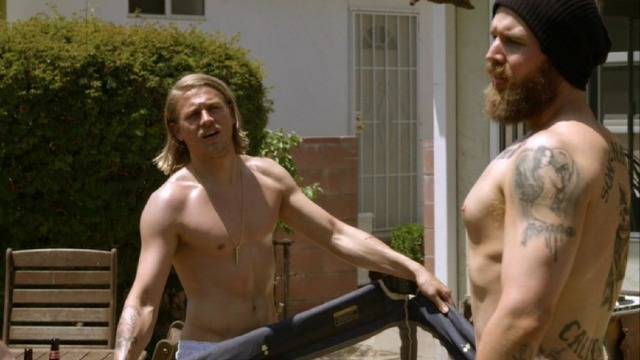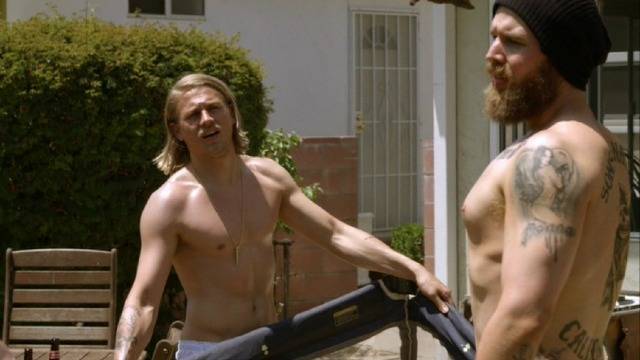 Dopo la già citata dipartita della moglie Donna (che per la verità è sempre stata sulle scatole un po' a tutti…) e un fisiologico periodo di tristezza, Opie si lega a un'attrice pornografica di nome Lyla, che al primo sguardo è la classica bionda da urlo con il cranio disabitato, ma che in seguito si rivela essere una donna dolce, semplice, in grado con le sue carezze e le parole gentili di rimettere in sesto quell'uomo perennemente imbronciato, addirittura strappandogli qualche sorriso di tanto in tanto. I due finiscono per sposarsi e andare a vivere insieme ai rispettivi figli : non è che una parentesi purtroppo, poiché le troppe differenze tra i due sono insanabili e presto Opie sceglie di diventare un solitario, nella convinzione che così facendo soffrirà (e farà soffrire) molto meno le persone a cui vuole bene.
Tra di esse, Jax Teller occupa sicuramente un ruolo importantissimo : i due sono sostanzialmente cresciuti insieme in quella Charming non molto ospitale ma che per loro era semplicemente il teatro delle loro innumerevoli ragazzate. Si considerano fratelli, sanno perfettamente che l'uno troverà sempre nell'altro un appoggio sicuro, il consiglio più giusto, la sicurezza di cui chi è cresciuto senza un padre ha bisogno. Quest'ultima dinamica si ripete nel momento in cui la maggioranza del club viene arrestata in seguito all'uccisione dell'agente Stahl : la gestione del club, infatti, viene affidata proprio a Opie, che insieme ai pochi altri membri in libertà gestisce i SAMCRO con oculatezza e precisione, dimostrando anche un'attitudine al comando che lascia presagire che quando Jax diventerà "Re", lui sarà il suo primo consigliere.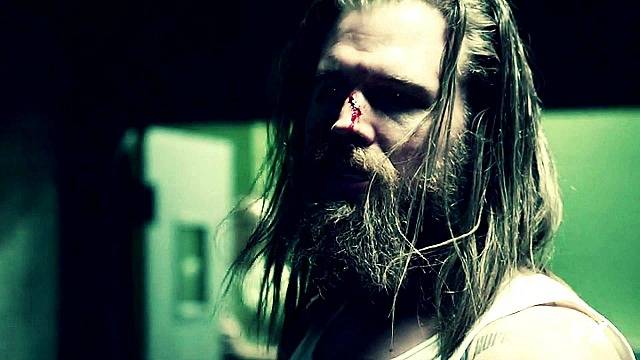 Non accadrà mai. Sappiamo come "Sons of Anarchy" sia una serie stracolma di crocevia, di attimi catartici in cui le cose potrebbero prendere mille pieghe diverse e uno di questi, purtroppo, avviene quel maledetto giorno in carcere. Chi ha già visto la serie sa bene di cosa si sta parlando, ma a chi non è sufficientemente aggiornato occorre semplicemente dire che a un certo punto Jax, Opie, Chibs e Tig vengono sbattuti in gatta buia, il regno di un gangstar chiamato Damon Pope il quale, per diverse ragioni, ce l'ha a morte con i SAMCRO. Il criminale ha una sola richiesta : la testa di uno di quei maledetti motociclisti, non gli importa chi, non gli importa come, serve semplicemente che uno di loro tiri le cuoia in quella maledetta prigione.
Quando i secondini corrotti si presentano in cella, arriva il momento di decidere : Jax è il leader e potrebbe "sacrificarsi" per dare l'esempio, Chibs il più vecchio e pertanto si considera il più sacrificabile, Tig è senza dubbio quello meno pulito di tutti e probabilmente si meriterebbe di fare una brutta fine…invece ci va Opie, che con uno scatto fulmineo elude le resistenze dei suoi fratelli, che tutto avrebbero voluto tranne il suo sacrificio, e segue i poliziotti nella stanza a fianco dove ad attenderlo c'è una marmaglia di sgherri di Pope, pronti a farlo secco. "I got this" queste le sue ultime parole in direzione del suo principe. I bastardi gli concedono almeno l'ausilio di una spranga e lui si difende fieramente, mentre gli occhi lacrimanti degli altri 3 lo osservano attraverso un vetro, però non può farcela : se ne va sorridendo, realizzato, fiero di aver fatto il suo dovere per il bene dei Sons of Anarchy.
La storia di Opie è malinconica, drammatica, eppure bellissima nelle sue tonalità scure, intervallate da qualche fugace, meraviglioso attimo di luce assoluta, simile a quella emanata da un angelo.