Infame, ma necessaria premessa : codesto insieme di sillabe contiene qualche spoiler, se ne raccomanda la lettura a un pubblico di adulti consenzienti e coscienti di aver appena letto questo mini-foglietto illustrativo d'apertura. Tenere lontano dalla portata degli analfabeti.
Tig è pazzo. Non come il goliardico e caricaturale Ooch di "Scrubs", Tig è fuori di testa per davvero! Attraverso i sottovalutatissimi e troppo spesso sbeffeggiati lineamenti di Kim Coates, il pubblico ha potuto apprezzare nel corso di tutte le stagioni di Sons of Anarchy un personaggio distorto, sbagliato, uno di quelli che toccano lati spesso fastidiosi e scabrosi per chi lo osserva, semplicemente perché sono quelle che nessuno di noi ammette di avere.
Partito fondamentalmente come uno sgherro di Clay, quello a cui il capo dei Samcro affida gli incarichi più sporchi e strategicamente importanti, Tig si rivela ben presto molto più di ciò che sembra. Non dimentichiamoci che il primo vero pasticcio in cui i Sons incappano avviene per colpa sua, visto che è proprio lui a "farcire" le messicane trovate morte sotto il loro magazzino ormai ridotto in cenere nella primissima puntata della serie. C'era proprio tutta questa necessità di avere un rapporto non protetto con ben due mangia fagioli? Assolutamente no, ma con Trager le normali categorie aristoteliche non valgono.
Lo sguardo perso nel vuoto, le innumerevoli battutine a sfondo sessuale e un gusto del macabro degno di Tim Burton ci dicono che quest'uomo è strano (oltre che folle), talmente strano, estremo e promiscuo da diventare simpatico. Certo, soprattutto all'inizio della sua storia, è molto facile biasimarlo (non dimentichiamoci che è lui a uccidere, se pur inconsciamente, la moglie di Opie), tuttavia col progredire della narrazione diventa difficile non volergli bene, anche se da un tizio del genere è sempre meglio mantenere una certa distanza.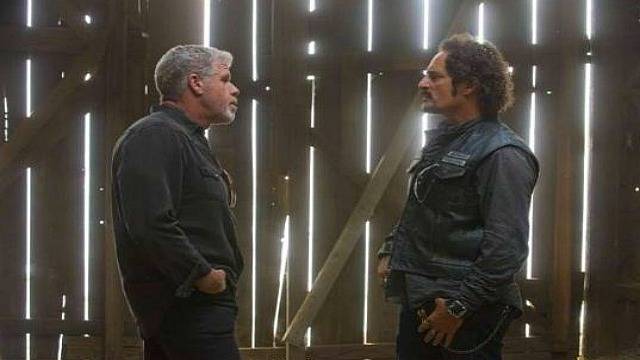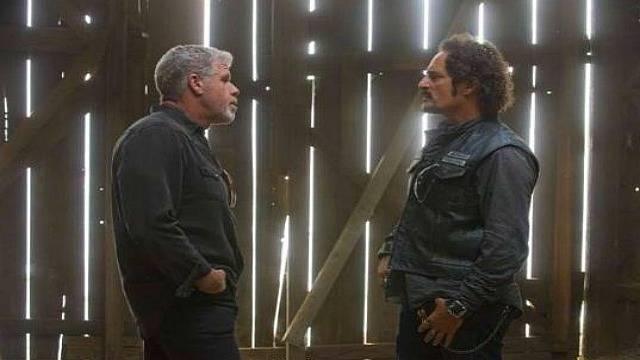 Lo abbiamo detto, il suo rapporto con Clay Morrow è particolare. I due si conoscono da tantissimo tempo, ne hanno passate tante, probabilmente vedono loro stessi un po' come il Batman e il Robin della situazione : l'uno esperto, freddo e altezzoso, l'altro più impulsivo, genuino ed effervescente. All'inizio è sempre Clay a tirare i fili, forte della fedeltà di quel soldato che lo ammira enormemente e che per lui (e per i privilegi che gli garantisce) farebbe qualsiasi cosa. A ogni votazione, Tig parteggia puntualmente per il suo leader, a prescindere dal suo pensiero e da quello degli altri membri del club, ma a un certo punto arriva per tutti il tempo di aprire gli occhi.
L'ascesa al potere di Jax porta tutti quanti i Samcro dalla parte del biondo : Tig è l'ultimo a capitolare, l'ultimo ad abbandonare quello che in un'altra serie tv avremmo potuto chiamare "Re folle". Il suo rispetto per Clay e la sincera amicizia che lo lega a quel mascellone ci saranno sempre, ma la politica è politica, anche in un ambiente molto poco ortodosso come quello dei Sons of Anarchy. Va sottolineato anche il fatto che Jax difenderà a spada tratta quel viscido col pizzetto, salvandolo da morte certa in diverse occasioni e concedendogli la vendetta delle vendette ai danni di quel verme di Damon Pope.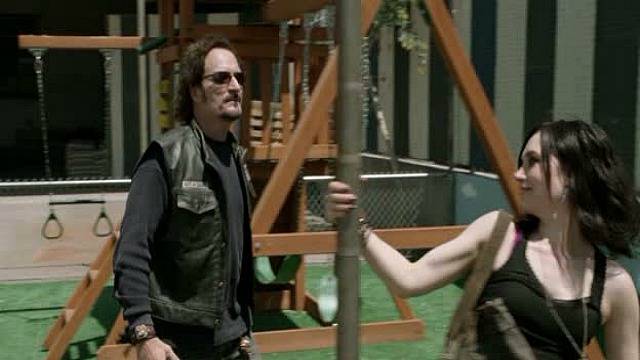 Uno degli aspetti più insospettabili di Tig è che è padre di ben due figlie. La madre, che vediamo solo fugacemente, è una donna insopportabile e petulante : l'unica che ci saremmo aspettati a fianco del nostro amico! Dawn e Fawn, invece, sembrano un po' più regolari rispetto ai genitori, ma non troppo. La prima è una metallara scatenata ma pura di cuore che a un certo punto tenta di truffare il papà, la seconda sembra più centrata, ma ci viene mostrata per la prima volta durante uno scoppiettante rapporto sessuale con un gigantesco uomo di colore. Non proprio due sante insomma, ma sicuramente due brave persone.
Purtroppo Dawn è il motivo per cui Tig ottiene la feroce vendetta anticipata qualche riga fa : nel corso di un regolamento di conti, la ragazza viene bruciata viva dal gangster Damon Pope, proprio davanti agli occhi colmi di lacrime del padre. Le urla strazianti di un personaggio cinico divenuto improvvisamente così vulnerabile hanno straziato il cuore di chiunque abbia visto quella scena, una delle innumerevoli che ha stupefatto il pubblico di questa serie per drammaticità e pathos. Poco tempo dopo, però, Dawn sarà vendicata.
Abbiamo quindi visto la fragilità e l'opportunismo di Trager, ma ci manca il suo aspetto più spassoso : la sessualità!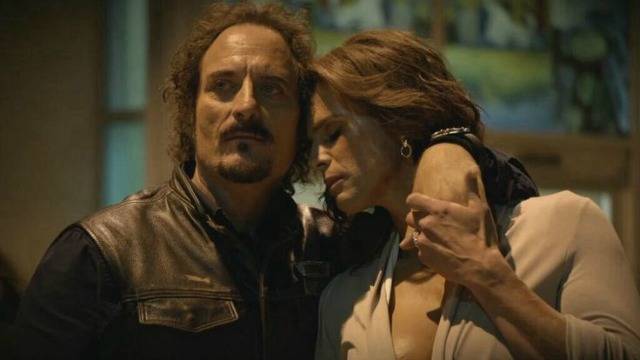 In vari episodi vediamo Tig "impegnato" con prostitute, motocicliste, badanti e altre donne un po' sui generis (tra cui la stessa Gemma!) , ma il piatto forte è sicuramente il suo rapporto con la transessuale Venus, interpretato da un magistrale Walton Goggins.
I dialoghi volgarissimi e intensi a cospetto di quelle tette gigantesche e delle dosi industriali di mascara sono un qualcosa di inarrivabile se ne facciamo un discorso di trash allo stato puro. Tutti i suoi compagni assistono a queste scene in parte inorriditi e in parte stupefatti (è un ambiente di motociclisti rozzi e maschilisti, non dimentichiamolo), eppure Tig non li calcola minimamente, si comporta con disinvoltura, per nulla intimorito dalla pressione sociale a cui è sottoposto.
Un motociclista e una trans? Really? Yes. I due arrivano a un certo punto a instaurare una vera e propria relazione, che è tutto tranne che banale perché ci dice moltissimo di chi è davvero Tig : un uomo che fa ciò che si sente di fare. Se ne frega dei pregiudizi, delle voci e della reputazione! Ha visto in Venus una persona sensibile e affine ai suoi gusti, un esemplare raro, esattamente come lui, perciò qual è il problema? Perché due persone che sentono di amarsi non possono stare insieme? Perché dobbiamo regolare le nostre azioni in base a ciò che la società ci impone tacitamente di fare? Viva Tig, viva le sue stranezze, viva la libertà di essere tutto ciò che ci pare.