John Watson è il coprotagonista della serie della BBC eppure di lui si parla sempre troppo poco e praticamente solo in relazione e in funzione di Sherlock.
Eppure John Watson esiste anche separatamente da Sherlock.
No, non sto bestemmiando. Quello che voglio dire è che John Watson ha una sua testa e un suo carattere ben definito. Certo, lui e Sherlock sono complementari, e in un certo qual modo si appartengono (e non intendo in modo esclusivamente 'romantico'), ma restano comunque due individui a se stanti e diversi tra loro.
John Watson è – come tutti voi sapete – un medico militare, reduce dalla guerra in Afghanistan, dove è stato congedato dopo una brutta ferita alla spalla. Inabile al servizio, torna a Londra, città dove ha vissuto quand'era al college, ma la sua vita è tutt'altro che facile: non ha un lavoro, non ha un soldo e soprattutto non ha più uno scopo. Sarà l'incontro con Sherlock Holmes a restituirgli la voglia di vivere e di combattere ancora.
Ed è su questo punto che mi soffermerei: viene spesso creduto – a torto – che Watson soffra di un disturbo post-traumatico. All'inizio tutto sembra confermare questa teoria: gli incubi sulla guerra, l'apatia, la zoppia psicosomatica, il tremore intermittente alla mano sinistra…
Eppure ognuno di questi indizi viene smontato proprio dopo l'incontro con Sherlock. L'apatia scompare appena il nuovo coinquilino lo coinvolge in un'azione e sempre in quell'azione addirittura dimentica di prendere la stampella e corre e salta sui tetti di Londra. La mano smette di tremare quando è sotto stress in un garage con un 'tipo losco' che l'ha fatto rapire e si definisce l'arcinemico di Sherlock Holmes. Il comportamento di John qui è quello di un soldato: impassibile, a tratti sarcastico, gelido, ma anche cauto. Cerca, infatti, di scoprire quanto più possibile sull'uomo che ha davanti e se non ci riesce è solo perché l'uomo in questione è praticamente la persona più intelligente del pianeta. La stessa persona che gli dice di licenziare la sua terapista perché non soffre di disturbi post-traumatici a causa della guerra, come quest'ultima sostiene, ma per la mancanza della guerra.
Ed è qui che per la prima volta vediamo il soldato. Perché John Watson non smette mai di essere un soldato, in nessuna delle tre stagioni finora andate in onda. Anzi, nella seconda e nella terza questo aspetto viene accentuato sempre di più. Ad esempio, in A Scandal in Belgravia, John afferma di aver ucciso mentre era in guerra perché c'erano 'giorni brutti' – il tutto mentre prende a cazzotti l'amico – e dimostra una notevole prontezza di spirito e di riflessi sia quando lo scagnozzo dell'Americano gli punta una pistola alla tempia sia quando Sherlock lo avvisa di tenersi pronto dicendo la parola d'ordine: Vatican cammeos.
The Hounds of Baskerville è poi ambientata in gran parte in una base militare e proprio qui John, per avvalorare la loro storia ed entrare di straforo nella basa, si comporta da soldato e da soldato abituato a comandare, riuscendo a portare Sherlock sano e salvo fuori da lì.
Anche in The Sign of Three John, nonostante sia nel bel mezzo del proprio matrimonio, scatta all'attenti non appena capisce che c'è un omicidio in corso. Omicidio che questa volta coinvolge il suo passato perché prende di mira il suo ex comandante, il Maggiore Sholto. Ed ecco che intuiamo un altro tassello della vita precedente di John.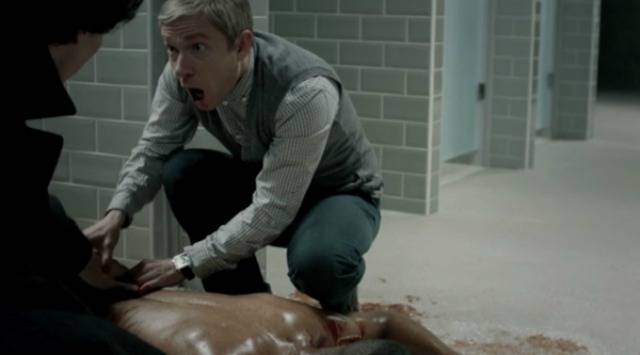 Sempre in questo episodio, poi, John cerca di far valere le sue credenziali militari davanti alla Guardia Reale, ma il fatto di essere stato congedato anni prima ha purtroppo il suo peso e non viene ascoltato. Ma il ritrovamento di una guardia in fin di vita mette di nuovo in azione John, questa volta nei panni del dottore.
E questo binomio è sempre presente nella vita di John, che ogni volta deve essere, a seconda della situazione, dottore e/o soldato. E lo è anche con Sherlock: dottore quando deve esaminare un corpo, soldato quando c'è azione, dottore quando deve insegnargli a comportarsi, soldato quando deve proteggerlo. E forse, è proprio per questo, che John e Sherlock funzionano così tanto.