Sherrinford è la parola chiave della 4×03 di Sherlock, intitolata – come abbiamo recentemente saputo – The final problem.
Ma cosa vuol dire Sherrinford? O meglio, chi è Sherrinford?
Chiunque abbia letto il canone (il canone è il corpus dei 4 romanzi e 56 racconti su Holmes scritti dal suo creatore, Sir Arthur Conan Doyle) sa che il personaggio di Sherrinford non viene citato in nessun luogo, anzi Sherrinford era il nome provvisorio che Doyle aveva originariamente scelto proprio per Sherlock. È stato William Baring-Gould, nel 1962, a introdurre Sherrinford come terzo fratello Holmes nella 'biografia' che scrive su Sherlock, intitolata Sherlock Holmes of Baker Street: A life of the world's first consulting detective.
Secondo lo studioso, infatti, Sherlock e Mycroft sono nati nello Yorkshire, figli di un signorotto locale. Eppure, entrambi vivono e lavorano a Londra, mentre era uso a quel tempo che il maggiore succedesse al padre come amministratore della proprietà di famiglia. Proprio questo il motivo che fa dedurre a Baring-Gould l'esistenza di un terzo fratello, il maggiore, rimasto nello Yorkshire.
Questa deduzione è stata possibile anche grazie alle scarne notizie che Doyle ci dà della famiglia di Holmes. A parte l'esistenza di Mycroft, introdotto improvvisamente in The Greek Interpreter – tanto che Watson si meraviglia, perché non ne aveva mai sentito parlare prima! – le uniche altre informazioni che abbiamo sono che i suoi antenati erano signorotti di campagna e che sua nonna era la sorella di Vernet, l'artista francese. Tecnicamente è quindi possibile che abbia avuto altri fratelli e/o sorelle oltre Mycroft.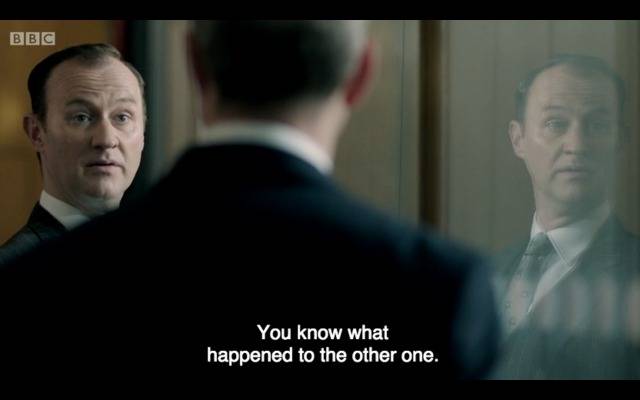 In Sherlock BBC Sherrinford è stato introdotto, per ora solo in modo allusivo, con un'unica frase pronunciata da Mycroft in una delle ultime scene di His Last Vow (3×03): "Non sia assurdo. Non sono pieno di compassione fraterna, ricordi cos'è successo all'altro".
Quell'altro (the other one in inglese) – almeno stando alle parole di Mycroft, che non l'ha salvato come adesso non sta salvando Sherlock, mandandolo a morire nell'Est Europa – è un criminale o potrebbe esserlo stato. Non si capisce infatti se l'uomo è vivo o morto – o creduto tale. In realtà non si sa neppure se sia uomo o donna (Sherrinford is actually a girl name?)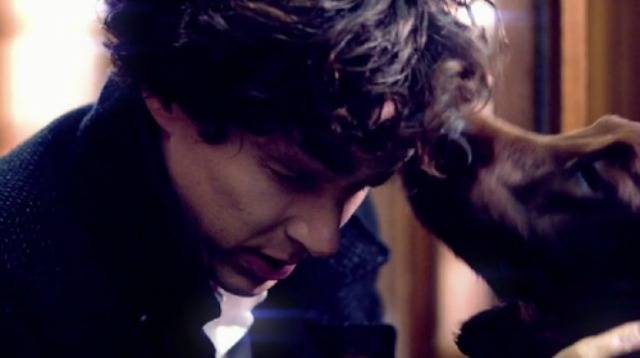 Gli anni scorsi buona parte del fandom ha ipotizzato che il cane Redbeard non fosse reale, bensì una proiezione di Sherlock, che avrebbe cancellato il ricordo del fratello maggiore, probabilmente in seguito alla sua morte traumatica. A sostegno di ciò anche il fatto che durante il pranzo di Natale in famiglia né il cane né tantomeno il fantomatico fratello vengono nominati o si notano in giro loro foto.
È stato proprio partendo da qui – e da quel maledetto trailer che ci tormenta ormai da giorni – che una mia amica e io abbiamo sviluppato una teoria terribile eppure maledettamente plausibile che coinvolge Sherrinford Holmes, Jim Moriarty e il problema finale.
Partiamo appunto dal trailer. In uno dei primi frame si vede Mycroft di spalle davanti a una casa in campagna che brucia. Tramite un'attenta analisi si è notato che la casa, sia pure simile a quella dei signori Holmes, in realtà non è la stessa. E se fosse la vecchia casa degli Holmes, poi ricostruita?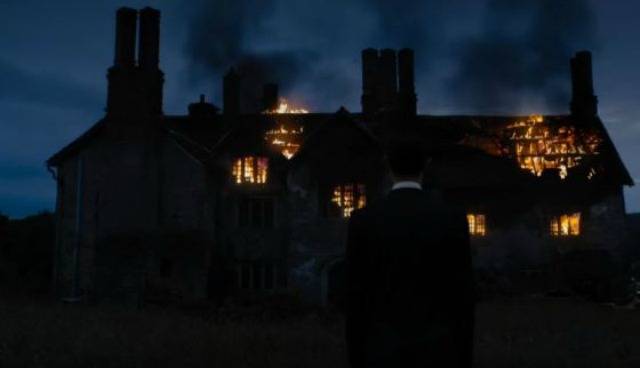 Mi spiego meglio: Mycroft davanti a quella casa in fiamme sembra distrutto e non ha neppure l'ombrello con sé. Questo dettaglio, forse irrilevante, potrebbe invece dirci molto di più di quello che crediamo: la casa che brucia potrebbe essere un ricordo, che Mycroft rivive nel presente. Un po' come quando vede Sherlock bambino nella 3×03.
Se la casa degli Holmes è bruciata anni prima, probabilmente è proprio in questo incendio che Sherrinford è morto. Forse Sherlock ha salvato Mycroft (o viceversa) e non è riuscito a tornare indietro a prendere Sherrinford, forse Sherlock ha appiccato il fuoco mentre faceva i suoi esperimenti, forse entrambe le cose. Ed ecco spiegato il risentimento che il terzo fratello Holmes cova nei confronti degli altri due. Sì, perché ovviamente Sherrinford si è salvato, ma sfigurato come Anakin quando diventa Lord Fener.
Il paragone è voluto: Sherrinford anni dopo sarebbe diventato… Moriarty.
No, non è Jim Moriarty il terzo fratello. Come? Siete confusi? Ora chiarisco. Sherrinford, rimasto solo, si è rimesso in sesto (magari si è anche fatto qualche operazione di chirurgia plastica nel corso degli anni, chi può dirlo?) Ed è stato proprio durante il suo processo di guarigione che ha incontrato Jim Moriarty – o Richard Brooke che dir si voglia – un bambino geniale e bullizzato che in parte gli ricordava i suoi fratelli ma che questa volta avrebbe potuto plasmare a suo piacimento.
Ed ecco che nasce Jim Moriarty che, con l'aiuto di Sherrinford, uccide Carl Power, fonda la sua organizzazione criminale e sviluppa un'ossessione malsana per Sherlock Holmes. Ossessione sapientemente indottrinata da Sherrinford.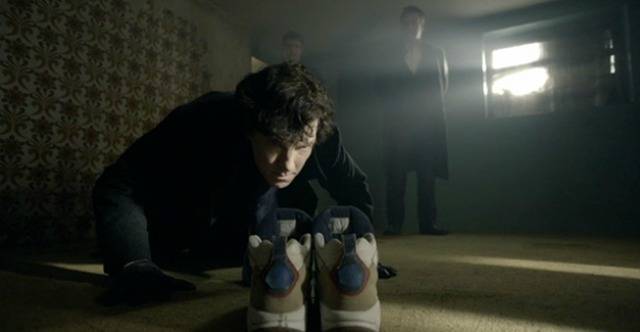 Vi siete mai chiesti come fosse possibile che Jim conoscesse così tanti dettagli della vita di Sherlock già prima che parlasse con Mycroft? Prendiamo proprio Carl Power e le scarpe che Jim gli manda. Sherlock era poco più di un bambino quando si è interessato al caso, non l'ha realmente seguito, ha solo informato la polizia del fatto che mancassero le scarpe. Ora, come faceva Jim a saperlo? Impossibile che lo stesse già tenendo d'occhio. Eppure, ha conservato quelle scarpe e poi gliele ha mandate, sicuro che Sherlock le avrebbe riconosciute.
Non ha molto senso, vero? Ora però provate a immaginare che Jim abbia dietro di sé un uomo di una decina d'anni più grande, un uomo che conosce molto bene Sherlock – e Mycroft – un uomo che in tutti questi anni ha continuato a tenerli d'occhio. In fondo, la mania del controllo è un vizio di famiglia, tra Mycroft che segue le persone con le telecamere del traffico e Sherlock che le pedina.
Ed ecco pronta un'arma micidiale e infallibile, più volte affilata, anche se poi sacrificata. Un'arma che è allo stesso tempo un diversivo per tenere impegnati entrambi i fratelli senza dar loro modo di capire cosa realmente stesse succedendo, per dare il tempo a Sherrinford di arrivare ovunque volesse arrivare, di portarli ovunque volesse portarli: probabilmente in quella stanza chiusa con Sherlock che deve scegliere se salvare John o Mycroft come già una volta 'ha scelto' chi salvare tra i suoi due fratelli nella casa in fiamme.
LEGGI ANCHE: