L'amicizia è uno dei temi fondamentali nell'universo delle Serie Tv, così come nella vita. E se, in un certo senso, i telefilm non sono altro che uno specchio dei nostri sentimenti e dei nostri vissuti non poteva certo mancare un tassello così importante. Sherlock Holmes e John Watson ne sono un esempio, ma abbiamo visto numerosissimi tipi di amicizie differenti, a seconda del genere e dei personaggi protagonisti, e ognuna di queste è riuscita a conquistarci a suo modo. Ci sono ad esempio quelle amicizie storiche e intramontabili, come quella tra Joey e Chandler e Ross o tra Marshall e Ted. Ma in questa particolare classifica abbiamo cercato di evidenziare quelle che secondo noi potevano essere le coppie di amici più commoventi. Non le più belle in generale ma le più commoventi. Quelle dove il vissuto dei due protagonisti ha visto esistere anche grandi momenti di condivisione nelle parti più difficili di un'amicizia: quelle dove non ridi e scherzi tutto il tempo, ma ti trovi ad affrontare insieme tutte le parti più spigolose, insidiose e talvolta distruttive che la vita ti mette davanti.
Ecco qui Sherlock e altre amicizie maschili che ci hanno toccato il cuore
10) Mike, Dustin, Lucas e Will (Stranger Things)
In quanto ad amicizia, Stranger Things si fa maestra. La celebre citazione Friends don't lie è emblematica di quanto il rapporto con gli amici sia importante se non sacro in questa serie tv. Ma prima ancora dell'arrivo di Eleven e Max e della sparizione di Will nel Sottosopra, i protagonisti erano solo quattro amici un po' nerd. Dustin, Mike e Lucas non esitano neanche un minuto e subito iniziano la ricerca del loro amico scomparso. Ma la prova più evidente l'abbiamo forse nella terza stagione: nonostante Will non riesca a capire i suoi amici che finiscono per trascurarlo, alla fine ci sono sempre l'uno per l'altro. L'affetto che li unisce è più forte di qualunque incomprensione.
9) Seth e Ryan (The OC)
Una delle coppie di amici che ci hanno sicuramente emozionato fin dall'infanzia o dall'adolescenza è sicuramente quella composta da Seth e Ryan di The OC. Questi due personaggi non potrebbero essere più diversi di così, eppure sembra che si completino perfettamente. L'uno sopperisce alle mancanze dell'altro e nei momenti difficili sono pronti a sostenersi per tornare sulla strada giusta. Il termine amici sarebbe riduttivo: Seth e Ryan sono come fratelli. La presenza del teppista di Chino è stata in grado di risollevare l'animo di Seth, isolato e timido. Mentre grazie al nerd fumettista Ryan è riuscito ad acquistare nuova fiducia nella vita e nelle persone. Non sono mancati momenti bui nella vita di ognuno dei due, ma per fortuna hanno sempre trovato un rifugio sicuro nella loro amicizia.
8) Stiles e Scott (Teen Wolf)
Stiles e Scott. Una coppia inseparabile che rappresenta la vera anima di Teen Wolf. Nel corso delle stagioni questi due amici si troveranno a dover fronteggiare le più svariate minacce, ma potranno sempre contare sull'aiuto dell'altro. Perché l'uno non può sopravvivere senza l'altro. E la prova l'abbiamo proprio quando nella seconda stagione Scott, in preda a un attacco di follia, tenta di uccidersi dandosi fuoco. "Tu per me non sei niente. Tu per me sei qualcosa… sei il mio migliore amico. Scott tu sei mio fratello" con queste parole salva l'amico e dimostra quanto viscerale sia il loro rapporto. Ma quest'episodio è solo uno dei numerosi momenti in cui i due ci hanno commosso con i loro gesti volti a proteggersi e sostenersi reciprocamente.
7) JD e Turk (Scrubs)
JD e Turk sono l'emblema di cosa voglia dire essere amici. Sono innamorati l'uno dell'altro e sarebbe del tutto inutile cercare di tenerli separati: vivono praticamente in simbiosi! La loro è un'amicizia che tra tante risate, tenerezza e lacrime ci ha sempre coinvolti ed emozionati. E nella quale ci siamo rivisti e abbiamo sperato potesse capitare anche a noi di avere un rapporto così sincero nei confronti di un amico. Scherniti ripetutamente sul posto di lavoro per questo loro legame poco virile, non si tirano mai indietro. Non smettono di dimostrarsi affetto o di avere riguardi l'uno per l'altro, anzi. Sono sempre pronti a consolarsi e supportarsi. Di momenti dolorosi ne abbiamo affrontati tanti nel corso delle otto stagioni di Scrubs, ma una cosa non è mai venuta meno: il sostegno degli amici.
6) Nick e Schmidt (New Girl)
Durante le sette stagioni di New Girl, Nick e Schmidt ci hanno rallegrato con i loro momenti esilaranti, ma sono stati anche in grado di toccarci il cuore. Nick è un adorabile scansafatiche (e noi lo amiamo per questo) un po' burbero che non dimostra mai il suo affetto nei confronti di Schmidt. Al contrario quest'ultimo non perde occasione per rinfrancarlo e prendersi cura di lui. Organizza perfino uno Stagniversario in occasione dell'anniversario della loro amicizia! E, anche se con difficoltà, Nick deve ammettere che quello che prova per l'amico è un sentimento profondo. Fino all'ultima stagione, ci danno prova che per quanto si possa essere diversi e si possa cambiare nel corso degli anni, i veri amici sono quelli che si prendono cura di te nell'ombra, con piccoli gesti quotidiani, e che intervengono qualora tu ne abbia bisogno.
5) Monty e Jasper (The 100)
Un'amicizia che meriterebbe più spazio è quella tra Monty e Jasper, due protagonisti della serie tv The 100. Fin dall'inizio i due vengono presentati come una coppia di migliori amici inseparabili, ancora forse immersi in quell'aura di innocenza che gli altri personaggi sembrano perdere prima di loro. Ma quell'ingenuità si tramuta in dolore che finirà per allontanarli. Jasper perde completamente la speranza di una vita migliore e perde la voglia di continuare a lottare, mentre Monty non si capacita di come questo sia possibile. Il più grande gesto di amore nei confronti dell'amico ormai depresso e totalmente sfinito lo vediamo quando Monty lo lascia andare e, suo malgrado, lascia che l'amico muoia. Mettendo così da parte le sue ragioni e i suoi sentimenti per dare ascolto alla richiesta di quella che era la persona più importante per lui.
4) Sandy e Norman (Il Metodo Kominsky)
Un'amicizia che non poteva assolutamente mancare in questa classifica è quella tra Sandy Kominsky e Norman Newlander. Due anziani, due amici che devono fare i conti con l'età che ormai grava sulle loro sempre più stanche spalle e con tutti i problemi che questa si porta dietro. E tutti i dolori. Accorgersi che la gioventù va pian piano sparendo e che gli affetti e i legami vengono tristemente spezzati dalla morte inevitabile fa precipitare i due nello sconforto. Ma mentre Norman sembra abbandonarsi con rassegnazione alla fine, Sandy fatica ad accettarlo. L'unico punto fermo, sia per l'uno che per l'altro, rimane la loro amicizia. Aiutandosi a vicenda, a volte rimproverando l'altro e altre volte sostenendolo anche nelle pazzie, riusciranno insieme ad andare avanti e guardare alla vita con speranza.
3) Opie e Jax (Sons of Anarchy)
Jax Teller e Opie Winston possono essere considerati dei veri e propri fratelli, cresciuti da due padri membri dei First 9, i padri fondatori della banda di motociclisti Sons of Anarchy. Jax e Opie hanno un rapporto estremamente profondo, sarebbero disposti a tutto pur di proteggere o di vendicare l'amico. Senza logica, senza convenienza o doppi fini, il sentimento che provano l'uno verso l'altro è tra i più puri e rari che esistano. In grado di superare qualsiasi confine, anche quello della morte. Quella tra questi due protagonisti è un'amicizia sincera, che trascende ogni cosa e ogni situazione. L'uno udirà sempre il grido d'aiuto dell'altro anche quando è silente. E non importa quanto possa essere pericoloso: si è pronti a tutto pur di soccorrere l'amico.
2) House e Wilson (Dr. House)
Il dottor James Wilson è forse l'unico vero amico che Gregory House abbia mai avuto. Il loro è un rapporto contorto, ma in questo giro intricato di sentimenti e ruoli che si invertono c'è dell'affetto vero. Non importa quanto il Dr. House possa comportarsi male o agire in modo sconsiderato, Wilson è sempre al suo fianco. Non lo abbandona mai. Se non alla fine. Il medico più dotato e insensibile tenta di convincerlo, di raggirarlo e di trattenerlo, ma alla fine anche lui deve lasciarlo andare. O almeno, così sembra: il colpo di scena nel finale di Dr. House ci ricorda come quando si è amici si sia disposti veramente a tutto, anche a rivoluzionare completamente la propria vita e mettere a rischio la propria professione per l'altro. Si è amici di qualcuno anche quando non si capiscono le motivazioni di determinate scelte. E si è amici anche quando la situazione precipita e malgrado questo non si lascia l'altro indietro.
1) Sherlock e John (Sherlock)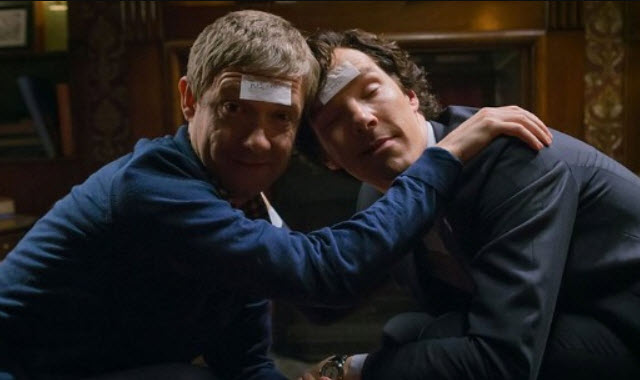 John Watson e Sherlock Holmes. Forse tra le coppie di amici più rinomate da prima ancora che ne traessero questa serie tv. E come non commuoversi nell'episodio 3×02 quando, al matrimonio di John, Sherlock finalmente apre il suo cuore? Un'amicizia complicata e controversa la loro. Eppure, nonostante tutti i momenti critici, sono riusciti sempre a uscirne fortificati. Il dottor Watson è davvero l'unica persona per cui Holmes darebbe la vita senza neanche pensarci e in più occasioni ne abbiamo avuto la dimostrazione. E d'altra parte, per quanto possa essere difficile accettarlo, Watson non potrebbe mai smettere di prendersi cura di Sherlock. Ed è questo che fanno gli amici: si prendono cura dell'altro nonostante i difetti più complessi da accettare.
Forse è questa semplicità nella complessità l'aspetto che ci emoziona di più del rapporto tra Sherlock e Watson.