Inaspettatamente, dopo giorni d'attesa – in cui si vociferava l'uscita di un nuovo trailer ma senza avere conferme ufficiali – e proprio quando ormai non ci credevamo più ed eravamo isterici per il rilascio del titolo della 4×03, The final problem, la BBC ha mandato in onda questo nuovo trailer.
Quaranta secondi. Sono bastati quaranta secondi per scatenare il panico.
Facebook è impazzito, Twitter è impazzito, tutto l'internet è impazzito. E siamo impazziti noi perché questo trailer ci dice tanto, forse troppo. O forse nulla, forse è solo l'ennesima presa in giro dei Mofftiss – non siatene così sorpresi, ormai ci abbiamo fatto il callo!
Tuttavia, dato che non abbiamo una TARDIS che ci porti immediatamente all'1, all'8 e al 15 gennaio nella stessa giornata o un hacker che rubi le puntate come hanno fatto con quelle di Game of Thrones (non lancio un appello solo perché poi mi arrestano per istigazione al crimine!), tutto quello che possiamo fare è fare altre congetture. E per fortuna che manca poco più di un mese al season finale e 'solo' 20 giorni alla premiere!
Comunque, non sono qui per bestemmiare Gatiss e Moffat e la BBC per la loro perfidia e disonestà nel tendere certi agguanti così, all'improvviso, né a instituire una caccia all'uomo o alla donna che ha montato il trailer (dove sei?? Esci, se hai coraggio!), ma per commentare l'ultima scena.
Già, perché presi dell'euforia di quell'I love you messo lì a tradimento, forse ci è sfuggita una cosa importante, che io ho notato solo alla seconda visione (perché alla prima ero troppo scossa per capirci qualcosa!) E che mi ha fatto formulare una teoria terribile, ma purtroppo plausibile.
Se notate, infatti, Sherlock, John e Mycroft sembrano essere da soli in una stanza chiusa. E Sherlock ha in mano una pistola. E questo sembra essere il fulcro di tutto.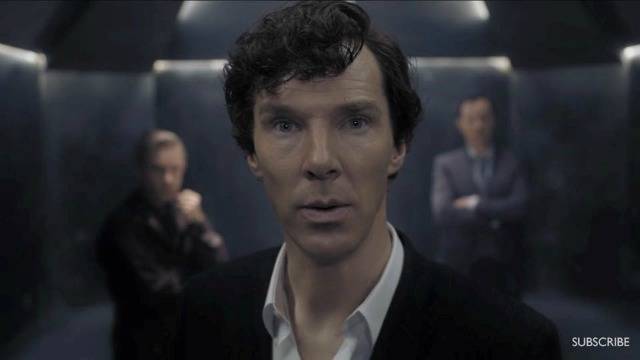 Se non siete ancora arrivati a capire la mia teoria è perché fa troppo male anche solo pensare una cosa del genere. Eppure, dobbiamo pensarci. Perché ha senso, perché spiegherebbe tutto.
Sherlock, John e Mycroft in una stanza chiusa.
Una pistola.
Il problema finale.
Jim Moriarty che vuole bruciare il cuore di Sherlock Holmes.
La 'big scene' di 35 pagine della 4×03 che riguardava Cumberbatch, Freeman e Gatiss, di cui lo stesso Gatiss ci ha parlato ai panel del San Diego Comic Con quest'estate.
E, ovviamente, l'I love you.
Già, è proprio quello che avete capito. Il problema finale potrebbe essere una scelta. La scelta che Sherlock è costretto a fare tra il suo migliore amico, John Watson, e suo fratello, Mycroft Holmes. Che siano davvero chiusi in una stanza o che quello sia il Mind Palace di Sherlock e che John e Mycroft siano stati rapiti e portati in due luoghi diversi (a un certo punto si vede John in un pozzo!), con Sherlock che può salvare soltanto uno dei due, quella scena sembra parlare chiaro.
Specialmente perché, per come è montato il trailer, quell'I love you mormorato dal consulting detective sembra essere il suo più profondo e oscuro segreto.
Culverton: Qual è la cosa peggiore che potresti fare ai tuoi migliori amici? Dir loro il tuo segreto più oscuro.
Sherlock: I love you.
I fan della Johnlock si stanno già esagitando perché, com'è anche logico, il problema finale sembrerebbe essere la consapevolezza e l'accettazione dei sentimenti che Sherlock prova per John. Sia che quell'I love you significhi realmente 'ti amo', sia che voglia dire semplicemente 'ti voglio bene'.
Eppure, per quanto mi piacerebbe credere a questa teoria, credo che – se le cose stessero davvero così – i Mofftiss non avrebbero mai permesso il rilascio di uno spoiler così grosso. Inoltre, nel trailer ci sono, purtroppo, altre cose che fanno pensare che il problema finale sia la scelta di cui vi ho detto.
Mycroft: Le strade che percorriamo nascondono dei demoni e i tuoi aspettano da molto tempo.
Sherlock: Sai perché mi trovo qui.
Culverton: Vorrei sentirtelo dire.
Mycroft: Cosa sta succedendo? Non possiamo farlo. Dovrebbe essere un gioco?
Non è più un gioco.
John: Pensavo fosse una specie di…
Sherlock: Cosa?
John: trucco.
Sherlock: Ovviamente non è un trucco, è un piano.
Culverton: Qual è la cosa peggiore che potresti fare ai tuoi migliori amici? Dir loro il tuo segreto più oscuro.
Sherlock: I love you.
Ascoltate le parole di Mycroft (la sua seconda battuta) e guardate bene il luogo in cui sono pronunciate. Esatto, nella stessa stanza della scena finale del trailer. E inoltre c'è un altro personaggio, a noi sconosciuto, che ci dà le spalle. Che sia Sebastian Moran? Moran che mette in atto la sua vendetta, portando a compimento il piano di Jim Moriarty, realmente morto sul tetto del St. Bart? Plausibile. Molto, troppo plausibile, specie tenendo conto di quanto successo in The Abominable Bride.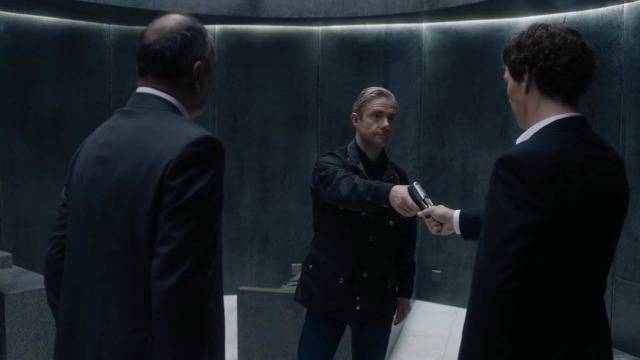 Per cui quell'I love you potrebbe non essere diretto a John – non vogliatemene, ragazzi, non è colpa mia, ma dei Mofftiss – bensì a Mycroft, un attimo prima di girarsi e sparargli. Perché tra Mycroft e John, Sherlock sceglierà sempre John e questo lo sappiamo tutti. Come sappiamo che in questa stagione ci sarà la morte di uno dei personaggi principali e che il cast, quando è stato messo al corrente della trama, ha pianto.
O forse Sherlock non sceglie, forse è Mycroft che decide di sacrificarsi per far uscire da lì suo fratello e John sani e salvi, forse – come ho già detto – quella stanza esiste solo nel MP di Sherlock e loro in realtà sono in due luoghi diversi di Londra e Sherlock può salvarne uno solo.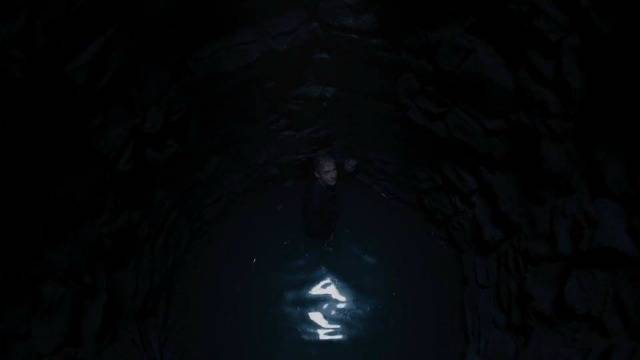 Ma c'è anche un'altra ipotesi, ancora più terribile. Sherlock non sceglie. Non sceglie perché non può farlo. E quindi quell'I love you è rivolto a entrambi. Un attimo prima che Sherlock si punti la pistola alla tempia e si uccida.
Che i Mofftiss vogliano portare a termine quello che Doyle non è riuscito a fare? Uccidere Sherlock Holmes, ucciderlo realmente? La quarta stagione sarà davvero l'ultima? Oppure tutto questo trailer non è altro che un bluff? O un doppio bluff? O un triplo bluff? Anche perché – ricordiamolo – la chiave di questo episodio è Sherrinford… Cosa c'entra il fantomatico terzo fratello con tutto questo? È forse lui Moran? Oppure i Mofftiss si sono ispirati a un romanzo delle Virgin New Adventures Doctor Who intitolato All-Consumino Fire, in cui Sherrinford (qui chiamato Sherringford) costringe Sherlock a sparare a Mycroft per salvare Watson? Come sappiamo, Moffat e Gatiss prendono spesso spunto da storie apocrife…
Troppe, troppe domande per quaranta secondi di trailer. E, ancora una volta, non possiamo far altro che aspettare.