Questa volta ci scappa il morto. Beh, è Sherlock, mi direte, certo che deve esserci il morto: senza morto non c'è caso, no? A parte il fatto che non è esattamente vero, sia perché – se ci pensate un attimo – in A Scandal in Belgravia (2×01), The Empty House (3×01), The Sign of Three (3×02) e His Last Vow (3×03) il caso da risolvere non è un omicidio (e la morte di Magnussen per mano di Sherlock è la risoluzione del caso, non il caso), sia perché nel canone di Doyle solo 23 casi su 60 sono di omicidio (circa il 38%). Quindi no, che ci scappi il morto non è affatto scontato.
Detto questo, prepariamoci a soffrire ancora una volta perché il morto che dovrebbe 'scapparci' non sarà per un caso, ma potrebbe essere uno dei major character, uno dei personaggi fissi.
E purtroppo, dato che non si sa se sarà o meno l'ultima stagione – e secondo me i Mofftiss non ci confermeranno nulla prima della messa in onda dell'ultimo episodio! – non si può escludere nessuno, nemmeno John, nemmeno Sherlock.
Ma procediamo con ordine.
MARY MORSTAN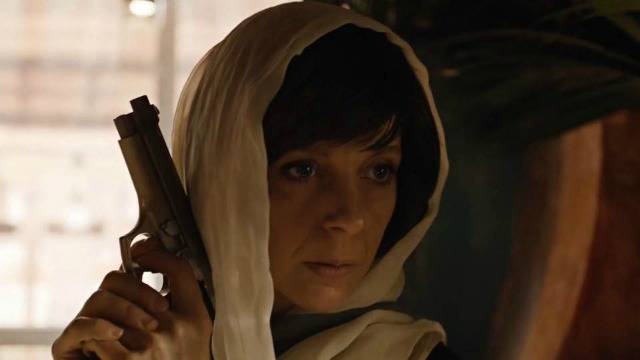 È probabilmente la più accreditata perché nei libri effettivamente muore. Anche se, a voler essere pignoli come Mark Gatiss, nel canone non si dice esplicitamente che Mary muoia, ma si parla di 'tragica scomparsa'. In un recente Q&A su Tumblr, tenuto dai due autori, proprio il sempre caustico Gatiss ha instillato il dubbio di un divorzio.
È questo che vedremo, dunque?  I coniugi Watson divorziare, Mary andarsene via, magari per proteggere John e la loro bambina?
Oppure Mary si sacrificherà per loro, morendo tra le braccia di suo marito? O ancora si scoprirà che c'è lei dietro tutto, che è lei il tiratore scelto Sebastian Moran, il braccio destro di Moriarty, morendo – o venendo arrestata – nel confronto finale?
Insomma, quale che sia l'opzione che i Moftiss sceglieranno, difficilmente un personaggio come Mary potrà resistere a lungo nella serie.
E non solo perché i ¾ del fandom la vuole morta/fuori dai piedi, ma più che altro perché, anche ora che Magnussen è morto, i fantasmi del suo passato potrebbero saltare fuori da un momento all'altro…