Lo attendevamo da tanto tempo e finalmente sta tornando.
La terza stagione, andata in onda nel gennaio 2014, ci ha lasciati con degli interrogativi e questioni irrisolte: Moriarty sembra essere tornato dal mondo dei morti, Mary si è rivelata un'assassina con un passato oscuro e Sherlock si è macchiato dell'omicidio di Magnussen. Lo speciale di Natale di quest'anno intanto, un viaggio indietro fino al 1985 nella mente di Sherlock, ha iniziato a fornirci le risposte che cercavamo circa il misterioso ritorno della mente criminale più pericolosa del mondo.
A questo punto, non ci resta che aspettare l'inizio del 2017 per avere tutte – si spera – le risposte che ci meritiamo, ma nel frattempo non abbiamo intenzione di rimanere a bocca asciutta. E non dobbiamo, perché le indiscrezioni sulla quarta stagione si sprecano; in parte provengono dal cast e dalla crew per stuzzicarci, e in parte è la fitta rete di fan presente sul set durante le riprese esterne ad offrire materiale sotto l'hashtag #setlock.
Badate bene a non riempirvi di floride e felici aspettative per la nuova stagione, perché una delle prime dichiarazioni rilasciate da Mark Gatiss recita:
"Fantasmi del passato stanno tornando nelle vite di Sherlock Holmes e John Watson, portando avventura, storie d'amore e terrore. Questa è la storia che stiamo raccontando dall'inizio. Una storia che sta per raggiungere il suo apice…"
Secondo Moffat, da quanto dichiarato in un'intervista ancora prima della messa in onda dello speciale The Abominable Bride, l'anticipazione della trama e degli avvenimenti avrebbero ridotto in lacrime il cast, ed i tweet di Amanda Abbington e Louise Brealey non ci rincuorano affatto.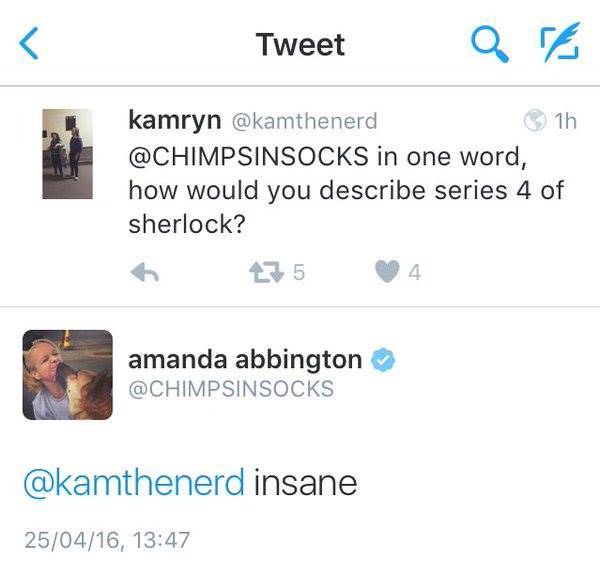 Naturalmente, se volete riservarvi la completa sorpresa per quando verrà finalmente trasmessa la quarta stagione di Sherlock non è il caso che continuiate con la lettura. Se siete assetati di notizie, siete i benvenuti!
Fatto questo disclaimer, immaginatevi una scatola di un puzzle piena di pezzi sfusi: questo è quanto abbiamo della quarta stagione di Sherlock. Dobbiamo dare a Cesare quel che è di Cesare, perché Moffat e Gatiss, insieme a tutto il loro team, sono dei geni del depistaggio e non c'è verso che noi ricaviamo informazioni sostanziali sulla trama o colpi di scena che possano rappresentare massivi spoiler.
Di certo, comunque, ci possiamo aspettare i tre canonici episodi da 90 minuti, scritti da Steven Moffat e Mark Gatiss, stavolta senza la collaborazione della penna di Stephen Thompson (The Blind Banker, The Reichenbach Fall, The Sign of Three).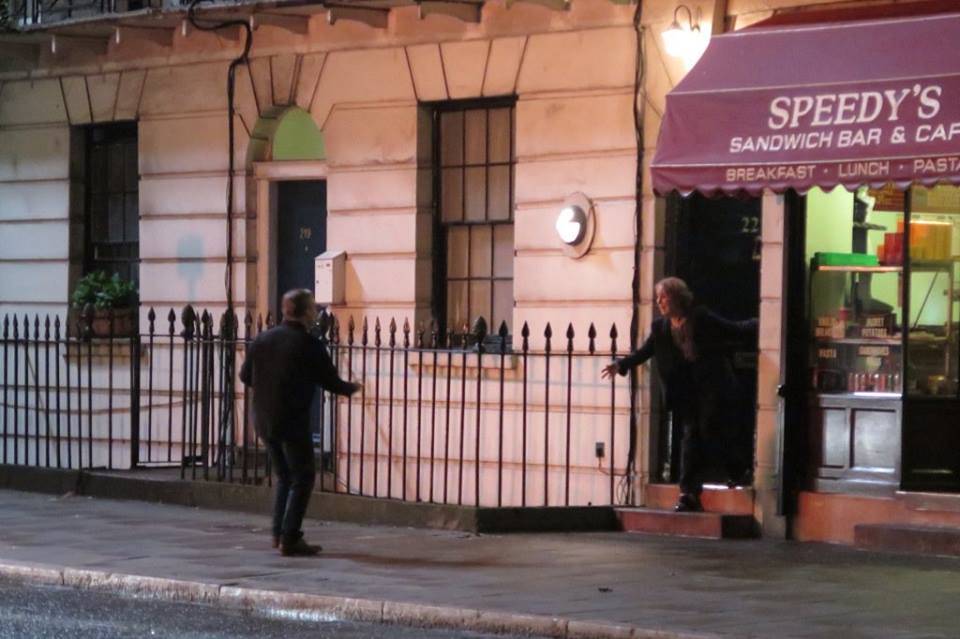 Proprio in questi giorni si stanno svolgendo le prime riprese a North Gower Street, la finta Baker Street, in cui sono presenti Benedict Cumberbatch (Sherlock), Martin Freeman (John), Amanda Abbington (Mary Morstan), Una Stubbs (Mrs. Hudson) e una giovane attrice di cui non si hanno informazioni, soprannominata "the woman in red" (Melisandre, sei tu?)
All'appello anche Rupert Graves (Lestrade), Louise Brealey (Molly Hooper), Jonathan Aris (Anderson) e naturalmente Mark Gatiss (Mycroft Holmes).
In aggiunta al cast è stata annunciata la presenza di una guest star: Toby Jones, che interpreterà l'antagonista del detective.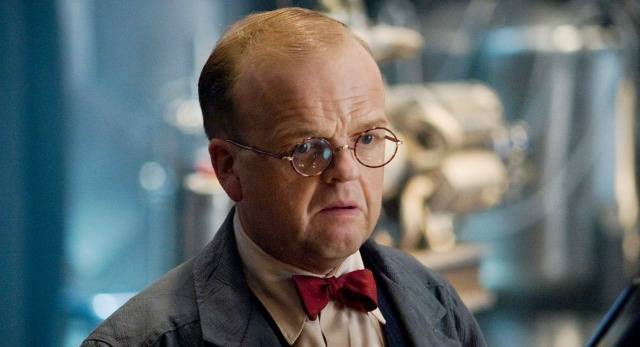 Ma le riprese sono iniziate il 4 aprile scorso e sappiamo che due dei tre episodi sono già stati girati.
Come di rito Cardiff è stata la prima meta, dove ci sono gli studi in cui è allestito il 221B e dove si svolgono le riprese all'interno, ma sono state girate anche delle scene in alcuni locali della città.
Con l'inizio del #setlock Gatiss ci ha dato il bentornato con delle foto del cast di schiena e il caption "Back". Mark Gatiss si diverte sempre a trollarci con il suo dubbio senso dell'umorismo.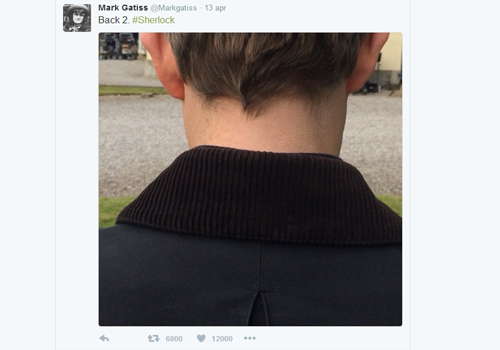 Il bello, però, è arrivato naturalmente quando le riprese si sono spostate a Londra ed i fan hanno potuto mettere per bene il becco nel set e ricavare succulenti scatti.
Prima di tutto, abbiamo avuto modo di fare la conoscenza della famiglia Watson: infatti abbiamo visto il trio formato dai coniugi Watson e Sherlock in compagnia di un cane ed una neonata.
Inoltre una scena girata di notte in un tunnel fa pensare che si trattasse del momento del parto di Mary, ma le teorie si sprecano e alcuni ritengono che il quadretto familiare non si tratti che di una fantasia o un sogno.
Solo supposizioni, ma tra queste abbiamo ottenuto anche qualche certezza.
L'Università di Cardiff ha ospitato la crew di Sherlock per alcuni giorni e i poveri (seh, ma quanto li invidiamo?) studenti sotto esami, divisi tra un libro e un ciak, hanno offerto un ricco reportage da cui si deduce che alcune parti dell'università siano state allestite a mo' di ospedale. Oltre a ciò, Benedict Cumberbatch è per la prima volta apparso in vesti piuttosto trasandate, e abbiamo capito che Shezza ha fatto ufficialmente ritorno. Stavolta pare però che non versi in quelle condizioni in quanto drogato, ma malato.
Infatti insieme alla rivelazione del personaggio che interpreterà Toby Jones, il cattivo Culverton Smith, abbiamo appreso che il secondo episodio sarà basato su L'Avventura del detective morente, in cui Sherlock Holmes finge una malattia mortale per sconfiggere Smith.
Sembrerebbe inoltre che le location non si limitino alla Gran Bretagna, e a quanto pare Amanda Abbington ha girato delle scene in Marocco, ma non in compagnia dei due protagonisti. Che si tratti del passato di Mary che torna di nuovo a galla?
Speculazioni e teorie sono tutto quello che per ora abbiamo, insieme a video ed immagini dal set rintracciabili su Tumblr tramite il tag "Setlock". Abbiamo ancora tanti interrogativi, tra i quali la sorte di Moriarty, per cui ci domandiamo se Andrew Scott tornerà sul set, o cosa succederà alla figlia di John e come la sua nuova famiglia interverrà nelle dinamiche della serie.
Fino al 2017, temo, non riceveremo risposte. Intanto, se volete deliziarvi con chicche e curiosità dal set, vi consiglio di sbirciare l'account Twitter di Awel Wyn Jones (@arwelwjones), lo scenografo più geniale di tutti i tempi, attento ai minimi dettagli.
Altri account Twitter che potreste voler seguire:
Mark Gatiss (creatore e Mycroft Holmes): @Markgatiss
Amanda Abbington (Mary Morstan): @CHIMPSINSOCKS
Louise Brealey (Molly Hooper): @louisebrealey
Sue Vertue (produttrice): @suevertue
In quanto a voi, quali sono le vostre teorie per la quarta stagione di Sherlock?