Il 23 aprile è uscita sul catalogo Netflix una delle serie tv più attese dell'anno: Shadow and Bone. Lo show, creato da Eric Heisserer, è l'adattamento della Grisha Trilogy e della duologia di Six of Crows, romanzi bestseller di Leigh Bardugo, creatrice di una della saghe fantasy più famose e amate oggi. Uno dei motivi di tanto hype per la serie tv è dunque dovuto alle attese dei fan, scalpitanti di vedere i loro beniamini prendere forma al di fuori della pagina scritta. Un'altra ragione per il successo di Shadow and Bone risiede poi senz'altro nell'ingegnosa campagna pubblicitaria portata avanti dalla piattaforma streaming già qualche mese fa. Netflix ha investito molto sullo show facendo leva su quella fetta non indifferente di appassionati e incuriosendo chi, magari, della saga non aveva mai sentito parlare.
Shadow and Bone risponde alle aspettative rivelandosi un bel fantasy che piace e intriga. Un prodotto di qualità che vuole accontentare un po' tutti e di fatto ci riesce.
La storia si svolge a Ravka, un regno circondato da nemici e diviso in due da una terribile faglia d'ombra chiamata "The Fold". La faglia si staglia altissima e terribile ormai da centinaia di anni e attraversarla è quasi impossibile, a causa dei terribili mostri che la abitano. Alina Starkov è la giovane protagonista della nostra storia, un'orfana e una cartografa che, per proteggere il suo migliore amico Mal, si ritrova ad attraversare la faglia. Durante il viaggio nell'oscurità del "non-mare", la nave di Alina viene attaccata dai terribili Volcra e tutto sembra perduto fino a quando, improvvisamente, una luce accecante distrugge le creature. A scatenare l'enorme potere, che potrebbe rappresentare la chiave per liberare il regno, è stata proprio Alina e qualcuno è adesso molto interessato a lei.
Della prima stagione di Shadow and Bone abbiamo già parlato (qui trovate la recensione), adesso vorremmo concentrarci un momento sulle due figure portanti di questa serie: Alina e il Darkling.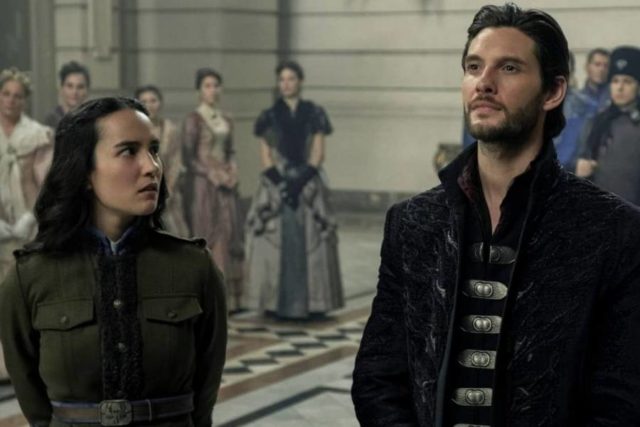 Alina Starkov: l'orfana, la Sun Summoner, la Sancta
Alina Starkov non ha chiesto di essere una Grisha eppure lo è e il suo potere sembra superare quello di chiunque altro. Un potere che deriva dal sole, dalla luce ed è in virtù di questa capacità che Alina è reputata una Sancta, il realizzarsi di una profezia che aspetta da centinaia di anni di compiersi. Sulle fragili spalle della ragazza cade d'un tratto una responsabilità che sembra superare la questione della Faglia e farsi strada nell'animo più profondo della fede Grisha. E non esiste niente di più potente della fede, come l'Apparat, consigliere del re, spiega alla ragazza. Nella più classica delle tradizioni fantasy, Alina è la prescelta, colei che sola può sconfiggere il male perché dotata di un potere unico e incredibile. Da questo punto di vista, Shadow and Bone è una storia molto legata all'anno in cui il primo romanzo della Bardugo venne pubblicato. Siamo nel 2012, le eroine young adult e i triangoli amorosi sono all'ordine del giorno, entrambi elementi presenti in Shadow and Bone e che la classificano, in tal modo, all'interno di una generazione fantasy "vecchia".
Rispetto ai modelli narrativi moderni, il romanzo della Bardugo e, in parte, lo show risentono di quei cliché tipici di dieci anni fa e gli effetti si vedono in particolar modo su Alina.
L'orfana Starkov è spesso volubile, cambia idee e sentimenti con particolare rapidità lasciandosi influenzare dalle parole di chi le sta attorno e scadendo spesso in una eccessiva ingenuità. Per tutta la sua vita, Alina ha negato a se stessa la propria natura, preferendo proteggere l'amicizia di lunga data con Mal piuttosto che abbracciare il suo vero Io. Forse è in questo smodato spirito di sacrificio che ritroviamo lo stereotipo della Prescelta e, di conseguenza, l'innaturalezza del personaggio Alina.
Alexksander Morozova: il generale Kirigan, il Darkling, the Black Heretic
A fare da contraltare al personaggio di Alina abbiamo il generale Kirigan, colui che banalmente potrebbe essere definito il cattivo di questa storia. Eppure identificare Kirigan come il villain sarebbe una semplificazione troppo scontata che priverebbe il personaggio di quella complessità che, invece, lo caratterizza. Siamo onesti, Kirigan è senza dubbio il nemico da sconfiggere e le sue azioni sono tutt'altro che nobili però risulta davvero interessante capire le sue motivazioni. Il personaggio di Ben Barnes ci viene mostrato, fin da subito, come un'anima solitaria, distaccata ed estremamente affascinante. Un fascino al quale Alina non rimane immune. La ragazza infatti ritrova nella solitudine di Alexksander un po' della propria e per questo motivo si avvicina. Un elemento estremamente importante è notare come lo stesso Kirigan non rimanga indifferente di fronte alla ragazza. Dopo secoli di isolamento, lo Shadow Summoner prova di nuovo determinati sentimenti che non sa come affrontare.
L'eternità, il lutto e la vendetta hanno intaccato nel profondo l'umanità di Kirigan costringendolo a impersonare un ruolo al quale non sente di appartenere.
"Make me your villain" è ciò che Alexksander dice ad Alina preferendo in tal modo diventare definitivamente il cattivo del racconto piuttosto che affrontare i propri errori e le proprie colpe. La vendetta ha scavato in lui un solco profondo che neppure l'amore nascente nei confronti della ragazza riesce ad appianare. Il Darkling è un personaggio particolarmente sfaccettato, decisamente più costruito e "umano" rispetto ad Alina, ed è per questo motivo che i nostri sentimenti nei suoi confronti sono così contrastanti.
Alina e il Darkling rappresentano due facce della stessa medaglia. Entrambi potrebbero farsi del bene ma il rapporto tra i due è troppo complicato perché ciò accada. La sete di vendetta di Kirigan non lascia spazio a nessun altro sentimento, consumandolo dall'intero e alimentando le ombre della sua anima. Esiste un momento in cui il Grisha ha una scelta, può scegliere di rischiare, fidarsi di Alina e confessarle la verità oppure tacere e impadronirsi dei suoi poteri. Quello è il momento che fa la differenza, che segna inevitabilmente il rapporto tra i due giovani ponendoli agli antipodi di una linea retta che la storia del fantasy vuole loro imporre. Lo scontro finale è prevedibile, i due saranno chiamati a impersonare i ruoli a cui sono destinati. In fondo luce e oscurità non possono esistere l'uno senza l'altro, il loro è un legame indissolubile qualunque cosa questo comporti.