# #
Non ci sono grilli a Wayward Pines
 Se non avete ancora visto la pilot non leggete: 'sto pezzo è molte cose, tra cui una spoilerata!)
# #
 Molti di voi avranno già letto un mucchio di articoli circa l'ultima fatica che Shaymalan può compiere prima di rimanere per sempre crocifisso al suo capolavoro/maledizione: Il sesto senso. Non che si voglia dire che le sue performance abbiano avuto un andamento qualitativamente discendente fino ad essere assimilabile allo scivolare di una palla oliata lungo un piano inclinato (pendenza 45°) totalmente privo di attrito. Ma giù di lì (dal piano inclinato, s'intende). Ma di M. Night Shaymalan, del suo talento e delle sue boiate, parleremo in un altro momento. Torniamo a noi. Dicevo che molti di voi avranno letto e riletto – anche perché la nuova miniserie di Chad Hodge (trasposizione televisiva di Pines, trilogia firmata da Blake Crouch e DICHIARATAMENTE ispirata a una delle più belle e geniali serie televisive di sempre – Twin Peaks, of course -) è stata pubblicizzata non poco. Non è nemmeno casuale che la FOX abbia deciso di trasmetterla in 125 Paesi contemporaneamente. Il Team Fox intitola un suo articolo: "Wayward Pines: il più grande lancio mai organizzato per una serie tv". L'accoglienza critica alla nuova, attesissima serie pare essere altalenante, ma perlopiù positiva. Ci si sbizzarrisce anche sul web. Se ne avete letto, me ne darete atto, se non ne avete letto, o andate a leggere o vi tocca fidarvi: un unico grande perno attorno al quale girano tutti(giornali, blog, siti e palle): Wayward Pines è un insieme di citazioni, di già visto. Molti usano questo argomento come capo d'accusa.«Mi ricorda Twin Peaks, Vostro Onore, e c'è anche qualcosa di Lost e qualche rimando a X-Files!». Beh, c'è stato un periodo, nella storia dell'arte, in cui tutti disegnavano santi e Madonne senza troppa originalità nemmeno nello stile e a nessuno saltava in mente di sminuirne per questo il valore, ma sto tergiversando ancora. Quello che vorrei dire è semplicemente questo, se io fossi il giudice, al solo udire il capo d'accusa, tuonerei: «E ALLORA?!». Mi par chiaro che – per quanto mi riguarda- la mozione è respinta!
 Il racconto in grafia normale, i pensieri in corsivo.
 1. Un occhio chiuso lentamente si apre –cromaticamente suggestivo: il sangue abita una buona metà dell'occhio, al centro quel misto di verde e castano dell'iride. L'occhio è stanco, fatica a restare aperto quasi la palpebra fosse di piombo.Ok, anche LOST inizia con un occhio che si apre, ma a una velocità supersonica, niente sangue e con un'inquadratura che non è allettante nemmeno la metà di quella in questione. E poi, diciamocela tutta: se voi aveste appena fatto un incidente e aveste perso la coscienza, non aprireste gli occhi come prima cosa?
 2. Cambio inquadratura: una riproposizione aitante e moderna del mostro di Frankestein in divisa da agente segreto, riversa su delle foglie. Alt, quando dico "Frankestein" non intendo dire che Ethan Burke – il protagonista della serie – è un patchwork di pezzi di cadavere, come il mostro di Mary Shelley. Intendo dire che il primo rimando estetico che viene in mente è quello: il volto di Matt Dillon, versione post incidente, si presta bene nel suo essere virile, coi suoi lineamenti netti e duri, rotti dalle ferite. Si scoprirà poi che Ethan ha avuto un incidente stradale mentre passava attraverso la cittadina che dà il titolo alla serie. Era in viaggio con un collega, alla ricerca di altri due colleghi (una dei quali fu la sua amante!) scomparsi. Li ritrova entrambi nel corso della prima puntata di Wayward Pines: lui legato a un letto, mutilato e carbonizzato; lei, molto diversa da come era fino a poco tempo prima, sposata e residente proprio a Wayward Pines.
 3. Insomma, Matt si alza confuso, attraversa un bosco e si accorge di essere in questa – all'apparenza- normalissima cittadina dell'Idaho: Wayward Pines. Solo che perde i sensi e viene ricoverato nell'ospedale cittadino e da quel momento in poi inizia una sfilata di personaggi quantomeno strani che danno solo risposte vaghe, devianti, inquietanti.I riferimenti a Twin Peaks sono evidenti anche solo guardando i cartelli delle due città e la loro inquadratura, (foto-foto)fino all'idea di una cittadella nella quale la normalità, della quale si ammanta, sembra bandita: non un personaggio che non sia in qualche modo bizzarro. Ma, ripetiamo, la serie è tratta da un libro dichiaratamente ispirato a Twin Peaks, quindi mi sembra abbastanza normale ci siano delle similitudini. Se poi reggerà il confronto con il capolavoro di Lynch e Frost, non ci è ancora dato saperlo.
4. Di strano Wayward Pines ha parecchie cose. Oltre ai suoi abitanti che sembrano tutti comparse e attori (anche nella finzione televisiva, s'intende!), man mano che Ethan cercherà di capire cosa diavolo stia succedendo (aiutato da Beverly- Juliette Lewis), scoprirà che Non ci sono grilli a Wayward Pines ma c'è un aggeggio che produce il loro verso, nascosto nelle siepi e che Loro ci guardano sempre e ci ascoltano (sussurra l'ex agente segreto –ormai cittadina – Carla Gugino –ad Ethan).Il collegamento a The Truman Show di Peter Weir è d'uopo. E in The Truman Show lo è il collegamento a 1984 di George Orwell e al suo futuro distopico. Potrei tagliare corto e arrivare al dunque, ma lasciatemi fare ancora due esempi.
5. Ethan, visto che non è matto (anche se pensa per qualche istante di esserlo: in passato aveva sofferto di allucinazioni causate dal senso di colpa per aver rilasciato un uomo colpevole poi di un attentato che aveva fatto perdere la vita a molte persone), cerca di scappare. Sempre ovviamente, non ci riesce. A un certo punto gli si para davanti questa immensa muraglia. E si ritorna in qualche modo nel gigantesco studio televisivo in cui vive Truman, e nuovamente a Lost e forse anche a Jurassic Park!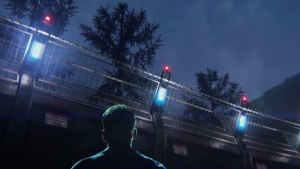 6. Qualche riferimento in Wayward Pines è venuto in mente anche agli utenti videoludici. Perlopiù, si parla di Silent Hill. Anche chi, come me, non è cultore della materia, qualche idea su questo videogioco ce l'avrà. Nato nel 1999, è diventato parte integrante del patrimonio culturale contemporaneo. Ora, i parallelismi sono tre: l'atmosfera tetra, l'impossibilità di uscire dalla città e qualcuno che cerca qualcun altro (in Wayward si tratta di Ethan che cerca i colleghi, in Silent Hill di una madre che cerca la figlia). Vorrei sapere se un qualsiasi brianzolo non si è sentito a Silent Hill mentre era nel suo paesino in un giorno di nebbia. E come si sentirebbe se qualcuno additasse la sua esistenza come un plagio del videogioco di Team Silent.
 Insomma, abbiamo scherzato come sempre, ma siamo anche molto seri. Questo elenco cerca solo di dirvi che ci siamo guardati la prima puntata di Wayward Pines e ci è piaciuta e ci piacerebbe vedere come va avanti. Il gioco di citazioni e rimandi è chiaro, ma non deve essere per forza visto come un limite, anzi, forse come una possibilità, come un bell'esperimento estetico . Ci sono degli archetipi di significato e degli archetipi estetici nella nostra natura e nella nostra cultura e gira che ti rigira, sono sempre quelli che raccontiamo e spesso lo facciamo con gli stessi stratagemmi stilistici, che non sbagliano mai. Vediamo bene dove vuole andare a parare Wayward Pines con questo bel puzzle di (BELLISSIMI!) "già visto"!
 P.S. Io, 'st'estate, starei attenta ai grilli!
 Elisa Belotti
(Un saluto agli amici di Wayward Pines Italia ! )