L'ambientazione, come la colonna sonora, è fondamentale per rendere una serie che funziona una serie di grande qualità e, tra le tante produzioni per la tv degli ultimi anni, Twin Peaks ne è un esempio.
Twin Peaks sarebbe diventata lo stesso un cult se non fosse stata ambientata alle porte della Okanogan-Wenatchee National Forest?
Questo non ci è dato saperlo, ciò che è certo è che le serie tv di cui parleremo oggi meritano di essere viste anche solo per la meravigliosa ambientazione!

1. Downton Abbey
Iniziamo con la celebre serie tv anglo-americana Downton Abbey, memorabile per essere una soap opera d'autore, per il favoloso personaggio interpretato da Maggie Smith e per la bellezza delle sue ambientazioni.
La serie tv che segue le vicende della ricca famiglia Crawley è ambientata nella fittizia Downton nella campagna dello Yorkshire.
In realtà la meravigliosa tenuta, e location principale della serie, è il Castello di Highclere nell' Hampshire, contea sulla costa meridionale dell'Inghilterra. Il castello è un palazzo di epoca Vittoriana, ad dir poco maestoso, ed è situato in un parco di circa 400 ettari.
Il Castello di Highclere è la residenza del Conte e della Contessa di Carnarvon, la cui stirpe vive qui dal 1679. Julian Fellowes, il creatore di Downton Abbey, è un loro vecchio amico di famiglia e ha scritto il soggetto ispirandosi proprio alla loro magione.
Durante la I Guerra Mondiale il castello è stato ospedale militare ed è stato anche location di numerose produzioni cinematografiche tra cui "Eyes Wide Shut".
Indubbiamente il castello di Highclere è la location emblematica della serie ma in questa sede ci piacerebbe menzionare anche la "Hoxton Hall", il luogo in cui Lady Rose partecipò ad un tea danzante con i domestici.
Oggi la "Hoxton Hall" è uno spazio in cui si tengono eventi artistico/culturali, prima era una chiesa evangelista poi una galleria d'arte e poi un rifugio antiaereo.
Infine menzioniamo l' "Albert Memorial di Londra", la bellissima struttura gotica commissionata dalla Regina Vittoria in memoria del consorte defunto, che in Downtown Abbey fa da sfondo al picnic della puntata natalizia del 2013.
2. Twin Peaks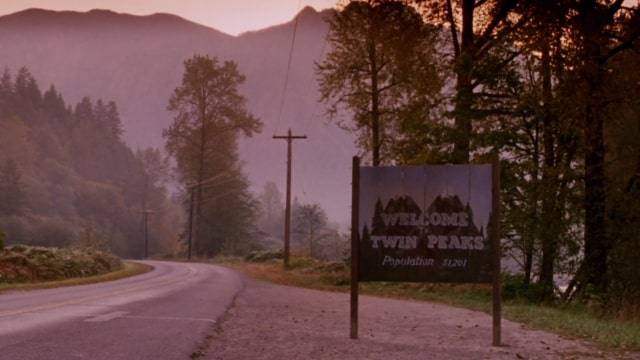 Twin Peaks, la serie dell'acclamato regista David Lynch, è ambientata nella cittadina omonima in cui si compie l'omicidio di Laura Palmer, nella realtà, come molti sanno, Twin Peaks non esiste: si tratta di una cittadina immaginaria, ma possiamo dire che coincide con Snoqualmie (Washington), visto che tutti i luoghi più importanti che caratterizzano la serie tv si trovano lì. Esattamente è stata girata tra Snoqualmie e North Bend, due paesi a circa 30 miglia a est di Seattle, alle porte della Okanogan-Wenatchee National Forest.
Meravigliose sono le Snoqualmie falls, ovvero le celebri cascate che si ammirano nella sigla di apertura della serie e proprio nella sigla si vedono le Cascade Mountains sullo sfondo e il celeberrimo cartello "WelcomeTwin Peaks" .
Altra ambientazione degna di nota è lo Snoqualmie River, il fiume nel quale l'assassino abbandona il corpo di Laura Palmer, poi ritrovato in un luogo che sembrerebbe essere ai piedi delle cascate ma che, invece, è sulla spiaggia di Bainbridge Island, una delle isole davanti a Seattle.
Twin Peaks ha avuto talmente tanto successo che i luoghi che hanno ospitato le sue riprese sono frequentati da tantissimi turisti che grazie a questa serie tv hanno scoperto dei posti veramente incredibili.
3. Montalbano
Dalle atmosfere nordiche di Twin Peaks passiamo a quelle calde e mediterranee del Commissario Montalbano.
Il bel Paese non può non essere presente in una articolo che parla di serie tv da guardare anche solo per la meravigliosa ambientazione, è quindi doveroso inserire la trasposizione sullo schermo dei romanzi di Camilleri.
La location che fa da sfondo alla fiction Rai è la Sicilia, e nonostante l'autore abbia utilizzato nomi di fantasia per le città della sua storia, è facile scoprire le location utilizzate per rendere visibile la bellezza dei luoghi raccontati magistralmente dall'autore di Porto Empedocle.
Il commissariato di Vigata è nella realtà il Municipio di Scicli, in provincia di Ragusa il cui centro storico è Patrimonio dell'Umanità dell'Unesco.
La famosa piazza con la scalinata che conduce alla chiesa nel cuore di Vigata è Ibla, il quartiere più antico di Ragusa.
La Rai ha anche scelto il famoso Castello di Donnafugata, sontuosa dimora nobiliare di fine '800, in provincia di Ragusa, per ambientare la casa del boss mafioso Don Balduccio Sinagra.
Ulteriore menzione va al carcere che è in realtà il Convento di San Tommaso, a Noto, gioiello del barocco siciliano.
4. Fortitude
Fortitude è un giallo che si snoda in un paesaggio completamente immerso tra i ghiacci.
L'ambientazione suggestiva e d'impatto si ispira ai paesaggi delle isole Svalbard, che si trovano a nord della Norvegia, nel Mar Glaciale Artico. Per ovvie ragioni climatiche le riprese non sono state fatte lì: il regista ha preferito gli scenari ghiacciati dell'Islanda, nello specifico a Reyðarfjörður uno dei fiordi più grandi della zona orientale islandese, lungo 30 km.
Questa zona dal 1909, grazie alla costruzione della strada che attraversava Fagridalur, è diventata uno dei maggiori centri commerciali della regione, grazie anche al porto.
"Avevamo bisogno di una piccola comunità che architettonicamente e geograficamente assomigliasse alle città artiche su cui avevamo fatto delle ricerche – spiega Spence – Era necessario sentirsi in mezzo al nulla e Reyðarfjörður è un villaggio molto piccolo con niente intorno".
In Fortitude ciò affascina di più è di sicuro l'ambientazione: i ghiacci perenni, la solitudine, il freddo che sembra uscire dallo schermo e permeare tutta la stanza.
5. Outlander
La serie tv Outlander ha riscosso fin da subito un notevole successo e ciò è dovuto anche alla bellezza impareggiabile della Scozia che fa da sfondo, per la maggior parte, alle avventure di Jamie e Claire nel pieno della seconda ribellione giacobita.
Tra le location più suggestive vogliamo citare: la parte posteriore di Gosford House, presente in diverse stagioni della serie tv, che è stata utilizzata come scuderia a Versailes e la vediamo quando Jamie suggerisce al duca di Sandringham quale cavallo comprare.
Altra ambientazione memorabile è la Grand Marble Hall che è protagonista, nella serie, in diverse scene.
Altra location chiave per Outlander è Glencorse Old Kirk dove hanno filmato le nozze tra Jamie e Claire che si trova all'interno del parco di Glencorse House che a differenza di altre locations, si trova su un terreno privato, dietro un cancello chiuso a chiave e non è visibile dalla strada.
Bellissimo anche Preston Mill – il mulino di Lallyborch, un bellissimo mulino del XVI secolo, accanto al fiume Tyne.
Potremmo inserire tantissimi altri luoghi bellissimi ma onde evitare di diventare una agenzia di viaggi concludiamo con l'ultima ambientazione: il castello di Blackness, la sede di Randall a Fort William. Il castello è un luogo interessante da visitare e si trova in una posizione più che suggestiva, sul Firth of Forth.
6. The Mandalorian
La serie ambientata nell'universo "Star Wars" che ha come protagonisti Il Mandaloriano, un guerriero mercenario, detto "Mando" ed Il Bambino (The Child), chiamato dai fan Baby Yoda è girata essenzialmente in studio ma ci sono delle location "reali" e sicuramente degna di nota è la Death Valley in California. Il Parco nazionale della Valle della Morte si mostra la location ideale con i suoi deserti di sabbia e di rocce. Il parco si trova nella California sud-orientale, e il suo paesaggio desertico, quasi lunare, ha anche ospitato le riprese di Star Wars: Episodio IV- Una Nuova Speranza (1977).
George Lucas infatti riteneva la Death Valley un luogo perfetto per rappresentare il pianeta desertico Tatooine, dove nella finzione cinematografica crescono Luke Skywalker ed Anakin Skywalker.
Nel primo episodio possiamo vedere trova la Cattedrale Rossa a Zabriskie Point ( famosa per la copertina di "The Joshua Three" degli U2).
7. Game of Thrones
Game of Thrones ha avuto un enorme successo anche in termini di promozione turistica.
Diverse sono le location scelte per girare le sue 8 stagioni immerse in meravigliosi ecosistemi naturali (alcune rese più "intense" grazie alla CGI). Sono almeno 33 i luoghi in cui prende vita la saga fantasy di George R.R. Martin; si spazia dall'Islanda al Marocco. In questa sede ne citeremo solo alcune.
Partiamo dalla maestosa cascata di Skógafoss (Islanda) in cui si svolge una delle scene più romantiche di Game of Thrones: il bacio tra Jon Snow e la regina Daenerys. La cascata è stata leggermente modificata in 3D per renderla più "fantasy" ma pare proprio che dal vivo sia lo stesso meravigliosa.
Altra location incantevole è Il parco nazionale di Thingvellir, uno dei parchi naturali più belli dell'Islanda: con la sua conformazione rocciosa e la sua bellezza paesaggistica è l'ambientazione perfetta per una saga fantastica.
All'interno del parco sono state girate diverse scene di Game of Thrones.
Le scene al di là della "Barriera" sono state girate prevalentemente sul ghiacciaio Vatnajökull, che con i suoi oltre 8.000 kilometri quadrati rappresenta il più grande ghiacciaio d'Europa ed il quarto al mondo per massa. Vi ricordate il combattimento tra Jon Snow e il Monco? 
Altre ambientazioni meravigliose riguardano l'Andalusia: il Real Alcázar di Siviglia diventa la residenza di Casa Martell nel Regno di Dorne; mentre gli splendidi giardini sono conosciuti come i Giardini dell'Acqua. Qui Trystane Martell e la principessa Myrcella passeggiano romanticamente, ignari della presenza di Jamie Lannister e di Bronn, giunti fin lì per riportare la principessa ad "Approdo del Re".
In Game of Thrones è possibile vedere anche un gioiello dell'architettura Andalusa: il Ponte Romano.
Il Trono di Spade scegli anche una location marocchina, già set set cinematografico di numerosissimi film, come" Il Gladiatore", "La Mummia" e "Lawrence d'Arabia": Ait-Ben-Haddou, trasformata nella città di Yunkai della Baia degli Schiavisti.
Le ambientazioni, di cui sopra, sono tutte molto diverse tra loro, ci sono quelle oniriche e misteriose di Twin Peaks e quelle più solari e calde del Commissario Montalbano, c'è, però, un minimo comun denominatore: sono tutte bellissime e ci fanno venire una gran voglia di visitarle.