Prima di dare il via a questa classifica delle 10 migliori comedy degli ultimi 10 anni è opportuno spiegare i parametri che han portato alla scelta di queste serie tv. Ovviamente non tutti troveranno la loro serie preferita tra quelle elencate, ma spero di riuscire a dare voce alla maggior parte di voi amanti di questo genere. I criteri riguardano la fama, la sceneggiatura originale e la capacità di coinvolgimento. Non tutto ciò che è mainstream è sinonimo di qualità, ma in questo caso sì. Quando si parla in maniera compulsiva di una serie, o si tratta di un'estrema critica o di un'incommensurabile lode, proprio come in questo frangente. Stiamo parlando di capisaldi quali The Big Bang Theory o New Girl, e di molte altre comedy che ora vi sveleremo.
Nella classifica sono presenti solo ed esclusivamente sitcom, da non confondere con il dolceamaro mondo delle dramedy. Non spaventatevi quindi se non troverete capolavori come Shameless, Orange Is the New Black o Bojack Horseman. Semplicemente abbiamo prediletto serie puramente comedy, sicuramente con qualche episodio più triste e malinconico di altri, ma che conservano comunque un'instancabile vena di ironia. Più risate che lacrime.
Stilare questa classifica è stato un compito difficile, ma qualcuno doveva pur farlo.
Pronti a scoprire le migliori comedy degli ultimi 10 anni? Viaaaaaaaa!!!
10) Louie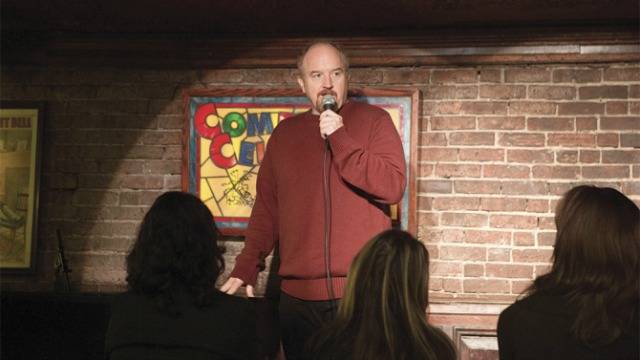 Louie è Louis C.K.. Partiamo da questo. Il protagonista della sitcom in questione è uno stand-up comedian sulla cinquantina, sovrappeso e quasi calvo. È un padre divorziato con due figlie, un uomo dissacrante e sarcastico, ed è proprio così, con questi due aggettivi, che potremmo definire la serie. Louie parla di lui e della sua vita. Questo prodotto antologico, dove ogni episodio è slegato dall'altro, ci somministra a piccole dosi la vita romanzata del più noto (forse) umorista americano. Una comedy anomala che non parla di un gruppo di coinquilini, o di amici, ma di un solo protagonista e della sua vita. C.K., come è solito fare nei suoi spettacoli, ci regala la sua versione dei fatti con un umorismo esistenzialista, capace di far ridere fino alle lacrime lasciando poi quell'amaro in bocca che quasi ti fa pentire di aver appena riso per qualcosa di totalmente sconveniente.