Non t'ama chi spoiler ti dice ma t'ama chi guarda e tace.
Se amate qualcuno, e soprattutto se amate voi stessi, non dovete fare spoiler non richiesti. MAI. Nemmeno quelli più ingenui, nemmeno quelli più evidenti.
Non siamo tutti uguali, e stranamente – per me – ci sono persone che amano gli spoiler e vanno addirittura a cercarseli. Ma esistono anche persone che non vogliono sapere nulla di una Serie Tv, di una stagione o anche di un solo episodio. A questi ultimi piace guardare le Serie Tv senza avere la minima idea di quello che succederà, in modo da gioire per qualcosa di bello, arrabbiarsi per le situazioni non volute, ed esaltarsi per i colpi di scena inaspettati. In un certo senso non si guarda solo la Serie, ma la si vive con i protagonisti. Sapere da prima ciò che avverrà negli episodi non ancora visti, toglie metà della bellezza di guardare una Serie Tv.
E se un nostro amico sa tutto questo (o semplicemente sa che non vogliamo spoiler) e continua a dirci anticipazioni non gradite, cosa possiamo fare per farlo smettere, o meglio ancora, per vendicarci?
Beh di modi ce ne sono tanti, da quelli più semplici a quelli forse troppo cattivi. E no, uccidere non rientra tra questi. Ma possiamo comunque essere spietati. Ovviamente dipende anche dalla gravità dello spoiler che ci è stato fatto, e se è stato volontario o involontario. Vedete, anche per vendicarsi bisogna tener conto di vari fattori.
Però se parliamo di persone che non hanno niente di meglio da fare nella loro vita che fare spoiler a gente a caso, allora non c'è possibilità di salvezza. In questo caso non solo bisogna vendicarsi, ma si DEVE. Per riportare un po' di equilibrio nel mondo. E allora la vendetta diventa un favore all'umanità.
C'è gente che, dopo aver subito lo spoiler, contraccambia quasi subito, cercando di anticipare lo spoileratore e ripagarlo con la stessa moneta. Fa in modo quindi di riuscire a scoprire a sua volta qualche notizia su episodi che lo spoileratore non ha ancora visto. Bisogna davvero mettersi d'impegno, e se è una Serie che seguono entrambi ed è in contemporanea, si deve essere disposti a guardare l'episodio appena uscito, magari di notte, in lingua originale senza sottotitoli pur di riuscire a vendicarsi. E questo è niente. In realtà basta un po' di cattiveria e si arriva a fare tutto. L'unica pecca di questo piano è che, la maggior parte delle volte, lo spoileratore non ci rimane poi tanto male nel sapere qualcosa in anteprima. E quindi il rischio è di ritrovarsi a rosicare perché il piano perfettamente studiato, non è servito a niente.
Se non volete essere frettolosi invece, potete seguire il detto <<La vendetta è un piatto che va servito freddo>>. Aspettare è la parola d'ordine. Ingoiate il rospo e pazientate. Cosa? Il momento giusto. A volte, quando lo spoileratore dà il meglio di sé, è perché non ha nulla da perdere, ovvero al momento non segue Serie Tv che lo hanno colpito particolarmente, e non ha paura di eventuali spoiler.
Bisogna quindi aspettare il momento giusto, far passare del tempo, anche mesi o addirittura anni. E quando sentite dire <<Ho iniziato questa Serie che è bellissima>>, voi, con una certa nonchalance correte su internet e leggete più informazioni possibile su quella Serie. Successivamente iniziate a parlate a raffica, dando in maniera chiara tutti i dettagli. Se avete fatto un buon lavoro, sentirete un odore di bruciato venire dal suo didietro.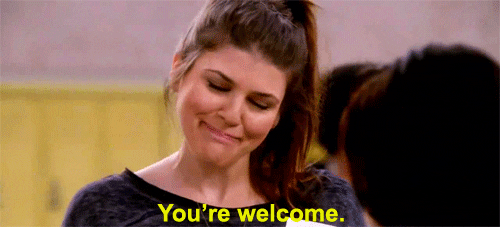 Alcune volte lo spoiler diventa una vera e propria arma. E non solo quando si subisce uno spoiler, ma può essere utile anche per vendicarsi di un torto in generale.
Il tuo lui o la tua lei dipendente da Serie tv ti ha tradito? Fai spoiler a non finire. Come la ragazza che durante la messa in onda della sesta stagione di Game of Thrones ha mandato messaggi contenenti spoiler all'ex ragazzo – fan accanito della Serie – che l'aveva tradita. Ne abbiamo parlato qui. Il vicino di casa guarda la sua Serie tv preferita a tutto volume, impedendoti di concentrarti sulla tua? Prendi un cartoncino e scrivi varie anticipazioni della Serie Tv che guarda, poi appendilo sulla sua porta di casa o infilalo nella buca della posta. Sei un professore e i tuoi alunni non stanno zitti in aula? Minacciali di fare spoiler su Game of Thrones (è successo davvero, leggete qui).
A volte capita che sono le Serie Tv stesse a tradirci. Alcune Serie Tv fanno spoiler su altre. In quel caso, non possiamo farci un bel niente, a parte smettere di guardare quella Serie per ripicca (cosa che non faremo mai, siamo sinceri), o mandare lettere disperate ai produttori di quella Serie per sperare che l'evento non si ripeta più. Ma dubito serva a qualcosa.
Se invece si tratta di una persona che ha fatto spoiler ma non segue Serie Tv, beh… perché frequentate gente del genere? Alla larga.
Insomma di modi per vendicarsi ad/con uno spoiler ce ne sono, basta avere la giusta creatività, voglia di vendetta e soprattutto pazienza. Ormai possiamo utilizzare gli spoiler come mezzo per ferire qualcuno senza il rischio di prendere una denuncia, e allo stesso tempo provocare un dolore più profondo di quello fisico, perché lacera internamente. Un dolore viscerale. Imperdonabile.
Al giorno d'oggi le parole possono ferire più che mai. Specialmente se quelle parole sono spoiler sulla tua Serie tv preferita.