Vita in provincia: se non l'avete mai vissuta non potete capire, ma guardare una di queste 5 serie tv ambientate in un contesto provinciale di certo può aiutare. E non parliamo solo di Sons of Anarchy.
La vita provinciale è un tema spesso affrontato dalle serie tv con leggerezza e una buona dose di immaginazione, per lo meno per quanto riguarda il mio personale vissuto. La provincia dalla quale provengo io è grigia, nascosta dalla nebbia, e al posto della vicina di casa che si presenta di fronte alla tua abitazione porgendoti una torta di mele, a darti il benvenuto ci sono solo zanzare, rane, ratti e, se è il tuo giorno fortunato, il corriere.
Scordatevi Wisteria Lane e Rosewood, non c'è nulla di affascinante e misterioso nella provincia, a meno che non troviate entusiasmante accorgervi della segnaletica rinnovata o dei pettegolezzi scambiati con gli anziani durante la coda alle poste.
La provincia finzionale invece è tutta un'altra cosa. Le serie tv che in questi anni se ne sono occupate si dividono in due fazioni: chi la descrive come luogo di sparizioni e misteri, come ad esempio in Stranger Things, e chi invece vede nella provincia un luogo tanto opprimente quanto – in un certo qual modo – ameno.
1) Parks and Recreation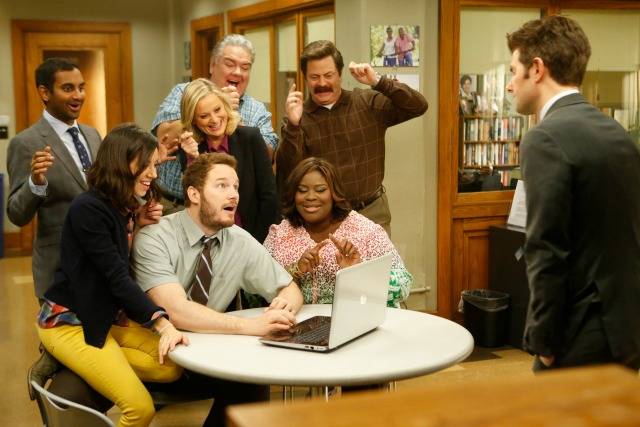 Parks and Recreation non è una serie ambientata in un contesto provinciale, ma è bensì espressione vivida della provincia stessa. Nulla in questa serie è tale se non per colpa o per merito della sua ambientazione provinciale.
In Parks and Recreation siamo di fronte a un gruppo di impiegati comunali che lavorano al dipartimento per la manutenzione dei parchi pubblici della fittizia cittadina di Pawnee, nell'Indiana.
Il loro lavoro è quello di soddisfare le più assurde richieste dei cittadini, tra rissose assemblee comunali e insensati compiti ai quali vien data troppa importanza. Ma d'altronde cosa c'è di più importante di riempire una buca dove uno stolto è caduto da ubriaco per ben tre volte consecutive? O cosa c'è di meglio del dar la caccia a un minaccioso opossum reo di aver ferito il cane del sindaco?
Queste e molte altre ancora sono le avventure dei nostri protagonisti, impiegati statali di giorno e protettori dei parchi di Pawnee in ogni momento. 
Parks and Recreation è la descrizione minuziosa dei piccoli centri abitati di provincia dove a far scalpore sono le piccole cose e a far da ostacolo ai propri sogni c'è la burocrazia.