La barba è un elemento estetico sempre più cruciale per gli odierni canoni di bellezza…eppure nelle Serie Tv se ne sono viste alcune davvero oscene!
É fondamentalmente tutta colpa degli hipster.
Da quando questo particolarissimo stile modaiolo/filosofico/di vita è entrato in auge tra i giovani e i "meno giovani", la barba è diventata (o tornata?) a essere una delle chiavi dell'estetica maschile; ormai è curata nei minimi dettagli, allungata, accorciata, riempita di balsami di dubbia origine e, nei casi più disperati, anche di glitter. Sigh.
Occhio però, tale fenomeno non è ritrovabile solo su circa l'80% di Instagram o nella vita di tutti i giorni, bensì anche in campo artistico. Anzi, SOPRATTUTTO in campo artistico ultimamente.
Poco importano i giudizi dei singoli, quel che conta è che alla società la chioma facciale garba assai da tempi non sospetti come ben testimoniano le ascese mediatiche di vari sportivi come Davide Moscardelli, Gigi Datome o dell'orco transalpino Sébastien Chabal, ma anche cambi di look devastanti come quelli operati da Jim Carrey e in passato da Joaquin Phoenix, senza ovviamente contare il mondo della musica (specie quella più Hard) dove i barboni in stile vichingo fioccano.
E le Serie Tv? Sicuramente molte di esse offrono degli esempi edificanti e supersexy (sì Tormund, ci riferiamo a te), anche se talvolta si vedono spettacoli a dir poco osceni ed è proprio di quelli che vogliamo parlare.
Oggi Hall of Series ha preso uno di quei rasoi ignoranti usa e getta con le lame arrugginite e l'impugnatura scomoda per farvi ammirare le 7 barbe più terrificanti del mondo delle Serie Tv, eccole!
7) Danny Rand (Iron Fist)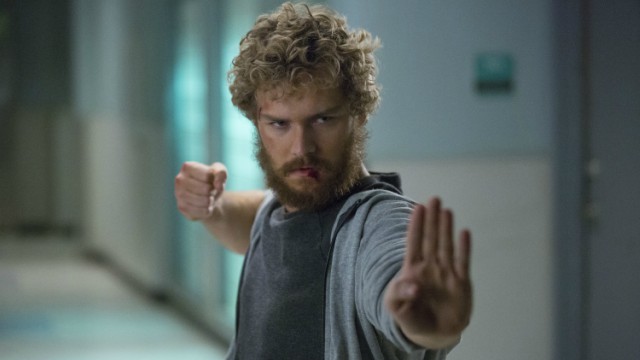 Non si può certo dire che Danny Rand, protagonista di "Iron Fist", sia il più amato tra gli eroi delle Serie Tv Marvel prodotte da Netflix per una lunghissima lista di motivi, tra cui la barba. Il bel visino di Finn Jones (già visto in "Game of Thrones") è stato ricoperto apparentemente a caso di questa peluria tristemente differente dai suoi riccioli d'oro cromaticamente parlando che non ha fatto altro che minare ulteriormente la reputazione di un titolo e di un personaggio che già da soli prestavano il fianco alle critiche.