Ci sono scene delle Serie Tv che non dimenticheremo mai, che ci colpiscono, ci emozionano, ci gasano da morire e, semplicemente, ci piacciono da impazzire. Eppure non tutto quello che vediamo in un telefilm nasce sempre da un copione; alcuni non sono altro che semplici, ma bellissimi, imprevisti, improvvisati dai rispettivi attori.
Ecco 10 scene delle Serie Tv che non sarebbero dovute esistere.
1) The one with the soccer ball (Oprhan Black)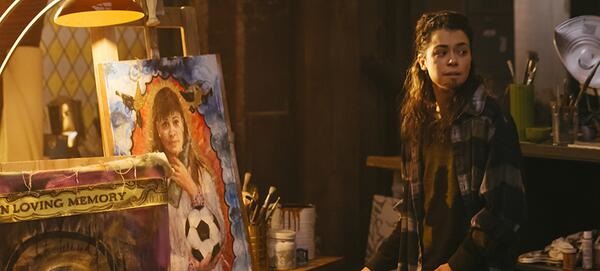 Iniziamo questa lista con Tatiana Maslany e la sua immensa bravura che non solo la rende capace di interpretare una schiera di personaggi totalmente diversi nella stessa Serie Tv, ma che la eleva a regina indiscussa delle improvvisazioni. L'attrice, infatti, non solo riesce a impersonare numerose e differenti figure, ma è capace di entrare così tanto nei vari personaggi da immaginare e attuare molte loro azioni e reazioni fuori copione.
Di scene improvvisate dalla fantastica Tatiana Maslany Orphan Black è letteralmente pieno: dall'interrogatorio di Sara (nel copione non era scritta neanche una delle risposte), alla vendetta di Helena, l'esaurimento nervoso di Rachel, Cosima e Delphine che si sballano… fino ad arrivare a una delle battute che i fan hanno apprezzato: quel "The one with the soccer ball looks like a douche" che Alison dedica a uno dei dipinti di Felix.
Insomma, in Orphan Black l'improvvisazione sembra essere all'ordine del giorno. Viene quasi da chiedersi cosa allora, in questa Serie Tv, sarebbe dovuto esistere secondo il copione.