# #
Nel mondo delle Serie Tv sempre più si sta assistendo alla tendenza verso l'approfondimento psicologico dei caratteri. Un abisso ci separa dai primordi televisivi. A partire dagli anni '50 l'avvio del modello seriale è passato attraverso personaggi bozzettistici e stereotipati tipici delle comedy. La loro riconoscibilità in base a comportamenti ricorrenti e la loro fissità evolutiva nel corso dello Show ha favorito la fidelizzazione del pubblico, serenamente rassicurato nella certezza che Fonzie (Happy Days, 1974) sarebbe rimasto sempre il latin lover ribelle ma buono. E Richie il bravo ragazzo, goffo e impacciato.
# #
D'altronde questa impostazione è comune anche al teatro classico. Come non vedere nell'Aiace sofocleo o nel Prometeo di Eschilo quel modello granitico e inattaccabile di eroe tragico sempre fisso nelle sue certezze? O nei personaggi tratteggiati da Plauto e Terenzio (il soldato vanaglorioso, la vecchia libidinosa, il giovane squattrinato) quei caratteri caricaturali pregni di realismo ma privi di evoluzione psicologica?
Questi elementi di immutabilità si legano a una volontà ben precisa. Quella di creare figure immediatamente riconoscibili e caratterizzate per tratti essenziali.
Achille sarà sempre l'eroe iroso ma insuperabile, Ettore il difensore dei valori etici e civici. Odisseo il multiforme e scaltro conoscitore di mondi.
# #
Nella nostra mente queste strutture si saldano irrimediabilmente e contribuiscono a formare la nostra coscienza. Sono modelli archetipici che incarnano di volta in volta le infinite sfaccettature della natura umana.
Se analizziamo il mondo della commedia (e il corrispettivo moderno della comedy degli inizi) la rigidità nelle personalità dei protagonisti è pienamente comprensibile alla luce di ragioni parodiche. I personaggi altro non sono che caricature di modi di fare e comportamenti ravvisabili nella nostra quotidianità. Ci riconosciamo in quelle situazioni e in quegli interpreti. E riconosciamo il nostro micromondo. L'amico narcisista e immaturo (Seinfield), la famiglia media (Happy Days, I Jefferson), la zia rintronata (Assunta Cacace in La Tata) e più di recente il nerd impacciato ma geniale (Community, The Big Bang Theory, Chuck).
C'è un coinvolgimento divertito da parte del pubblico nel rivedere in scena la propria normalità esasperata ironicamente.
Eppure, negli ultimi esempi presentati è evidente che l'impostazione da "personaggio tipo", che pure caratterizza gli inizi di queste Serie Tv più recenti, non si prolunghi per tutto lo Show. Qualcosa, insomma, nel corso degli anni sembra essere cambiato. Ma andiamo con ordine.
Se le comedy hanno fatto da apripista al successo del piccolo schermo, lo sviluppo contenutistico ha seguito linee molto variegate. I favolosi Sixties hanno visto l'emergere del genere sci-fi. I "grandi balzi" avanti dell'umanità hanno generato un crescente ottimismo verso il progresso. È in questo contesto che si afferma Star Trek. La voglia di conoscenza e di scoperta avventurosa diviene un leitmotiv costante di certa televisione. Anche in questo caso il parallelismo (improprio ma interessante) si trova nel mondo classico. In quella figura modernissima di Odisseo, non più eroe valoroso fino all'assurdo, ma accorto e sagace. Avventuroso e intraprendente. Perfino poco limpido in alcuni suoi modi ma estremamente concreto.
Una figura che si lega irrimediabilmente a una fase di crescita economica che nel VII-VI sec. a. C. investe tutto il mondo greco. Un mondo sempre più aperto all'esplorazione via mare e ai processi colonizzatori.
Dalla terra alla luna il passo è enorme. E le differenze colossali. Ma quella conquista moderna dello spazio stellare ha avuto un analogo influsso sociale rispetto a quanto accaduto secoli addietro. La modernissima "letteratura" civica, la Serie Tv, si è fatta interprete di questo. È divenuta vox populi.
Ma la "paura della Bomba" aveva già iniziato a dominare gli animi. Il mondo seriale non si fa trovare impreparato. Appropriandosi anche della funzione catartica teorizzata da Aristotele per la tragedia (il matricidio, il parricidio, l'incesto, il crollo di valori), ecco emergere Show come The Twilight Zone, noto in Italia come Ai confini della realtà. Guerre atomiche, alieni, viaggi temporali, luoghi della mente si succedono in una spirale senza ritorno. In tutti gli episodi dominano le angosce più recondite, gli orrori della mente, gli incubi più tremendi. L'oscurità avvolge tutto e trascina con sé ogni barlume di razionalità. Il pubblico esce dalla visione esorcizzato dai suoi terrori più intimi, per nulla consolato ma messo faccia a faccia con se stesso. La paura non si annida più in qualche recesso oscuro della psiche dello spettatore ma può essere affrontata frontalmente.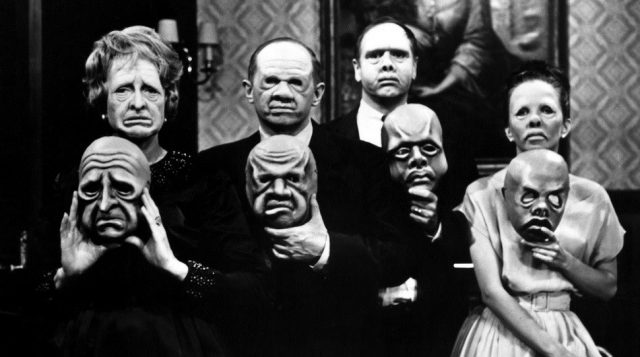 Il protagonista ancora una volta manca di caratterizzazione. Si sente il bisogno di renderlo più generico possibile, così che l'uomo medio possa identificarcisi.
La trasformazione è però già in atto. L'incertezza nel clima politico sessantottino genera un altro bisogno: quello di eroi. Eroi moderni, ovviamente. Concreti, quotidiani, realissimi. Medici (Dr. Kildare), agenti governativi (Il prigioniero), forze dell'ordine (Tenente Colombo), avvocati (Perry Mason). E anche eroi più tradizionali subiscono cambiamenti significativi. Esempi come Batman e Doctor Who possono valere per tutti. Nella trattazione di queste figure si inizia a vedere quell'attenzione per il personaggio e per la costruzione di una sua storia. Si moltiplicano flashback che vanno a indagare il passato dell'eroe e ci si focalizza sui suoi dubbi e angosce. L'introspezione diventa per la primissima volta dominante.
Se è vero che il mondo greco-romano non giungerà mai a un percorso di crescita psicologica del protagonista, è altrettanto vero che un modernissimo drammaturgo ha precorso i tempi rimanendo colpevolmente inascoltato e, a volte, fortemente criticato. Si tratta di Euripide, il più sensibile e innovativo dei tre grandi tragici greci. Il dubbio si fa largo sulla scena: gli dei esistono davvero?
Il silenzio di Dio, tema biblico e bergmaniano ante-litteram, diventa un interrogativo drammatico. Gli eroi dubitano. Sono incerti. Combattuti.
Alle figure grandiose sofoclee si succedono protagoniste come l'Ecuba dolente per il destino di Troia, la vendicativa e compromessa Elettra, l'Alcesti tormentata nel suo destino di morte. La Medea accecata dall'odio, antieroina per la quale non si riesce a evitare di indirizzare il proprio interesse, compassione e compartecipazione emotiva. Euripide apre alle contraddizioni della vita, ai problemi e alle ipocrisie della sua società e dà valori nuovi, concreti. Umanizza l'eroe tradizionale, svuotandolo delle sue sicurezze. E il pubblico ne rimane scosso e infastidito.
Tempi più maturi accompagnano invece gli anni '70. L'eroina femminile, simbolo per eccellenza del teatro euripideo, sbarca sulla scena televisiva. Nel mondo si succedono rivoluzioni sociali e culturali. Nascono e si sviluppano i movimenti femministi e il problema del razzismo e dell'integrazione etnica diventa pressante. Lynda Carter diventa Wonder Woman, simbolo di emancipazione e parità tra i sessi. Ma è negli anni '80 che le quotidianissime detective Cagney e Lacey (New York, New York) si fanno interpreti dell'eroismo femminile nella vita di tutti i giorni. In un mondo maschilista ed elitario, soprattutto nel contesto poliziesco in cui è ambientata la Serie Tv.
Gli anni '90 si legano all'interesse per i problemi adolescenziali: il mondo delle Serie Tv si apre alle High School, ai drammi dei giovani, alle loro difficoltà concrete.
Si inizia a indagare con interesse e decisione questa fase di passaggio e sconvolgimenti umorali. Buffy, Veronica Mars, The O.C. introducono lo sguardo soggettivo del giovane. Il suo punto di vista parzialissimo e spesso distorto come focus del racconto. È quello che per certi versi accade nel mondo ellenistico (nella fase di II-I a. C.). L'interesse di una società più "borghesizzata" si apre ora alle figure giovanili, in precedenza totalmente escluse dall'arte. Nel romanzo alessandrino i giovani e le loro passioni amorose contrastate e ammantate da grande sentimentalismo si fanno largo in maniera preponderante.
Ecco però il salto decisivo, il passo oltre del mondo seriale. Il mondo antico si fa da parte. La sua carica va esaurendosi. Altri scenari si apriranno e nuovi approcci concluderanno il percorso letterario classicamente inteso.
Le Serie Tv proseguono invece con successo crescente. La svolta passa -soprattutto- da un'opera capace di rivoluzionare l'idea di serialità, creando un vero e proprio universo espanso (stile Star Wars). Si tratta di Lost. I personaggi diventano umanissimi. Il loro cammino evolutivo (o involutivo) coinvolge emotivamente il pubblico. Jack diventa emblema dell'uomo moderno, della sua impostazione eccessivamente razionale e quadrata. Della chiusura di fronte alle complessità del mondo. La sua crescita è la nostra crescita, la sintesi finale dopo un travagliato percorso di maturazione che vede la nascita di un uomo nuovo. E ci forma in prima persona.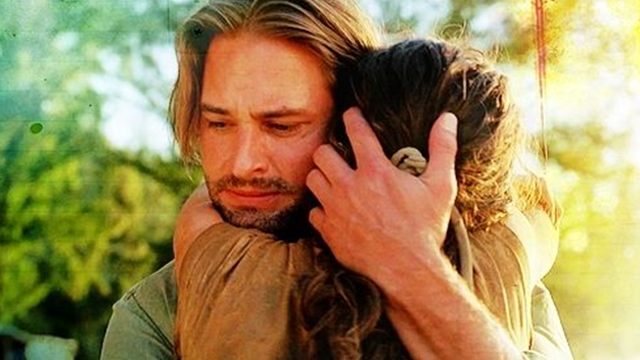 Da questo momento in poi le Serie Tv intraprendono strade sempre più complesse, i protagonisti assumono sfaccettature più pronunciate e i percorsi non sempre vanno in direzione di una redenzione, ma spesso di un vero e proprio naufragio (Breaking Bad). Il mondo seriale ha completato il suo percorso introspettivo restituendo l'uomo all'uomo. Con tutte le contraddizioni che lo dominano.