Se c'è una cosa sulla quale noi spettatori non abbiamo dubbi è il fatto che le Serie Tv ci portano sempre grandi emozioni. 
Il che ci fa pensare, inevitabilmente, anche alla vasta gamma di sensazioni che proviamo nel corso della visione di una puntata: rabbia, stupore, gioia…
Ma niente sarà mai abbastanza forte come la tristezza che ci assale nel corso di determinate scene delle Serie Tv.
Pensiamoci un momento: quando una storia ci prende e ci piace, ci sentiamo talmente coinvolti che ci sembra davvero di provare le emozioni che i personaggi stanno vivendo. Ci arrabbiamo quando loro si arrabbiano, o piangiamo con loro quando sono tristi.
Certo, ci sono anche volte in cui ci infuriamo con loro per scelte che noi non condividiamo, ma quella è un'altra storia. Concentriamoci ora sulla tristezza: è un'emozione variabile, che proviamo quando i nostri personaggi preferiti soffrono, o quando il momento è talmente drammatico che non possiamo farne a meno.
Ci sono scene specifiche che ci fanno piangere e nel corso degli anni mi sono convinta che una tipologia, fra tutte, svolge questa funzione: i finali di stagione.
Ma oggi sono qui per parlare un po' di entrambe le cose. Mi concentrerò infatti sulle dieci Serie Tv che ci hanno prosciugato i condotti lacrimali. Quelle che ci hanno fatto piangere disperatamente. Non solo per i finali di stagione.
Ci sono momenti che non si possono dimenticare… Per tutto il resto ci sono i fazzoletti di carta. E so già che durante il nostro viaggio ne consumeremo parecchi!
1) Sons of Anarchy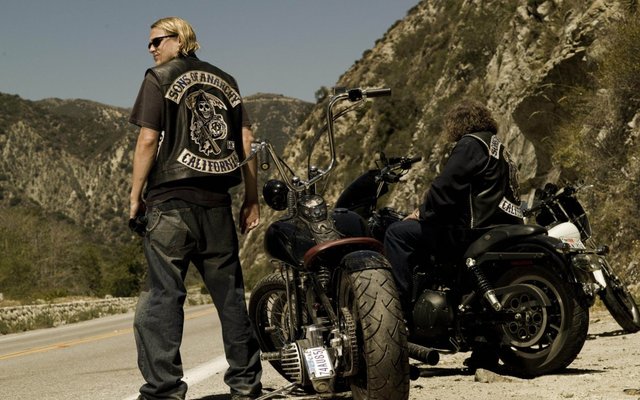 Serie Tv apprezzatissima da molti, ma allo stesso tempo sottovalutata da altri, Sons of Anarchy ci ha fatto versare lacrime in più di un'occasione. La storia della banda di motociclisti ha tenuto incollati allo schermo milioni di spettatori, facendoli affezionare a una miriade di personaggi per poi portarli via in un battito di ciglia.
Uno dopo l'altro, li abbiamo visti uscire di scena in maniera più o meno cruenta, fino ad arrivare al gran finale, durante il quale nessuno di noi è riuscito a trattenersi. Non c'è stata una volta in cui siamo riusciti a mantenere asciutti i nostri occhi e la verità è che forse, nel corso della visione, siamo arrivati a un punto tale per cui nemmeno ci interessava più evitare di piangere.