"Un silenzio vale più di mille parole"
È questo uno dei modi dire che abbiamo sentito, o pronunciato, più spesso. E se provassimo ad applicarlo anche all'ambito delle Serie Tv? La serialità che solitamente amiamo è quella che si nutre di grandi monologhi e di battute iconiche capaci di regalare gloria ai loro interpreti. Non sono tanti infatti quei personaggi che, senza parlare troppo, sono stati in grado di catturare il cuore dei fan. Oggi ve ne vogliamo proporre alcuni che, in un modo o nell'altro, sono rimasti nell'olimpo seriale pur essendo taciturni.
Ecco a voi la lista dei 7 personaggi delle Serie Tv che non hanno (quasi) mai detto una parola:
1) Black Bolt/Inhumans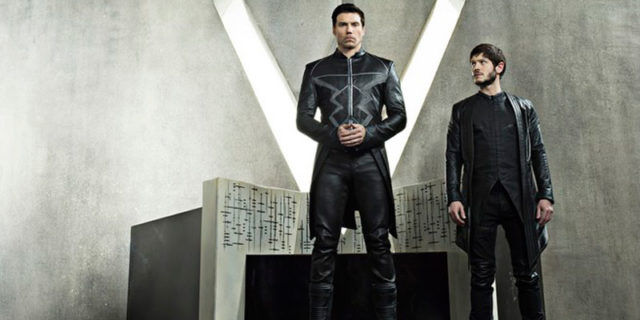 Direttamente dal più grande fallimento della divisione televisiva della Marvel, Inhumans – di cui vi abbiamo parlato qui – arriva il nostro primo personaggio: Freccia Nera (Anson Mount).
Re degli Inumani, Freccia Nera è un personaggio dotato di un grandissimo potere: la sua voce è sonica. Questa particolare abilità lo porta dunque a ridurre al minimo discorsi e parole, utili per lui più sul campo di battaglia che nella quotidianità. La Serie Tv ha purtroppo ovviato a questo inconveniente facendo parlare il personaggio con le sue – spesso ridicole – espressioni facciali. Mount non è stato in grado di rendere questo personaggio al meglio, affossando ulteriormente un progetto partito già spacciato.
Non credo che rivedremo Freccia Nera presto, ma c'è da sperare che il silenzio lo avvolga definitivamente.
2) Martin/Gotham
Il piccolo Martin è un personaggio fondamentale della quarta stagione di Gotham. Infatti, nonostante non sia in grado di parlare, la sua presenze si è fatta più che sentire.
Orfano bullizzato all'interno dell'orfanotrofio fondato da Sofia Falcone (Crystal Reed), viene notato da Oswald Cobbelpot (Robin Lord Taylor), che in lui rivede se stesso. Utilizzato dalla figlia di Don Falcone come una spia silenziosa, Martin riesce a ottenere la fiducia del Pinguino, venendone però a sua volta conquistato. Il rapporto che lega l'ex sindaco di Gotham ed il piccolo orfano è la carta vincente che porta Cobbelpot a mandare all'aria i piani della sua astutissima nemica.
Nonostante non sia in grado di parlare Martin gira sempre con una piccola lavagnetta attraverso la quale comunica i propri pensieri e le sua scoperte. Il suo silenzio e la sua discrezione fanno quindi di lui la spia perfetta. Vedremo quale destino gli riserverà la seconda parte della Serie Tv da poco tornata sui nostri teleschermi.
3) Maggie Simpson/The Simpsons
Come parlare di personaggi che non hanno mai detto una parola e non citare la più piccola dei fratelli Simpson? Vi sono stati effettivamente alcuni, rarissimi, momenti nei quali la piccola Maggie ha parlato, ma è esplicativo cosa abbia detto in uno di questi.
Con la famiglia riunita presso un terapeuta, Maggie prova a dire la sua, ma poiché nessuno le presta ascolto, fa voto di non proferire mai più verbo.
Nonostante possa sembrare il membro meno interessante della famiglia Simpson, è in realtà una bambina capace di farsi valere ed arrivare sempre dove vuole. Grazie alla sua maschera di innocenza ed al suo silenzio è in grado di compiere imprese straordinarie senza che nessuno se ne accorga.
La caratteristica del suo silenzio viene poi spesso mantenuta, nella Serie Tv di Matt Groening, anche negli episodi speciali – come gli speciali di Halloween – indice di come le vena serafica e poco sguaiata di Maggie rimanga il tratto fondamentale del personaggio.
4) Tran/New Girl
Come non amare Tran, uno dei personaggi più geniali di New Girl. Un anziano asiatico di cui non si sa praticamente nulla e che non parla mai.
A mettere Tran al centro delle vicende della Serie è Nick, il quale lo ritiene addirittura il suo migliore amico. Tran è la persona da cui corre quando ha bisogno di consigli e si sente smarrito. Le conversazioni tra i due sono però a senso unico. Nick infatti si lascia andare a lunghi monologhi trovando in Tran un conforto più che un vero consigliere. Le sue espressioni non cambiano mai e non dà mai alcuna risposta verbale.
Grazie a Tran, poi il ragazzo di Chicago conosce una delle sue innumerevoli fidanzate, Kai – pigra quanto, e forse più di lui. La relazione tra i due però porta ad una triste realizzazione… L'anziano non ritiene Nick il suo migliore amico!
5) The Night King/Game of Thrones
La più grande minaccia a Westeros, il vero Re oltre la barriera, il Night King.
Il ruolo di questo personaggio all'interno di Game of Thrones è venuto a delinearsi molto lentamente, divenendo sempre più centrale nelle ultime stagioni della Serie Tv. Re dei cosiddetti white walkers, un esercito di non-morti, questo inquietante personaggio è adesso pronto alla battaglia finale e nulla sembra in grado di fermarlo – vista anche la mastodontica aggiunta al suo arsenale.
Il Night King è un personaggio affascinante, in grado di "parlare" anche solo attraverso i suoi occhi glaciali.
È inoltre perfettamente in grado di comandare la propria armata senza bisogno di proferire verbo alcuno. Non ci è mai stata fatta sentire la tua voce, ma questo non lo ha reso meno spaventoso. Anzi.
6) Kenny McCormick/South Park
"Hanno ammazzato Kenny, brutti bas****i!"
È questa la frase che ha spesso accompagnato la sorte del personaggio più sfortunato di South Park.
Kenny McCormick è un ragazzino introverso, sempre nascosto sotto al suo cappuccio arancione. Lungo l'arco di South Park raramente si è sentita la sua voce, poiché il filtro costituito dal suo pesante cappuccio la fa uscire come un mugolio incomprensibile.
La caratteristica principale di Kenny è stata, per un bel po', quella di morire in ogni singolo episodio. Durante le prima cinque stagioni dello show infatti il personaggio era destinato a morire quasi sempre, per poi ricomparire la settimana dopo al fianco di Cartman, Stan e Kyle.
7) Mr.Bean/Mr.Bean
Uno dei personaggi comici più celebri ed amati degli anni '90, protagonista di Serie Tv, Serie animate e film. Eppure le volte in cui il personaggio ideato ed interpretato da Rowan Atkinson ha effettivamente parlato si contano sulle dita di una mano – .
Mr.Bean è un goffo uomo britannico di mezza età perseguitato dalla sfortuna e dalla propria inadeguatezza. Costituita da una sequenza di situazione comiche, la Serie Tv di Mr.Bean lo vede coinvolto in situazioni estremamente divertenti e ridicole (in piscina, in chiesa, all'esame per la patente, ecc..).
A rendere grande il personaggio è stata però l'interpretazione del suo creatore. Atkinson, oltre ad una straordinaria mimica facciale, è riuscito anche a dare a Mr.Bean una "voce senza voce". Non ho dubbi che nella testa di ognuno di voi adesso stiano risuonando i versi gutturali e i mormorii di Bean. Atkinson è stato in grado di creare un linguaggio non verbale caratteristico, impiegato per ogni situazione nella quale il personaggio si ritrova ad essere coinvolto.
Insomma, la grandezza di Mr.Bean sta nel suo silenzio così espressivo. Un vero e proprio "linguaggio dei versi" capace di rimanere nella mente di chiunque abbia visto, anche solo una volta, il personaggio all'opera.