10) How To Get Away With Murder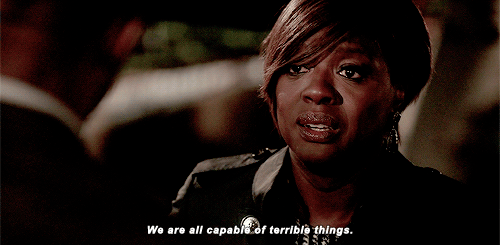 Concludiamo in bellezza con How To Get Away With Murder. Davvero io adoro questa Serie Tv, la amo proprio. Ma ci vivrei? Assolutamente no.
Non importa che tipo di persona tu sia, né se possiedi la moralità più alta mai vista in questo mondo: se avrai la fortuna/sfortuna di ritrovarti tra i Keating Five, o di entrare nella cerchia della meravigliosa Annalise, la tua vita è destinata a cambiare. E con "destinata a cambiare" intendo che probabilmente "ti ritroverai invischiato in un omicidio". O in un altro affare losco e decisamente poco legale. Pensate sia abbastanza?
In realtà è solo l'inizio. È già, perché l'omicidio è la parte più facile. Il difficile arriva dopo. Il difficile è trovare il modo di convivere con ciò che si è fatto, occultare costantemente le prove, ingannare la polizia e cercare sempre il modo per uscirne puliti. Seriamente, riuscireste a sopportare tutta questa pressione? Preferisco non scoprirlo mai e restarmene tranquilla sul mio divano!