La stagione di Masterchef è ormai iniziata da qualche settimana e anche noi di Hall Of Series abbiamo deciso di cavalcare l'onda dei cambiamenti apportati a quest'ultima edizione, primo fra tutti, la sostituzione dello chef Carlo Cracco con la "conosciutissima" e amatissima Antonia Klugmann. Dopo questa, far partecipare dei personaggi delle Serie Tv mi sembra roba da niente.
Nel mondo delle Serie Tv ci sono tanti bravissimi cuochi, ma chi fra questi meriterebbe davvero di partecipare al programma di cucina più famoso del mondo? Chi sarebbe in grado di superare pressure test più provanti di una battaglia con i Targaryen? Chi avrebbe il carattere talmente forte da affrontare non un orda di zombie, non dei pazienti in fin di vita, non una Karen Walker incazzata ma lo sguardo di Bruno Barbieri?
Ecco quali sono i 10 chef che dovrebbero entrare di diritto a Masterchef HOS Edition
1) Carol (The Walking Dead)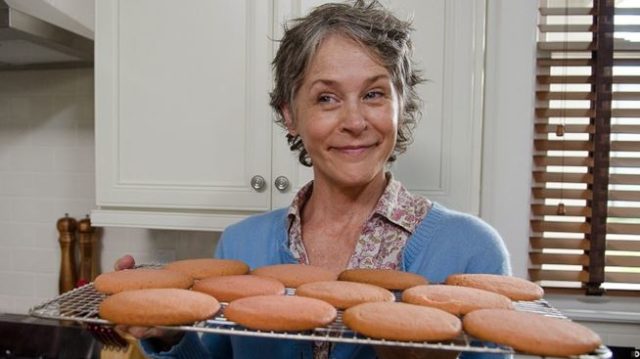 Carol sarebbe una delle candidate alla vittoria di Masterchef, non solo una semplice concorrente. Perchè? Carol non solo è un'ottima cuoca ma lo è in circostanze davvero sfavorevoli. Durante le stagioni di The Walking Dead, è stata capace di preparare ai suoi amici pranzetti deliziosi, degni dei più classici pasti domenicali della nonna. Carol è un po' la mamma del gruppo e come tale si è saputa adattare alla situazione anche a livello culinario. Indimenticabili i suoi biscotti, fatti rubacchiando barrette extra di cacao dalle riserve di Alexandria. Cracco Approves!