Citare (almeno) una Serie Tv è un must per ogni addicted, nonché una delle prime cose che facciamo quando ci fissiamo pesantemente per una Serie Tv (qui ne trovate elencate ben 10!).
In fondo non è colpa nostra se alcune situazioni sono perfette per riproporre una battuta sentita durante una delle tante maratone sul divano. E le Serie Tv hanno la meravigliosa capacità di venirci in soccorso nelle situazioni più impensate. Non ci credete?
Ecco 15 citazioni delle Serie Tv da utilizzare per uscire vincente da una discussione
1) You lower th IQ of the whole street (Sherlock)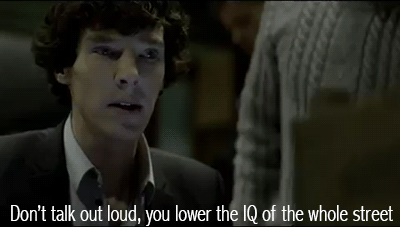 Letteralmente:
Non parlare ad alta voce: stai abbassando il quoziente intellettivo dell'intera via
Se qualcuno si chiedesse quale scena di Sherlock sia la mia preferita, sarebbe sufficiente dare un'occhiata alla gif qua sopra per avere una risposta. Sì, lo so che questa Serie Tv è piena di tanti altri momenti drammatici, di parti recitate alla perfezione e momenti in cui la regia è davvero un capolavoro; tanto che preferire a tutto questo una risposta ben piazzata può sembrare quasi un insulto. Ma insomma, come resistere a Sherlock in versione bitchy drama queen?
Di certo questa è una delle citazioni che ci vengono in aiuto durante una discussione, un modo originale per far scendere il silenzio senza risultare volgari. Un vero e proprio asso nella manica!