Negli ultimi anni c'è un genere che sta prendendo sempre più confidenza con il pubblico: quello delle serie tv angoscianti.
Che siano horror, ispirate a storie vere o puramente frutto dell'inventiva di qualche sceneggiatore fantasioso, questo poco importa; il pubblico ne vuole sempre di più e sempre di nuove. Sempre, sempre. Grazie alla creazione ormai di innumerevoli piattaforme c'è l'imbarazzo della scelta, e come vi ho detto la scorsa volta nell'articolo che sulle serie inquietanti (se te lo sei perso, lo trovi qui), bisogna semplicemente sapere dove cercare (o dove evitarle se siete allergici al genere). E qui entro in gioco io.
Ecco 10 Serie Tv angoscianti e dove trovarle (o anche no)
1) The Investigation – Sky Italia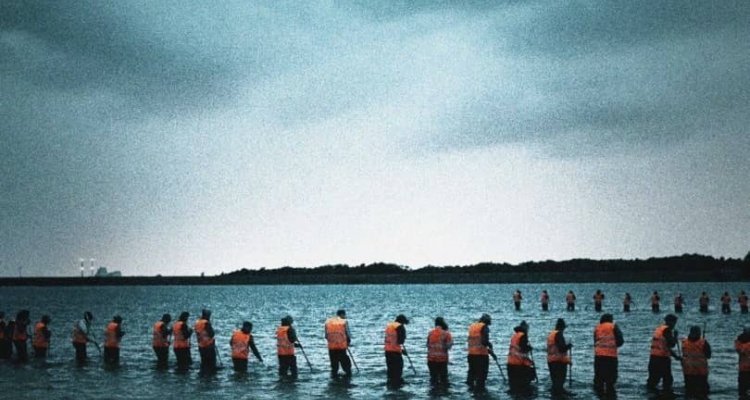 Amanti del true crime, Welcome Home!
Ebbene sì, questa serie sembra essere scritta appositamente per chi, come me, a colazione mangia cereali e ascolta podcast di cronaca nera. La serie tv, ambientata sulle coste della Danimarca, affronta uno dei casi di cronaca nera più terrificanti di sempre.
La sera dell'8 agosto 2017, la giornalista investigativa svedese Kim Wall sale a bordo di un sottomarino artigianale per intervistare il suo costruttore, il bizzarro inventore e imprenditore danese Peter Madsen. La storia prende una piega macabra quando, giunta ormai l'alba, la donna risulta scomparsa, il sottomarino affonda misteriosamente e Madsen viene recuperato nella baia al largo delle coste danesi. Fin da subito viene accusato di omicidio colposo, ed è proprio da questo punto che la storia prende piede.
So cosa state pensando: "la solita storia trita e ritrita", e invece (lettori malpensanti) di cliché e stereotipi questa storia non ha proprio nulla. Non vi farò spoiler, ma il modo in cui viene affrontato il caso, quasi sempre dal punto di vista della polizia e mai da quello dell'assassino, vi trasporterà in un viaggio ansiogeno e lento attraverso le estenuanti e – letteralmente – ricerche di pezzi che possano in qualche modo comporre il puzzle di uno dei crimini più macabri ed efferati della storia. Guardare per credere.
2) Clickbait – Netflix
Vi siete mai fermati un attimo e domandati su quanto potere possano avere i social media al giorno d'oggi? Bene, Clickbait vi risponde, e lo fa in maniera davvero angosciante.
Tutto ha inizio con una famiglia felice, in cui qualche screzio tra fratello e sorella sembrano essere la cosa più drammatica che la serie ci proporrà, ma bastano pochi attimi per stravolgere questo apparente equilibrio.
Al centro delle vicende il povero malcapitato Nick Brewer (Adrian Grenier) un padre, marito e fratello affettuoso (più o meno) che un bel giorno sparisce misteriosamente. E anche in questo caso posso sentire il vostro pensiero fin da qui, e… sì, anche questa volta vi sbagliate di grosso. È proprio un video diffuso su Internet che lo mostra picchiato a sangue con in mano un cartello che dice: "Io abuso le donne. A 5 milioni di visualizzazioni morirò", che stravolge le sorti della famiglia e del protagonista stesso. Una storia che ci parla di incontri online, social media e visualizzazioni. Una tra le serie tv angoscianti migliori uscite negli ultimi anni.
3) ll caso O.J Simpson – Netflix
Un'altra tra le serie tv angoscianti di questa lista che parla di casi realmente accaduti.
Stagione facente parte del pacchetto inquietante di American Crime Story (di cui consiglio anche il L'assassinio di Gianni Versace), che racconta uno dei crimini americani più importanti e assurdi della storia. La prima stagione si concentra appunto sulla figura di O. J. Simpson e sul delitto della moglie Nicole Brown e del compagno di quest'ultima. La stagione, infatti, parte dall'omicidio della donna e segue il lungo processo che vide come protagonista O.J.
Dietro la serie non può che esserci l'unico e inimitabile Ryan Murphy, il cui stile è riconoscibile lontano chilometri, e che riesce a regalarci una serie degna di nota pur mantenendo il massimo rispetto. Inoltre, se aveste bisogno di un altro motivo per guardarla, vi faccio presente che nel cast troverete nomi di alto livello come Cuba Gooding Jr. (O.J.), Sarah Paulson (Marcia Clark), John Travolta (Robert Shapiro), David Schwimmer (Robert Kardashian), Selma Blair (Kris Jenner), Connie Britton (Faye Resnick), Sterling K. Brown (Chris Darden) e molti altri. L'avete già aggiunta alla lista?
4) Nine Perfect Strangers – Amazon Pime Video
Uscita recentissima, con un cast di tutto rispetto, fa parte delle serie tv angoscianti del 2021.
Tratta da un romanzo, narra le vicende di un gruppo di 9 personaggi molto diversi tra loro e sconosciuti gli uni agli altri che si recano in un centro benessere ultra-lussuoso, che promette di far rinascere i suoi clienti in appena dieci giorni. A gestire il centro, dall'attraente nome di Tranquillum House, è una misteriosa donna di origine russa (chiaramente ispirata agli elfi del Signore degli Anelli) Masha, assistita da tre fedeli aiutanti, la coppia Delilah e Yao (che chiaramente hanno un problema di fedeltà), e Zoe. Dopo un primo impatto non del tutto piacevole tra di loro, gli ospiti del resort cominceranno ad avere dei dubbi sulle modalità di cura del luogo.
Nicole Kidman, eclettica e bellissima, si destreggia egregiamente all'interno delle vicende, dimostrandoci che è possibile passare dal ruolo dell'innocente e vittima donna di Big Little Lies a una sorta di psicopatica bipolare che tenta di "curare" altre persone problematiche.
5) The Handmaid's Tale – TIMVISION
Cosa fa più paura e angoscia di una serie che mostra aspetti distopici ma totalmente verosimili?
The Handmaid's Tale è proprio questo: una sorta di premonizione su quello che potrebbe succedere in futuro se il mondo avrà la sfortuna di essere capeggiato da persone fuori di testa.
Ci troviamo appunto in un futuro distopico, in cui il tasso di fertilità umana è in calo a causa di malattie e inquinamento (vi suona familiare?). Dopo una guerra civile, il regime teocratico totalitario di Gilead prende il comando nella zona un tempo conosciuta come Stati Uniti d'America. La società è organizzata da leader assetati di potere e divisa in nuove classi sociali, in cui le donne sono brutalmente soggiogate e non possono lavorare, leggere o maneggiare denaro. A causa dell'infertilità e del crollo delle nascite, le donne fertili, ribattezzate "Ancelle", sono assegnate alle famiglie elitarie dove subiscono stupri rituali da parte del proprio padrone con lo scopo di dargli dei figli.
È proprio qui che viene collocata June Osborne, ribattezzata Difred (ossia "di proprietà di Fred"), che viene assegnata alla casa del Comandante Fred Waterford e di sua moglie Serena Joy. La serie tratta l'angosciante vita di una donna che prima era come noi, e che da un giorno all'altro ha dovuto rinunciare a tutto.
6) Black Mirror – Netflix
Tra le storie realmente successe e quelle che potrebbero verificarsi si colloca Black Mirror, premio a una delle serie tv più angoscianti di sempre.
La serie, ambientata nel futuro ma in realtà ispirata al mondo di oggi, è incentrata sui problemi di attualità e sulle sfide poste dall'introduzione di nuove tecnologie, in particolare nel campo dei media (il titolo, infatti, si riferisce allo schermo nero di ogni televisore, monitor o smartphone). Ciò che risulta particolarmente interessante, è la morale che si presenta come un conto salato alla fine di ogni episodio, facile, netta da capire senza che possa essere fraintesa da nessuno.
E dunque ci interroghiamo e ci vengono i brividi se pensiamo che verso quella direzione non solo ci stiamo andando, ma che l'abbiamo già imboccata. Un monito su cosa comportino i social media, internet e le tecnologie, su quanto possano essere utili, belle ma al tempo stesso logoranti, pericolose e angoscianti.
7) Bates Motel – Amazon Prime Video
Dopo le storie di true crime e quelle verosimili, tra le serie tv angoscianti ci sono anche quelle che affrontano i problemi mentali.
Bates Motel si ispira a uno dei capolavori angoscianti più famosi della cinematografia: Psyco di Alfred Hitchcock. Dopo la morte del marito, Norma Bates compra un motel con casa annessa situato nella cittadina di White Pine Bay, in Oregon, e vi si trasferisce insieme al figlio Norman. Tutto molto bello, se non fosse che Norman e Norma hanno un rapporto morboso e assolutamente fuori da ogni tipo di normalità. Inoltre, il ragazzo ha un piccolo problema nel gestire le sue emozioni che lo portano a commettere atti davvero da brividi.
Non è da meno la madre. Infatti, l'intenso rapporto morboso reciproco tra madre e figlio è la motivazione principale dietro (la maggior parte de) le loro azioni ed è in definitiva la loro rovina. Norma potrebbe non essere una serial killer come suo figlio, ma non è innocente. I suoi bisogni emotivi (poco normali) rendono la loro relazione molto più simile a un matrimonio che a un rapporto madre/figlio. A un certo punto, addirittura, madre e figlio dormono ancora nello stesso letto, nonostante lui sia un'adolescente.
8) Killing Eve – TimVision
A proposito di rapporto morboso, questa serie esplora una relazione davvero angosciante.
A distinguerla dalle altre è proprio il genere. Si tratta infatti di una spy-story inglese che mostra il rincorrersi ossessivo di due donne in un guardie e ladri al femminile. Villanelle (Jodie Comer, The White Princess), il cui vero nome è Oksana Astankova, è una brillante, elegante e sociopatica assassina su commissione. La sua nemesi è Eve Polastri (Sandra Oh, Grey's Anatomy), un'intelligente ma annoiata e insoddisfatta addetta alla sicurezza del MI5.
Ciò che ci angoscia è appunto il rapporto ossessivo che hanno l'una nei confronti dell'altra. Le nemiche si riconcorrono per tutto il mondo, dalla Russia alla Francia passando per la Bulgaria, l'Inghilterra e la Germania, raccontando ad ogni puntata qualcosa in più della loro vita. Le due donne sviluppano col tempo l'una per l'altra una vera e propria ossessione mista ad attrazione.
Una trama nuova, inquietante e consigliata se cercate qualcosa che vi faccia venire il batticuore (in senso negativo, è chiaro).
9) Homecoming – Amazon Prime Video
Siamo abituati a vedere Julia Roberts al cinema, spesso in commedie romantiche. Giustamente, con il suo sorriso smagliante, è difficile immaginarla in un contesto diverso, ma anche in questo caso e proprio come attrici meravigliose prima di lei (pensiamo a Nicole Kidman), la Roberts riesce nell'intento di farci venire la pelle d'oca.
La serie racconta la storia di Heidi, una consulente in una struttura governativa segreta che aiuta i veterani di guerra a reinserirsi nel mondo civile. Dedita al lavoro, Heidi mostra un particolare interesse per un soldato desideroso di ricongiungersi alla vita civile.
Un thriller psicologico con forti rimandi allo stile di Hitchcock, in cui il ritmo e il mantenimento costante della tensione sono le basi della costruzione delle puntate. C'è un senso di paranoia profondo che permea l'intera storia, un senso di angoscia che non ci lascia mai e che la rende perfetta per questa lista.
10) The Act – StarzPlay
Tornando alle serie tratte da storie vere, questa si contende il podio con qualsiasi storia di true crime esistente.
La serie segue la vera storia di Gypsy Blanchard, una ragazza che cerca di sfuggire al rapporto tossico che ha con la madre iperprotettiva Dee Dee, affetta da Sindrome di Münchhausen per procura.
Una storia che analizza il rapporto morboso della madre nei confronti della figlia "malata", un viaggio nella psiche umana e in particolare nella malattia di una donna che poteva e doveva essere fermata. Puntata dopo puntata questa serie ci porta ad angosciarci sempre di più, la consapevolezza e la veridicità delle vicende ci spingono poi a documentarci e a ritenerci fortunati.
Scopri Hall of Series Plus, il nuovo sito gemello di Hall of Series in cui puoi trovare tanti contenuti premium a tema serie tv