Vi capita mai di guardare una Serie Tv e scoprire simpatici riferimenti ad altre Serie Tv di vostra conoscenza? Personaggi di finzione che nominano o alludono ad altri personaggi di finzione?

Quando parlo di riferimenti, non mi riferisco al crossover. Il crossover infatti consiste nell'incrociare in modo evidente due o più personaggi, ambientazioni di mondi differenti in un'unica narrazione. Cosa che avviene, per esempio, per i personaggi della Marvel, della DC o per le Serie ambientate a Chicago. E nemmeno all'Easter Egg, che si fa coincidere con l'inserimento nascosto di un contenuto bizzarro all'interno della trama.
Quindi, sebbene ritenga che queste dinamiche meritino di essere approfondite, non è questo il caso (ma potete trovare un esempio qui). Per cui, provo a spiegarmi meglio.
Nell'ultimo periodo, quando comincio una nuova Serie Tv, mi piace prestare attenzione ai riferimenti ad altre Serie Tv. Riferimenti che vengono introdotti dal personaggio di finzione all'interno dei propri dialoghi. In altre parole, simpatici "mash-up" inaspettati che creano una sorta di rete invisibile e un potenziale collegamento tra questi mondi alternativi. Questo non accade sempre. Diciamo che esistono Serie Tv che, per il contesto in cui sono ambientate, per la serietà con cui vengono affrontate, difficilmente potrebbero citare altre Serie Tv. In effetti poi sono proprio queste Serie Tv a dare gli spunti maggiori per essere citate. Emerge quindi un lato umano da appassionato e fan che mai ci saremmo aspettati da un personaggio di finzione.
Ho scelto perciò di strutturare questo articolo raccogliendo nove Serie Tv che citano in modo superlativo altre Serie Tv e di dar loro un'organizzazione a catena, in modo tale che una Serie richiami l'altra e così via.
1) Numb3rs
Una Serie che ho recuperato recentemente e in cui ho trovato il primo riferimento di questa carrellata di citazioni è Numb3rs. In Guilt Trip, grazie alle grandi competenze informatiche di Matt Li, scopriamo che la password utilizzata per entrare nel software che contiene la lista dei componenti della giuria popolare è LeonardSheldon4A.
Ebbene sì. Come ci viene detto anche da Charlie, questo significa che chiunque abbia impostato la password deve aver visto The Big Bang Theory. Infatti la chiave di sicurezza si riferisce proprio ai due protagonisti della Serie, Sheldon Cooper e Leonard Hofstadter, e al numero del loro appartamento.
A questo punto, una domanda sorge spontanea. Chi è che non ha mai utilizzato il nome di un personaggio di finzione come password personale?!
2) The Big Bang Theory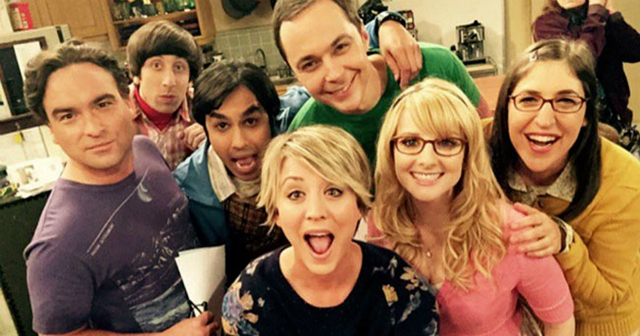 Procediamo quindi proprio con The Big Bang Theory. In The Grasshopper Experiment abbiamo i genitori di Raj che chiamano il figlio per organizzargli un appuntamento al buio. Chiudendo la telefonata i signori Koothrappali si defilano sostenendo che stia per cominciare Doogie Howser, una serie televisiva che ha per protagonista un giovanissimo Neil Patrick Harris nel ruolo di un enfant prodige in grado di svolgere all'età di 16 anni la professione di medico.
I riferimenti non finiscono qui: infatti, tra Sheldon, Howard e Leonard, che nel mentre hanno ascoltato la videochiamata, inizia uno scambio acceso su quale sia la Serie Tv più amata in India (la trovate in questo articolo). Leonard sostiene di aver letto in un giornale che si tratti proprio di Doogie Howser, mentre Howard suggerisce che si possa trattare di Scrubs e Sheldon gli risponde "What's not to love?".
E come dargli torto?!
3) Scrubs
Passiamo quindi a Scrubs e in particolare all'episodio 5×17 intitolato My Chopped Liver. Tramite una conversazione tra Turk e il Dr. Cox, veniamo a conoscenza delle abitudini del giovedì sera di Turk (l'unico giorno in cui il protagonista maschile ha la casa tutta per sé). Egli infatti racconta che, dopo essersi messo comodo e aver eseguito tutte le pratiche per il lavoro, adora buttarsi sul divano e guardare Gilmore Girls, perché "They speak so fast, but they speak so true". Ancora, la sua passione non si ferma qui, infatti egli ama molto parlarne anche con J.D., che prontamente chiama al termine dell'episodio per commentarlo insieme.
4) Gilmore Girls
Per quanto riguarda Gilmore Girls, credo sia nota la vastità di riferimenti alla cultura pop citati dalle protagoniste femminili nel corso della Serie. Tanti riferimenti da poter scrivere un articolo (Che dico! Non UN articolo, ma molti di più!) soltanto con le citazioni tratte da questa Serie televisiva. Ma per seguire la logica della Serie che fa riferimento a un'altra Serie non posso non citare la scena che compare in Super Cool Party People. L'episodio è dedicato alla festa di compleanno organizzata da Luke per la figlia April e la scena è quella in cui Lorelai, chiamata da Luke per salvare la festa, organizza per l'occasione un cineforum e si riferisce all'attore protagonista del film Pretty in Pink come al tizio che recita in Two and a Half Men.
5) Two and a Half Men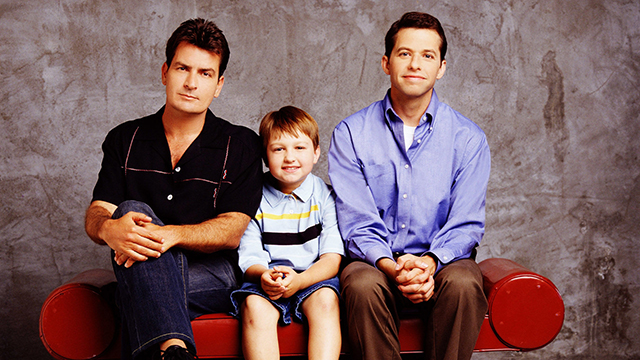 In Two and a Half Men ho trovato, a mio avviso, il riferimento più divertente di questa veloce carrellata. In Chocolate Diddlers or My Puppy's Dead, Alan registra un episodio di Glee. Più tardi, quando lo guarda con Charlie, quest'ultimo, che all'inizio non vuole saperne di guardarlo, dice che "The tall blonde chick in the red tracksuit is really freaking me out". Si tratta di un chiaro riferimento al personaggio di Sue Sylvester, il cui tratto caratteristico è proprio quello di indossare tute da ginnastica, tra cui anche quella di colore rosso. Il fatto è ancora più divertente perché Jane Lynch ha un ruolo ricorrente anche in Two and a Half Men come la dottoressa Linda Freeman, poi terapista dello stesso Charlie.
6) Glee
Il riferimento in Glee è offerto dalla spietata Kitty. In The New Rachel, Kitty scopre l'identità della madre di Marley. In aperta ostilità nei confronti di Marley, Kitty si riferisce a lei, definendola la figlia di Mike & Molly, alludendo alla fisicità della madre.
Sì, decisamente cattiva come battuta. Fortunatamente, prima della fine della Serie, il suo personaggio si evolve in modo incredibile.
7) Mike & Molly
In Mike and Molly il riferimento a un'altra serie televisiva ci viene dato da Peggy. In Molly can't lie Peggy prepara al figlio Mike i suoi piatti preferiti, tentandolo pur sapendo dei suoi problemi alimentari, e gli propone di guardare insieme "that show about two girls and a horse". Il riferimento a 2 Broke Girls e in particolare a Chestnut è evidente. Chestnut è il cavallo che Caroline riceve in regalo dal padre e che vive con lei e Max nel giardino del loro appartamento.
8) 2 Broke Girls
Con 2 Broke Girls siamo quasi giunti alla fine di questa veloce panoramica di citazioni televisive a catena. In And the Escape Room, Max e Caroline si rinfacciano a vicenda di aver mentito all'altra, finché Max prova ad inserire nella conversazione Han, che le risponde a tono dicendole "Don't drag me into the middle of Pretty Little Liars". La citazione è chiara e fa riferimento alla Serie Tv che ha per protagoniste quattro amiche, ognuna con dei segreti che non confida alle altre.
9) Pretty Little Liars

Concludo la lista con la citazione che Spencer Hastings fa nel quinto episodio della quarta stagione di Pretty Little Liars. Spencer sta cercando di rintracciare un numero di telefono e per farlo si rivolge al nerd della scuola che inizialmente non intende aiutarla. Alla fine sceglie di collaborare e Spencer si rivolge a lui dicendogli "A Lannister always pays his debts", alludendo al fatto che si sarebbe sdebitata in qualche modo. Il riferimento non finisce qui: infatti, mentre si allontana, il ragazzo le risponde a tono costringendo la Hastings a tornare indietro per dirgli "I could give you the entire Targaryen speech from the end of season one, but I will not waste my breath".
Insomma, Spencer Hastings è una vera fan accanita della Serie di Game of Thrones, ma come lei anche l'attrice che l'interpreta. Troian Bellisario infatti ha dichiarato più volte di prendersi a cuore ogni morte dei personaggi della Serie.