Tenendo in considerazione che parliamo di attori di Serie Tv, e quindi di uomini e donne oggettivamente belli, e che starebbero bene anche con in testa un mocio Vileda, è innegabile che in alcuni casi entrino in gioco i gusti personali.
Quindi mi rivolgo a voi, amanti dei capelli lunghi!
Oggi parleremo di 7 personaggi che tagliandosi i capelli tra una stagione e l'altra della Serie Tv che li vede protagonisti, o anche durante, per motivi di copione, hanno spezzato il cuore di noi capelloni dipendenti.
1) Ragnar Lothbrok (Travis Fimmel)
Il primo di cui voglio parlare è Ragnar Lothbrok, re dei Vichinghi e dei nostri cuori. Certo, Ragnar ha sempre avuto un taglio di capelli particolare e selvaggio, ma cosa c'era di più bello di quella treccia bionda che ondeggiava a ritmo delle battaglie?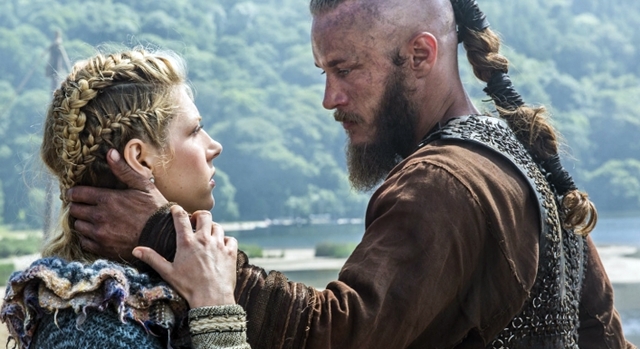 Nel corso delle stagioni di Vikings la lunga capigliatura del protagonista è andata man mano ad accorciarsi fino ad arrivare al terribile giorno in cui, devastato per la morte di Athelstan, Ragnar si rade completamente. È chiaro che la scelta di far radere Ragnar in quel momento sia sensata, e anche piuttosto poetica; la scena, infatti, ricorda quella della prima stagione in cui il monaco, ancora cristiano al 100%, rade la sua chierica per dimostrare la sua distanza dai bruti con cui è costretto a convivere. Ragnar, radendosi, e indossando al collo la croce di Athelstan, riflette il gesto dell'amico in un momento cruciale: la sua conversione (reale o fittizia che sia).
Però, da amante delle lunghe chiome, non posso che dirmi triste per questo gesto. Il lato positivo è che in questo modo i bellissimi occhi espressivi di Travis Fimmell sono ancora più evidenti!
2) Capitano Flint (Toby Stephens)
Parliamo ora di un altro grande combattente e leader: James Flint, capitano della nave pirata Walrus e protagonista di Black Sails.
Nel corso della Serie Tv, abbiamo visto il nostro Toby Stephens sfoggiare diverse acconciature: dalla coda fulva del tenente James McGraw, al taglio rasato del Flint pronto alla guerra delle ultime due stagioni. Personalmente, la lunghezza media è quella che preferisco. Non l'avrei mai detto ma il man bun, in questo caso, ci sta tutto!
Ovviamente, anche in questa occasione, il cambio di look del personaggio può trovare un spiegazione logica nella Serie.  
All'inizio della terza stagione, assistiamo a dei raid punitivi portati avanti da Flint e dalla sua ciurma, al fine diffondere terrore negli abitanti delle isole colonizzate. Flint è ancora in lutto per la morte di Miranda e si sfoga con la violenza in cerca di vendetta (come sempre). Alla fine di uno di questi raid, durante i quali i pirati indossavano dei turbanti, Flint scopre il viso e la testa e… shock assoluto. I miei adorati capelli… andati: adieu, auf Wiedersehen. Ammetto che il nuovo taglio dona un aspetto ancora più temibile al pirata, e sicuramente evita imprevisti come "tirate di capelli" durante una colluttazione. Ma la cosa è stata troppo improvvisa e estrema per essere accettata serenamente da me. Ammetto che dopo anni sono ancora in fase di negazione!
3) Jaime Lannister (Nikolaj Coster-Waldau)
Piccola domanda: in quanti, alla vista di Jaime Lannister, hanno pensato "questo personaggio ha un'aria familiare"?
Esatto! Lo sterminatore di re delle prime stagioni di Game of Thrones è uguale al cattivissimo Azzurro di Shrek!
All'inizio della quarta stagione, però, il più controverso dei Lannister sfoggia un nuovo taglio di capelli che, secondo me, gli toglie un po' di fascino. In questo caso, il cambio di look non è motivato dalla Serie, ma probabilmente l'attore è stato ben contento di scrollarsi di dosso la somiglianza con il ben più malvagio Azzurro! Il confronto era schiacciante, soprattutto vista l'evoluzione di Jaime che non è più l'uomo senza scrupoli di un tempo. Che con il taglio dei capelli si sia voluto esplicitare il cambiamento in positivo del Lord comandante della Guardia Reale?
4) Cersei Lannister (Lana Headey)
Rimanendo in tema Game of Thrones, è impossibile non parlare del cambio di look di Cersei Lannister.
La regina, durante l'epico episodio Madre misericordiosa, affronta la Marcia della Vergogna – punizione inflittale dall'Alto Passero per espiare i suoi peccati – senza vestiti e senza più i suoi lunghi capelli. La privazione dei capelli equivale, in questo caso, alla privazione della dignità di Cersei, che deve affrontare la popolazione senza alcun tipo di scudo. Per quanto il personaggio possa essere odiato, dovete ammettere che la scena della Marcia è stata dura da vedere, perché molto umiliante e cruda. 
Ma noi spettatori ci siamo chiesti: i capelli della regina ricresceranno mai? Ci sono varie teorie in giro sull'argomento. La mia preferita è quella che ritiene che la donna tenga i capelli corti per scelta, per non dimenticare quello che ha dovuto passare. I produttori hanno dato, però, un'altra risposta dopo l'insistenza dei fan. Per loro, i capelli di Cersei sono corti perché: "Una regina ha il diritto e la libertà di scegliere in che modo portare i capelli"; il tutto viene ridotto a una semplice scelta di stile.
Beh, io non sono mica tanto convinta!
5) Jesse Pinkman (Aaron Paul)
Qui potreste accusarmi di cercare il pelo nell'uovo, ma per quanto i capelli di Jesse Pinkman non siano mai stati fluenti, il taglio netto dell'ultima stagione di Breaking Bad non mi ha mai convinto.
I capelli di Jesse delle prime stagioni gli davano ancora un'aria bambinesca e quasi tenera. La testa rasata delle ultime stagioni, invece, secondo me, gli conferisce un'aria troppo dura. Jesse, per quanto compia azioni discutibili nel corso della Serie, per me, rimane uno dei buoni. Sono sicuramente di parte, visto il mio amore per il personaggio (leggi qui i 10 momenti in cui avreste voluto abbracciarlo), però credo che il taglio di capelli iniziale rispecchi meglio il vero Jesse. Infatti, nonostante il ragazzo cambi look  "simbolicamente" dopo l'omicidio di Gale, dentro di sé non compirà mai lo stesso percorso di Walt, che con la rasatura termina il percorso di accettazione della sua trasformazione in Heisenberg.
6) Phoebe Halliwell (Alyssa Milano)
Ah, quanti ricordi con Streghe, forse la prima Serie Tv che io abbia mai seguito. Rivedendola oggi, a saltare all'occhio sono sicuramente il discutibile gusto nel vestire delle sorelle (giustamente erano gli ultimi anni '90!) e i vari tagli di capelli di Phoebe!
Si annoverano: capelli lisci, mossi, biondi, con i colpi di sole (orrore!) e con frangetta. Ma tra tutte le acconciature scelte, quella che mi ha sempre convinto di meno è stato il pixie cut che la strega sfoggia nella sesta stagione.
Alyssa Milano è bellissima sempre, ovviamente, come anche tutti gli altri attori citati finora… però, insomma, i gusti son gusti e dal punto di vista puramente estetico penso che i capelli lunghi valorizzino molto di più i suoi lineamenti.
7) Ephraim Goodweather (Corey Stoll)
Non poteva mancare il taglio di capelli più definitivo di tutti: la rimozione della parrucca (o toupet) di Corey Stoll in The Strain!
Stoll interpreta Ephraim Goodweather, un epidemiologo a capo del Canary Team che indaga le cause di una epidemia diffusasi a New York e che minaccia l'umanità intera. La Serie Tv è uscita nel 2014 e nella mente degli spettatori il volto di Stoll era associato inevitabilmente a quello di Peter Russo, personaggio chiave della prima stagione di House of Cards. Dunque, prospettando un cambio di look nel futuro, si è deciso di appioppare al povero Ephraim una imbarazzante parrucca. Che poi, devo dire la verità, non gli sta manco così male… nonostante sia di pessima fattura! E questo la dice lunga sulla mia ossessione per i capelli lunghi.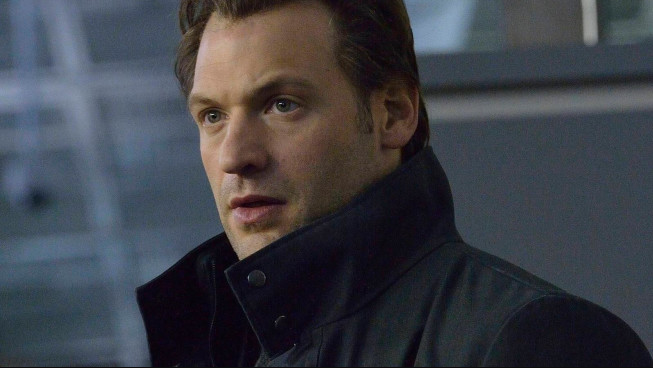 È nella seconda stagione che Ephraim dice addio ai suoi capelli per mascherare la propria identità e andare sotto copertura. Forse si era pensato che ormai il volto dell'attore fosse riconducibile totalmente al personaggio da lui interpretato in The Strain, e non più a quello di Russo. Quindi si è potuto dire addio alla parrucca e bentornato alla testa pelata originaria!
Ed eccoci qui, arrivati sani e salvi alla fine di questo excursus tra ex chiome fluenti delle Serie Tv!
Cercare e selezionare tutte queste foto di trasformazione è stata una grande sofferenza per me, quindi apprezzate lo sforzo. Ora corro a rivedere qualche vecchio episodio di Vikings, per consolarmi con la matassa di capelli di Rollo! Lo so, ho un problema!
E voi siete team-capelli lunghi o team-capelli corti? Fatelo sapere nei commenti!