The Golden Age of Television è, come vuole il nome stesso, un periodo d'oro che le Serie Tv hanno vissuto verso la fine degli anni novanta. In realtà si possono e anzi si devono tenere da conto anche Serie Tv un po' più vecchiotte che rappresentano importanti capisaldi della televisione moderna. Le Serie Tv di oggi presentano, in maniera più o meno evidente, l'influenza dei prodotti seriali del passato, d'altronde come potrebbero esserne immuni.
È quello che succede anche nel cinema e soprattutto nella moda, dove ciclicamente un must del passato torna sulla scena. Proprio come i giubbotti di pelle ci sono Serie Tv che non passano mai di moda. Paragoni illustri, ma che dico illustrissimi, senza i quali molte Serie Tv non sarebbero mai nate.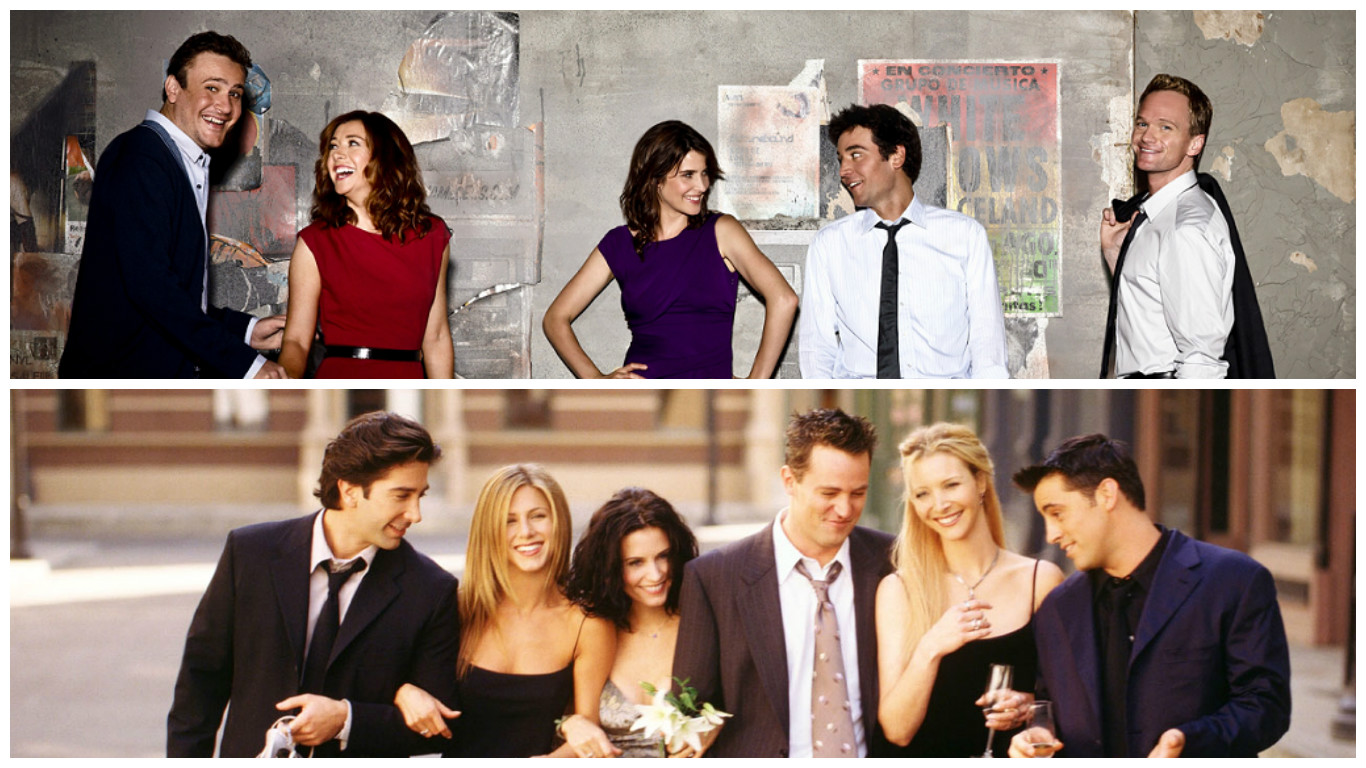 HIMYM ha 5 protagonisti: Ted, Marshal, Lily, Barney e Robin. Friends ne ha uno in più: Chandler, Monica, Joey, Rachel, Ross e Phoebe. Ted e Marshall si conoscono dai tempi dell'università, mentre Chandler e Joey vantano un'amicizia decennale fin dall'inizio del telefilm. Nei due gruppi si creano relazioni interne: Robin ha relazioni mordi e fuggi con Ted e Barney, inoltre si scopre che in passato Ted e Lily hanno avuto un brevissimo rapporto. In Friends, è Rachel a dividersi tra Ross e Joey, seppur solo per poco tempo.
Sono praticamente identici i personaggi di Barney e Joey: entrambi portano ragazze a letto con facilità e quasi tutte le notti, entrambi sono molto vivaci e spesso ingenui.
In Friends nessuno ricorda che lavoro faccia Chandler, caratteristica enfatizzata anche in un episodio attraverso un contest per lo scambio di appartamenti. In HIMYM, invece, Barney è molto generico ed evasivo quando viene interrogato sul suo lavoro.
I due gruppi frequentano il solito bar: in Friends si tratta del Central Perk, in cui lavorano saltuariamente Rachel e Phoebe. In How I met your mother ci si riunisce al MacLaren's.
Le due Serie Tv si somigliano anche per la longevità e il successo: Friends ha chiuso alla decima stagione, senza aver mai perso il podio tra le Serie Tv più viste – risultando spesso prima – mentre How I met your mother è arrivata alla nona stagione.