È cosa comune che l'arte prenda spunto dalla realtà e come questo accade in pittura o nei libri anche i film e le Serie Tv si lasciano ispirare spessissimo da persone davvero esistenti o fatti realmente accaduti. Prendiamo il caso di American Horror Story che ogni anno attinge a personaggi o leggende metropolitane del mondo reale, oppure ancora i biopic come Narcos.
A volte può capitare, però, che sia la realtà a prendere spunto dalle Serie Tv e oggi parleremo proprio di questo. In questo articolo infatti vi scriviamo di 7 Serie Tv che hanno influenzato, nel bene o nel male, 7 fatti realmente accaduti; alcuni di questi sono positivi, altri sono il risultato di ciò che alcune Serie Tv avevano predetto tanto tempo fa.
Ma ci sono anche eventi terribili, scatenati da determinati personaggi e in questo caso la polemica si fa più serrata. 
Molti, studiosi e non, si chiedono infatti se sia tutta colpa della Serie Tv, se queste incitino alla violenza e ad atti contro la legge e non sia quindi più giusto operare una certa censura all'interno dei prodotti seriali. Un po' quello che è successo con The Walking Dead, dove la violenza di Negan è stata considerata esagerata e per questo ridotta. È questa la soluzione? La crudezza di determinati programmi, i personaggi negativi e determinate scelte narrative sono da considerarsi la causa di eventi drammatici tanto da dover essere incolpati?
Nell'articolo di oggi parliamo di queste Serie Tv che hanno ispirato eventi negativi ma anche di quelle che hanno ispirato vere e proprie rivoluzioni in diversi campi: tecnologico, sociale e persino linguistico. 
1) DEXTER

Via il dente, via il dolore. Parliamo innanzitutto di quelle Serie Tv che – loro malgrado – ispirato eventi spiacevoli e nella lista non poteva certo mancare Dexter, che ha ispirato diversi atti di violenza da parte di persone che hanno cercato di emulare il loro idolo. 
Come diversi altri titoli della lista, Dexter è stato d'ispirazione per più di un crimine. Uno dei più disturbanti è quello riguardante la morte di Elizabeth Thomas. Il fidanzato di Elizabeth si chiamava Steven Miles, un ragazzo inglese dai capelli rossi apparentemente inoffensivo e ossessionato da Dexter. Imitando il suo idolo, Steven uccise la fidanzata pugnalandola dietro la testa, dopodiché l'ha tagliata a pezzi che ha messo dentro diversi sacchi della spazzatura. Dopo aver compiuto l'omicidio Steven confessò alla sorella di "aver fatto qualcosa di cattivo" a Elizabeth.
Nel 2009 il diciassettenne Andrew Conley strangolò il fratellino Connor di dieci anni e gettò il corpo nel parco. Qualche giorno dopo rivelò alla sorella che voleva diventare come il serial killer della Tv. Intterrogato Conley disse alla polizia: «Non so se lo conoscete, si chiama Dexter ed è in onda su Showtime. E mi sento simile a lui perché lu è un serial killer che uccide persone cattive … Mi sento come lui»
2) BREAKING BAD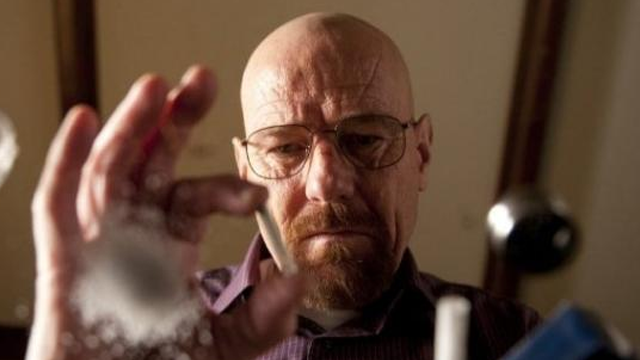 Altra Serie Tv di forte ispirazione è Breaking Bad e qui stiamo parlando di ispirazione 'alla lettera'.
È il 2016 quando la polizia irrompe nell'appartamento di Lorenzo Bocchini a Little Venice, a Londra, trovando un vero e proprio laboratorio di metanfetamine messo su insieme al fratello e alla cognata. La polizia lo ha arrestato trovando 33.000 sterline, una pistola e "Crystal meth" per il valore di 300mila sterline.
A colpire la polizia londinese è il fatto che i tre fossero incensurati e mai finiti prima sotto i radar degli investigatori. Secondo l'ispettore Stephen Payne i tre, avrebbero avuto l'idea proprio dalla Serie Tv Breaking Bad: «É uno scenario alla Breaking Bad. Non erano criminali, ma hanno pensato di avere un'opportunità di fare soldi facili. Uno stile di vita alla Breaking Bad, dove non sapevano neanche esattamente cosa farci con quei soldi. Non solo, ma hanno anche copiato il telefilm facendo diventare i cristalli di metanfetamina blu, proprio come in Breaking Bad».
3) SONS OF ANARCHY 
Una gang  a Jacksonville in Florida ha detto di aver tratto ispirazione per diversi crimini dalla Serie Tv Sons of Anarchy. "The Guardians", questo il nome del gruppo, vendeva droghe e oggetti rubati ma non è questo il peggio. Sono anche responsabili di una serie di violente rapine. Stando anche a quanto dichiarato dal capo della gang Maynard Kenneth Godwin, il gruppo sceglieva le proprie vittime attraverso internet: una volta trovate persone abbastanza benestanti, colpivano.
4) 13 REASONS WHY
Una delle Serie Tv più discusse degli ultimi anni è 13 Reasons Why, che attraverso gli occhi e le registrazioni di Hannah Baker parla di un tema sempre più importante e purtroppo presente nella nostra società. Odiata e amata, la Serie Tv prodotta da Selena Gomez ha davvero diviso il pubblico e dato il via ad un'onda d'urto con ripercussioni anche negative. 
È il caso Franco Alonso Lazo Medrano, un 23enne peruviano che si è tolto la vita e ha lasciato delle registrazioni indirizzate alle persone che lo avrebbero spinto a commettere il suicidio. Sembra che il ragazzo sia stato ispirato a compiere il gesto proprio dalla Serie Tv di Netflix.  Le investigazioni della polizia hanno rivelato nell'appartamento la presenza di due biglietti, scritti dal giovane in vista del suo suicidio: sul primo il 23enne ha lasciato un addio a una ragazza di nome Claudia, augurandole il meglio. Il secondo, invece, presenta una lista di nomi, con una serie di istruzioni da seguire per ascoltare degli audio precedentemente registrati sul suo computer. I nomi apparterrebbero alle persone che lo avrebbero spinto a commettere il suicidio.
Il gesto non ha fatto che avallare la preoccupazione di diversi psicologi che già da tempo, dopo l'uscita della Serie Tv, sostenevano potesse plagiare la mente dei più giovani. Al contrario, per molti altri la visione avrebbe il pregio di far sorgere discussioni in famiglia e prevenire gesti simili. Dal canto suo, Netflix ha difeso il prodotto, ma non ha ignorato il dibattito e per precauzione ha posto una scritta di allerta all'inizio di ciascun episodio, rilasciando un indirizzo da visitare per chiedere aiuto e assistenza.
5) STAR TREK 
Parliamo adesso di quelle che sono state delle ripercussioni veramente straordinarie che le Serie Tv hanno avuto nella realtà. 
Star Trek, ad esempio, ha certamente contribuito alla tecnologia che utilizziamo oggi. Alcuni oggetti come le porte automatiche a noi potrebbero sembrare abbastanza scontate oggi, ma negli anni sessanta nessuno le aveva mai viste prima. Oltre a questo tipo di immaginario futuristico che la Serie Tv ha contribuito a far diventare realtà ci sono delle vere e proprie invenzioni che dobbiamo a Star Trek.
L'IPad è stato creato da Star Trek. Steve Jobs era un grande fan della Serie Tv, lui stesso affermò una volta che l'intera concezione dell'iPhone deriva dal desiderio di creare un tipo di comunicazione migliore di quella di Star Trek, dove si avevano dei semplici telefoni a conchiglia con alcune funzionalità extra. Possiamo affermare che sia riuscito nel suo intento.
6) BLACK MIRROR 
La puntata "The Entire History of You": realtà, sogno o incubo?
La Sony è arrivata infatti allo sviluppo di lenti che, come quella della Serie Tv, permettono di registrare tutto ciò che vediamo. L'idea sembrerebbe provenire proprio dal cult Black Mirror, dove i personaggi dell'episodio sopracitato grazie a queste particolari lenti a contatto sono in grado di registrare in tempo reale e costantemente tutto quello che accade loro in modo da poterlo riguardare più e più volte. Lo sviluppo di questo tipo di lente a contatto da parte di Sony permetterebbe a coloro che la indossano di registrare secondo una serie di "blink".
7) MAD MEN
Nella sesta stagione di una delle Serie Tv cult di tutti i tempi, Don Draper aveva proposto alla Heinz una campagna pubblicitaria innovativa che recitava semplicemente "Pass the Heinz", purtroppo la campagna in questione venne scartata nella Serie Tv perché non mostrava il brand della famosa bottiglia di ketchup, adesso è la vera Heinz ad avere adottato quella campagna geniale.
La campagna in questione vede una serie di cibi, patatine fritte, cheesburger e bistecche dall'aspetto poco appetitoso senza, appunto, quel delizioso ketchup Heinz ad accompagnarlo. Queste le parole di Nicole Kulwicki, capo del branding della Heinz : «Anche se Don Draper creò la campagna "Pass the Heinz" quasi cinquanta anni fa, quel tipo di comunicazione funziona ancora molto bene al giorno d'oggi. Mr. Draper capì l'unica cosa che sanno tutti i fan della Heinz, ovvero mai mangiare il cibo che ami senza il sapore gustoso del ketchup Heinz. La campagna è semplice, mostra del cibo e l'unica cosa che manca»