# #
Il futuro è un punto interrogativo, un enorme, incerto "chissà" che da sempre affascina e spaventa. La letteratura, i film e nel nostro caso le Serie Tv raccontano da sempre, in molteplici modi, la propria visione del domani: distopico e angosciante; luminoso e pieno di speranza; all'avanguardia o apocalittico. Il futuro, senza dubbio, è fonte inesauribile di idee e possibilità e tantissimi autori si sono dedicati a immaginare questo dubbioso domani.
# #
Da 1984 di George Orwell e il suo Big Brother che distrugge il libero arbitrio e mina l'individualità dell'uomo a … di Isaac Asimov, padre e dio della fantascienza pura che ha posto le basi per le leggi della robotica e per un futuro invaso dalle macchine. Una visione da un lato distopica che trova oggi i suoi eredi in Hunger Games, Divergent e The Handmaid's Tale, in Tv, e dall'altra una visione fantascientifica che tra Star Trek e Battlestar Galactica è approdata quest'anno nel piccolo gioiello targato HBO di nome Westworld.
Da un paio di anni la fantascienza non ha avuto moltissima fortuna in Tv, almeno quella pura, ed è andata incontro a notevoli fiaschi mentre ha via via preso sempre più piede la prima visione pessimistica. Il nuovo anno telefilmico, però, si propone di dare maggior spazio a questo genere con Serie Tv quali The Orville e soprattutto Star Trek: Discovery. Vediamo quindi adesso 15 Serie Tv ambientate nel futuro!
# #
1) FIREFLY (2002)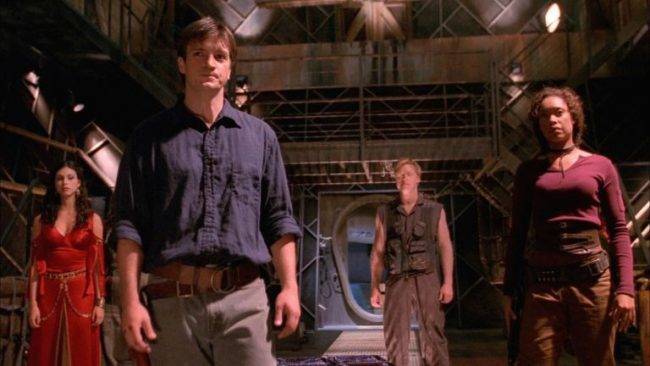 Non solo vampiri e supereroi nella brillante carriera di Joss Whedon ma anche sci-fi. Firefly, in onda sul canale Fox e  cancellata dopo una sola stagione, si ripropone di raccontare in chiave fantascientifica il tema della migrazione dalla Terra per sovrappopolazione e del sempre presente divario tra poveri e ricchi. Nel futuro, infatti, i ricchi abitano le tecnologiche megalopoli, mentre i poveri sono relegati sulle aride lune. 
Grazie all'impegno dei fan – innamorati di questa serie di fantascienza "pura" sapientemente mescolata con  il western – Firefly è tornata a vivere. Al cinema, con un film intitolato Serenity che ha avuto un grande successo e che ha permesso a Joss Whedon, nei contenuti extra del DVD, di dire a chi di dovere che "non può fermare il segnale"… Firefly, con il suo impagabile protagonista il capitano Mal Reynolds (Nathan Fillion), ha segnato, anche se per poco, il genere in Tv.